Law School Celebrates 2019 Alumni Award Winners
The Law Alumni Association presented its annual awards at a gala ceremony on October 4 at the Four Seasons Hotel in downtown Austin, recognizing Julius Glickman '66 for Lifetime Achievement, Darren Walker '86 as the Outstanding Alumnus, and Shawn Raymond '99 as the Distinguished Alumnus for Community Service. In addition, Amanda Tyler '04 was honored as the Outstanding Young Alumna of the Year.
Dean Ward Farnsworth and the Law School presented an award as well, naming Ari Herbert '17 as the Mentor of the Year.
Watch our award winner tribute videos.
Several hundred alumni, faculty, students, family, and friends gathered for the evening, which was hosted by the new Alumni Association President Milam Newby '03. "These honorees came from all over the country, and they represent an amazing variety of careers," noted Newby as he welcomed the crowd. "Together they perfectly demonstrate that what starts at Texas Law really does change the world!"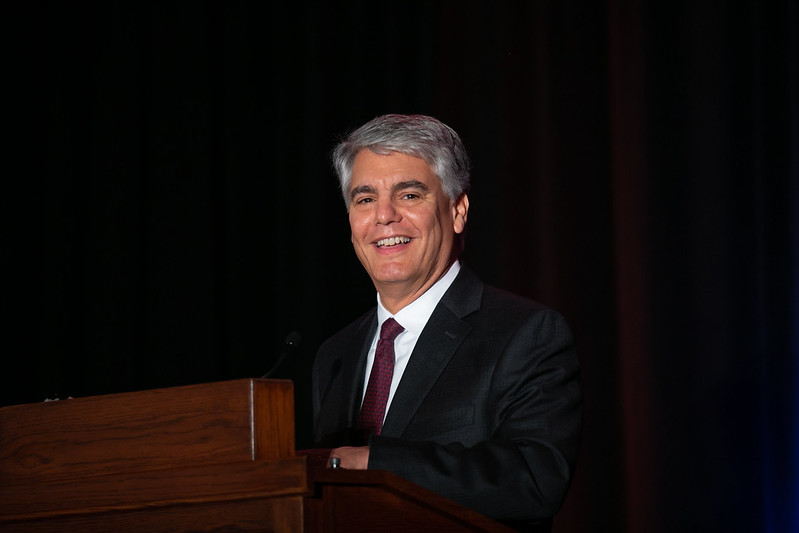 UT Austin President Gregory L. Fenves also gave welcoming remarks, offering a fond tribute to former President and School of Law Dean Bill Powers, who passed away earlier in the year. "Texas Law is a relatively small school on our large campus, but it has an outsized impact on the great state of Texas. Nobody that I've ever met understood this better than Bill Powers. Texas Law was his home, the center of his life and career on the Forty Acres."
Among the crowd was a Who's Who of current and former judges, elected officials, and dignitaries from the university and the U.T. System, including both current Chancellor James B. Milliken and former Chancellor Francisco Cigarroa.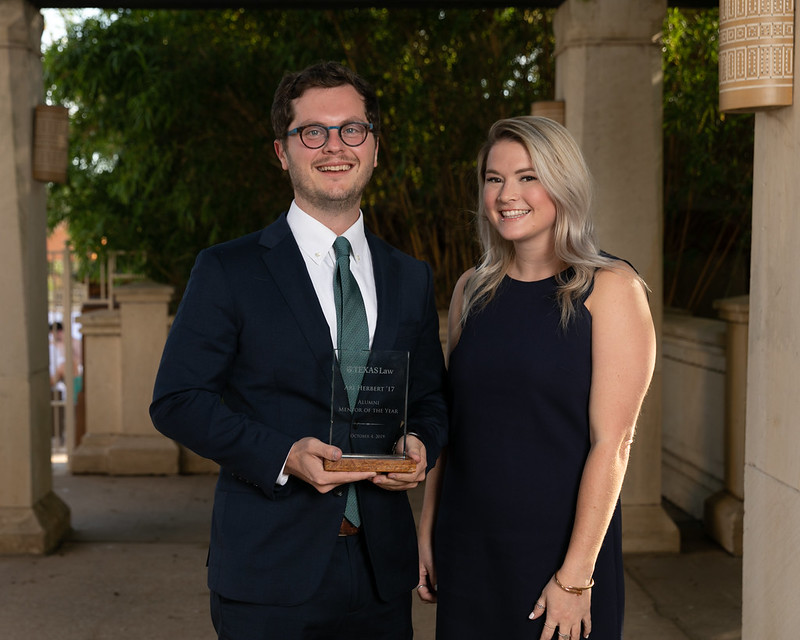 The first award of the evening, Mentor of the Year, was presented to Ari Herbert '17 by his mentee, second-year law student Emily Couture. Herbert is an associate in Quinn Emanuel's Los Angeles office working on complicated appeals and high-stakes litigation. He was a clerk for Fifth Circuit Judge Don Willett, and while in law school, he edited the late Justice Scalia and Bryan Garner's statutory-interpretation book, Reading Law. Herbert was instrumental, Couture said, "in showing me that every opportunity in the world I could ever want from law school was right here in Austin."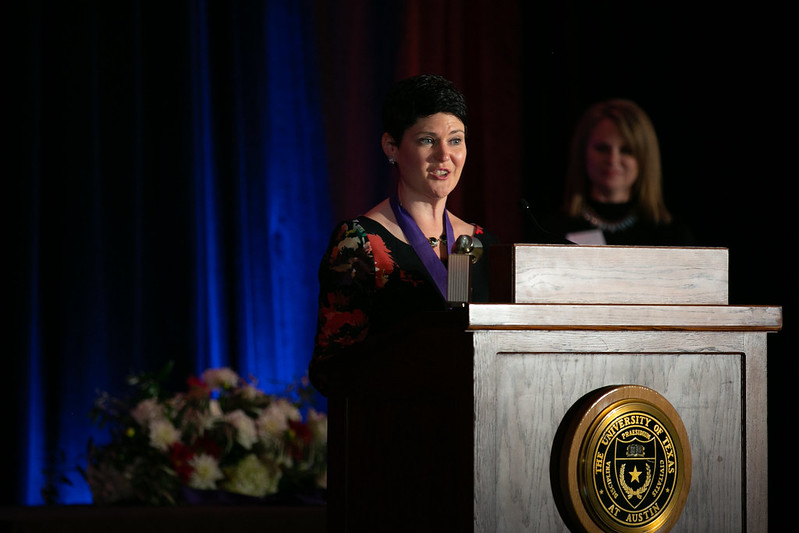 The award for Outstanding Young Alumna, recognizing someone with remarkable professional accomplishments before the age of 40, went to Amanda Tyler '04, the executive director of the Baptist Joint Committee for Religious Liberty. Former classmate and presenter Susan Turner Nold '04, now the Director of U.T.'s Annette Strauss Center, shared with attendees that her friend's nickname has long been A.T., comparing her many honorable qualities to those of a Supreme Court Justice with a similar moniker:
"Amanda's nickname evokes the nickname of another woman who was known for her significant legal acumen and accomplishment at a young age. A woman who is known… (as) similarly strong, serious, smart, hardworking, poised, respectful, courteous, dignified, and an expert in constitutional law. A woman also nicknamed according to her initials: Justice Ruth Bader Ginsberg –or, as she is affectionately nicknamed, R.B.G.!"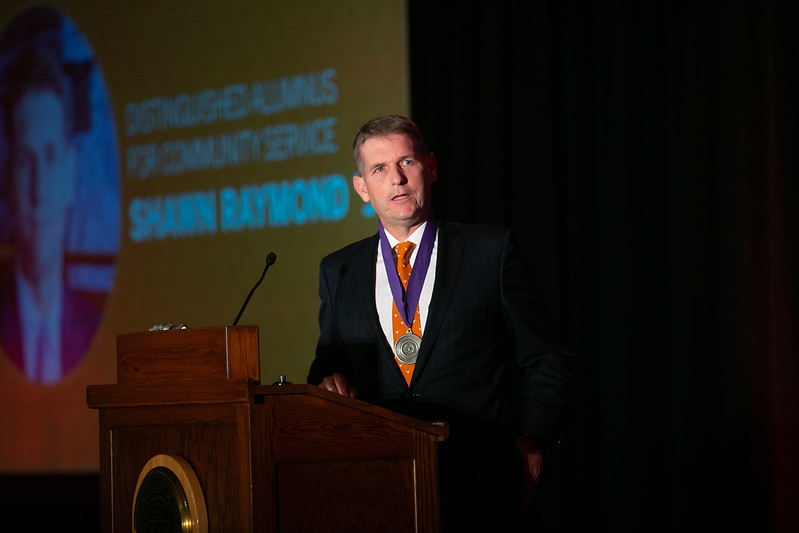 Shawn Raymond '07 was named the Association's Distinguished Alumnus for Community Service. Neal Manne '80, Shawn's mentor and his Managing Partner at Susman Godfrey, noted that Raymond's service has extended far beyond the usual community service offered by attorneys. "Between the broad scope of Shawn's service—founding and running the Freedom Project, chairing the Board of Houston's KIPP Schools, going all-in on helping the Houston Area Women's Center— and his unparalleled dedication to our firm's highest-stakes clients, Shawn somehow manages to excel at two completely different, full-time jobs. He has had an enormous impact on many different communities, and on thousands of people's lives, particularly children."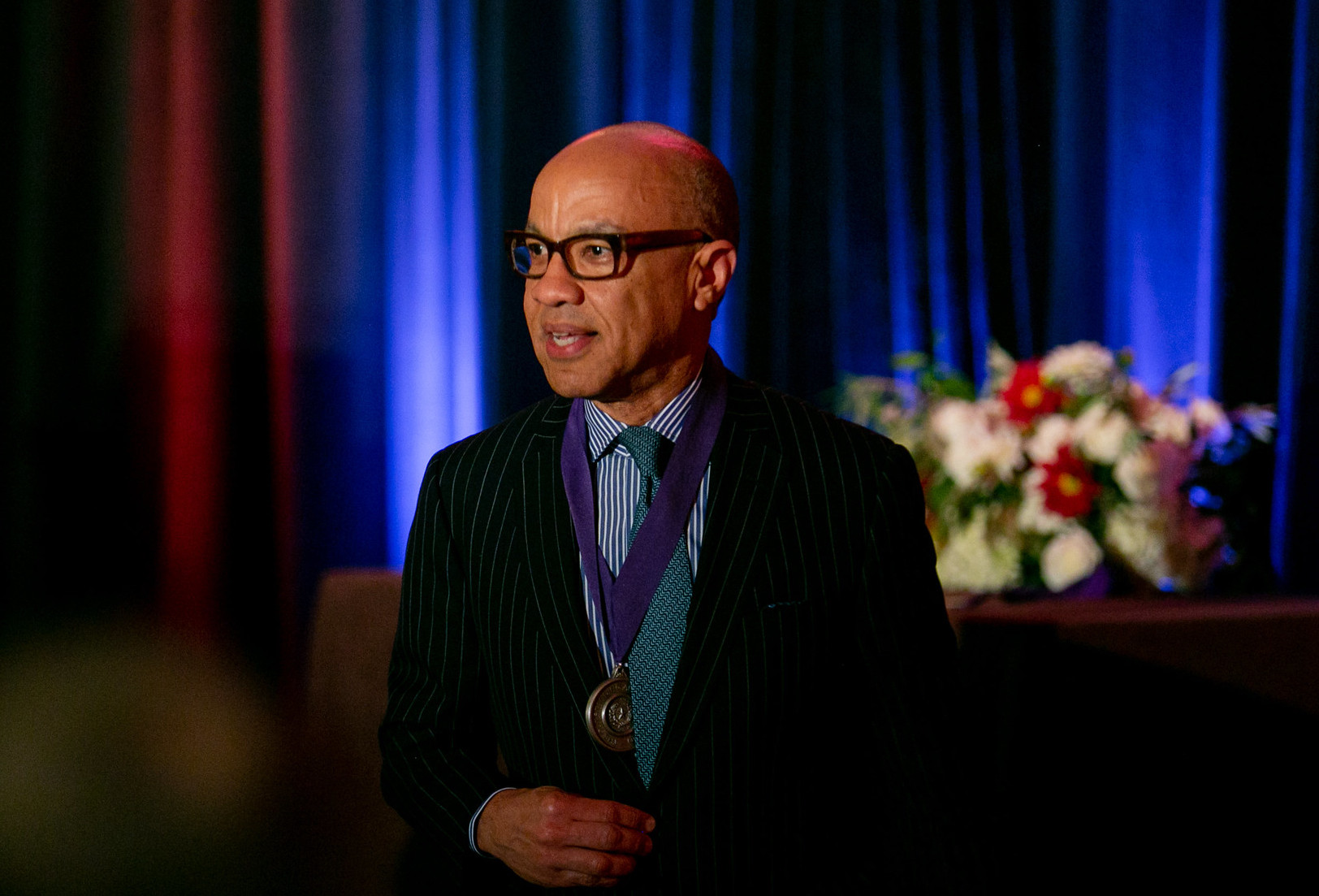 Presentation of the Outstanding Alumnus Award fell to Del Williams '85, who honored his classmate and close friend Darren Walker '86, President of the Ford Foundation. After ribbing Walker gently for his off-key singing of Patsy Cline songs back in law school, Williams turned serious, observing that, "Tonight, we recognize Darren for his accomplishments and contributions, but we also honor him for the decency, respect, integrity, and compassion which he has always demonstrated."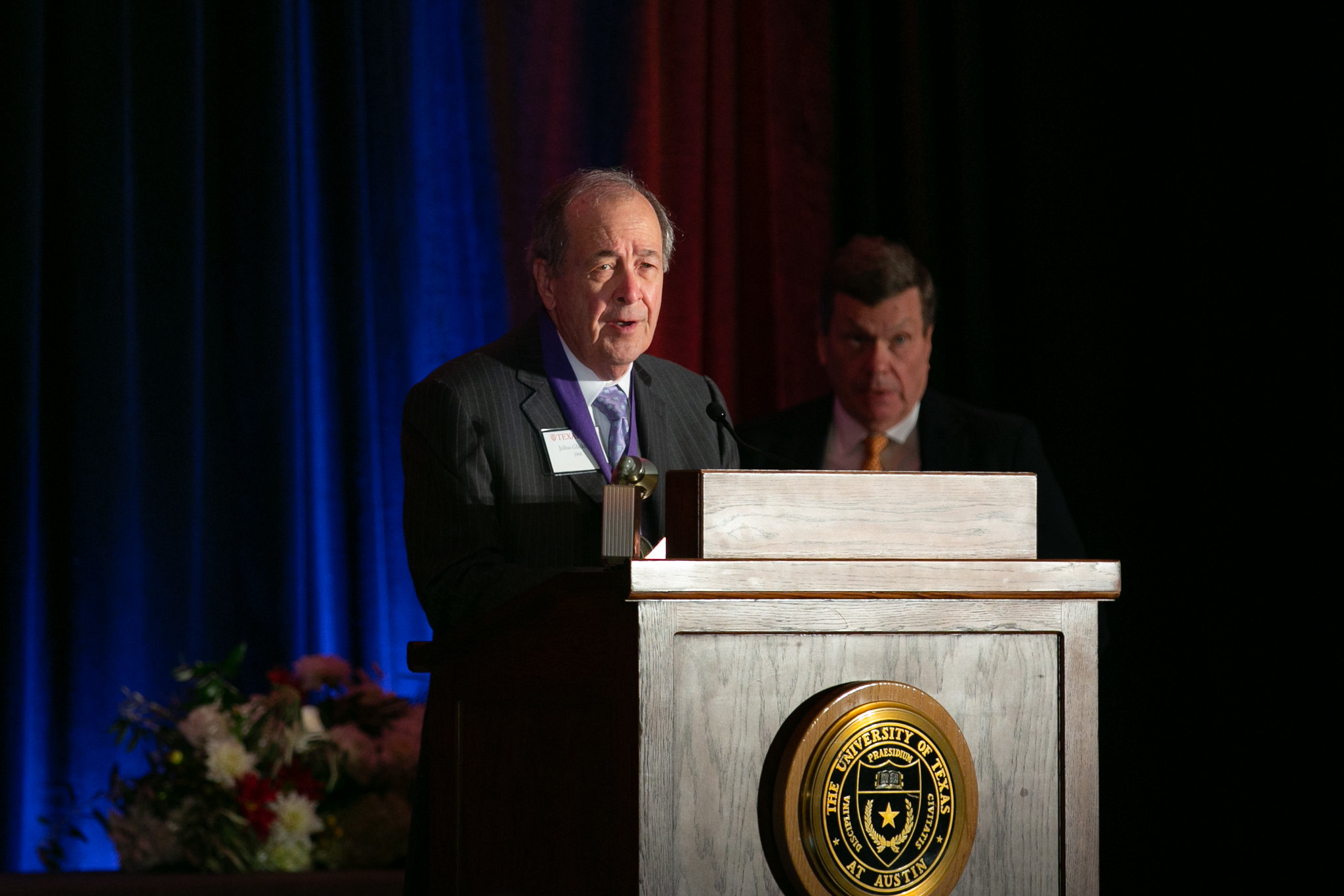 The final award of the evening—Lifetime Achievement— was presented by last year's honoree, the inimitable Richard Mithoff '71, who used his time on stage to highlight Glickman's wicked sense of humor and fun: "Is Julius the best trial lawyer there ever was? Of course—just ask him!"
Glickman, who clearly appreciated Mithoff's good-hearted roast of an old friend and colleague, was visibly moved by his award and presentation. "When you have a chance to help an institution that has done so much for you, and tens or hundreds of thousands of other people like you, it's easy to give back. And it means everything. Thank you so much for this honor, which I share with my wife Suzan. I made the living, but she made the life worth living."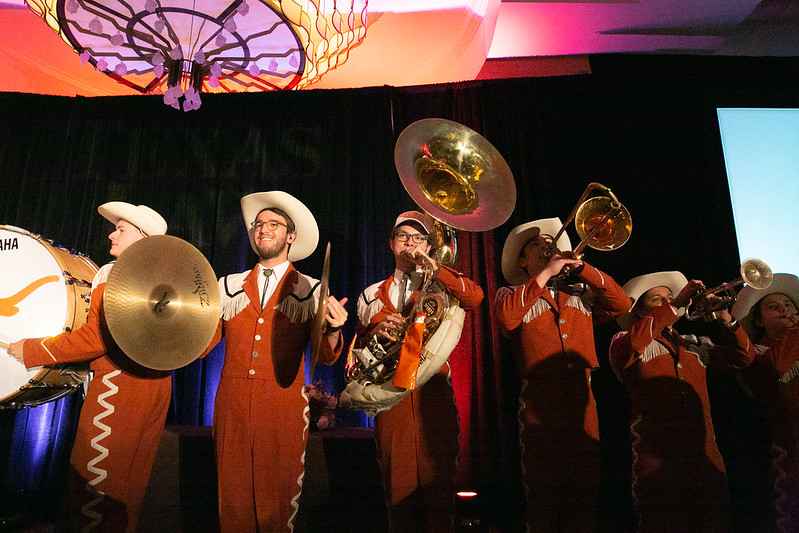 The evening closed in tried and true Longhorn fashion, with horns up and hearts full, as the Longhorn Band led the crowd in rousing renditions of Texas Fight and The Eyes of Texas. Hook 'em.
View photos in the Alumni Awards 2019 Flickr album.
Read more about the Alumni Awards.
Tribute Videos for Our 2019 Distinguished Alumni Award Honorees