May it Please the Courts: Vladeck in Both SCOTX and SCOTUS This Month
Prof. Steve Vladeck is on research leave this semester, but that doesn't mean he's been laying low. In fact, Vladeck, recently named the Charles Alan Wright Chair in Federal Courts, is busier than ever, having made his first argument before the Supreme Court of Texas this Tuesday, and preparing for his third argument before the Supreme Court of the United States next Tuesday. Making these cases all the more difficult is that they are being argued remotely, with Vladeck speaking from a makeshift lectern in his Texas Law office to the highest court in Texas via Zoom, and using nothing more sophisticated than a landline for his telephonic argument with the eight Justices in Washington. While he's spared the travel to Washington, D.C., for next week's arguments, the remote arguments present unique challenges to even a veteran oralist.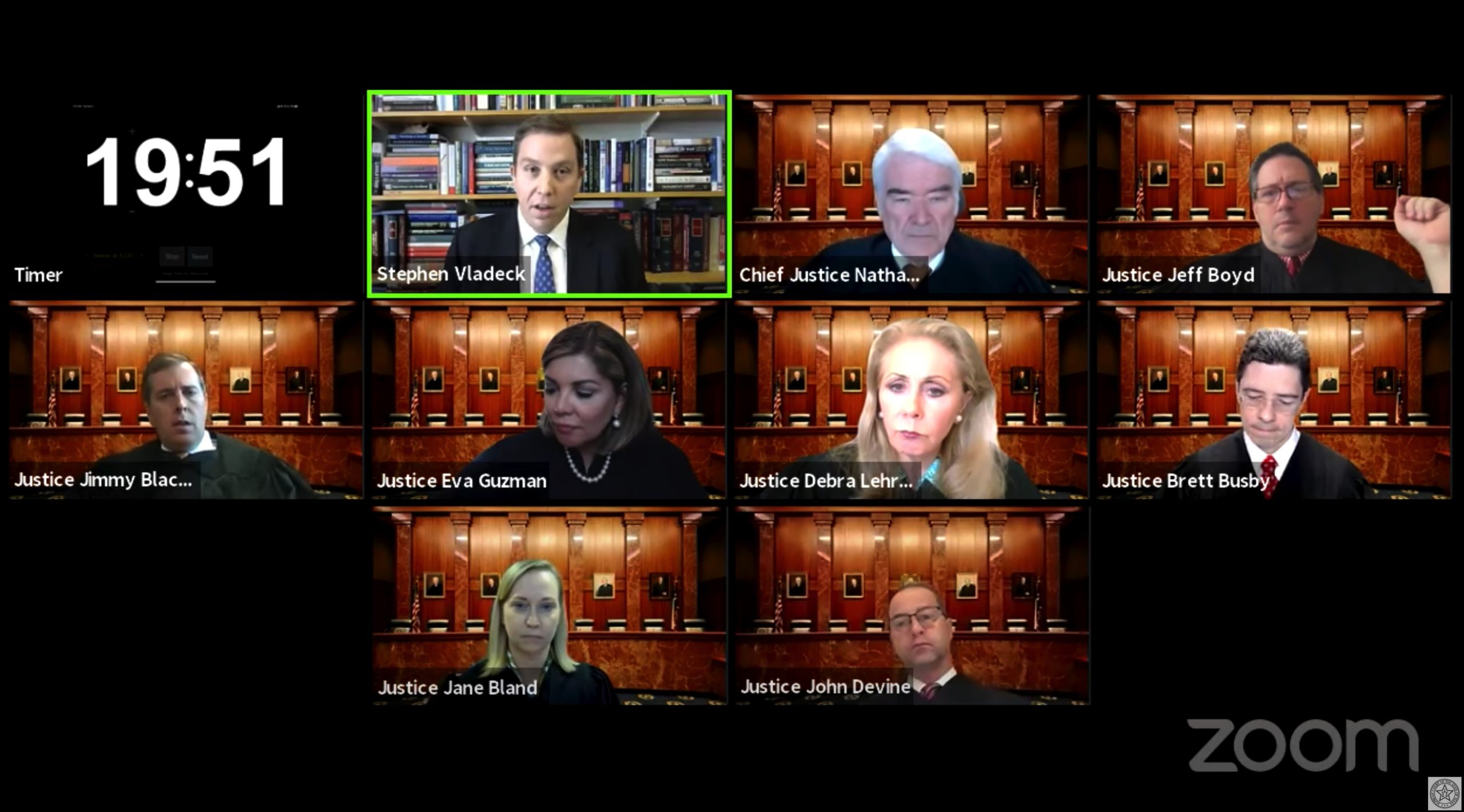 "There's nothing that can make up for being in the courtroom, feet away from the justices, while you're in a dialogue with them," Vladeck said. "At least the Texas Supreme Court, by using Zoom, still allows the advocate to pick up on body language and other forms of non-verbal communication, but it's so much harder for the Justices to talk to each other when they aren't in the same place—and for the advocate to pick up on where there may be coalitions to build. And for the U.S. Supreme Court, responding to questions over the phone one Justice at a time is a completely different enterprise altogether."
Vladeck's argument before the Texas Supreme Court, in which he represents families of the victims of the 2017 Sutherland Springs shooting, was streamed live on the Court's YouTube channel and the archived video is now available for viewing. His argument before the U.S. Supreme Court cannot be viewed, but can be heard, as C-SPAN will carry a live audio feed. That case, United States v. Briggs (which has been consolidated with United States v. Collins), concerns a question about statutes of limitation as they apply to old charges and convictions in military courts. The relationship between, and necessary separation of, civilian criminal codes and military criminal codes is one of the chief pillars of Vladeck's work as a researcher and writer, as well as advocate.
"Even though the U.S. Supreme Court sits atop our military justice system, it tends not to pay much attention to cases arising out of the convictions of servicemembers," Vladeck said. "Indeed, Briggs will be just the third court-martial appeal that the Justices have heard since 1996, even though many of the most important legal issues arising from contemporary military prosecutions are both deeply interesting and un-settled by precedent. Courts and scholars alike pay far too little attention to this significant part of our legal system—something I'm hoping to help change over time."
These two cases, though prominent, are far from all Vladeck is doing with his research leave. After next Tuesday, he will turn his attention back to a book proposal he's finalizing focusing on the rise of (and problems with) the U.S. Supreme Court's "shadow docket," where a growing number of significant disputes are decided by the Justices in summary, one-sentence orders without the benefit of full briefing and oral argument. He'll also start prepping for his next argument—before the Court of Appeals for the Armed Forces this winter.
Happily for Texas Law students and colleagues, Prof. Vladeck will be back in the classroom—either remotely or in-person—come January, when he will be teaching Federal Courts and a seminar related to his book project on "The Shadow Docket."