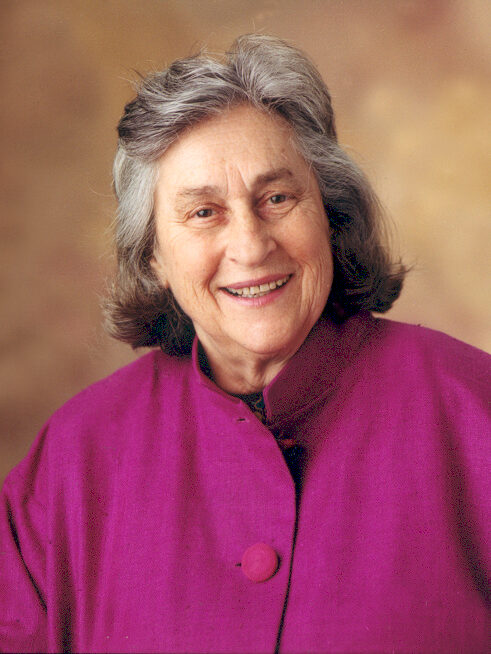 The Law School community is saddened by the passing of Zipporah Batshaw Wiseman, the Thos. H. Law Centennial Professor Emerita in Law, who died on January 20 at age 90. Prof. Wiseman had a long and distinguished academic career, the final 27 years of which were spent as a faculty member at Texas Law.
"Zipporah's passions and enthusiasm were a gift to our students" said Associate Dean Willy Forbath. "She introduced generations of them to what it means to examine law through the lens of gender and what it means to pursue equality with the tools of law. Her passions and enthusiasm were also a gift to colleagues. Many of us had the great pleasure of talking with her about ideas – and books and movies and family adventures."
Please scroll to bottom to view the memorial program and video.
Prof. Wiseman began her teaching career at Northeastern University School of Law in 1973 and was among the first women in law teaching. She paved the way for future generations of women in the discipline, especially of those who brought feminist analysis to law. She was one of the founding members of "fem-crits," a group of feminist critical legal scholars and practitioners who met regularly, often to workshop drafts of their scholarship. "Zipporah's zest for learning, passion for justice, and enormous generosity sustained a network of emerging scholars and lawyers," said long-time friend Martha Minow, 300th Anniversary Professor at Harvard University. "She showed what was possible, providing essential mentoring, witty humor, and contagious energy."
After several years as a visiting professor at Harvard Law School, Prof. Wiseman joined the Texas Law faculty in 1989. She taught a variety of courses and seminars, including commercial law, constitutional law, feminist jurisprudence, law and literature, reproductive rights, and economic justice. She was also an affiliated faculty member of the Center for Women's and Gender Studies, where she served on the executive committee for a number of years.
Prof. Wiseman authored a number of law review and other scholarly articles, co-authored Commercial Law: Cases and Materials (Little, Brown, 2nd ed., 1982)(with Vern Countryman and Andrew I Kaufman), and co-edited an important anthology on law, literature and gender with Professor Susan Heinzelman of U.T.'s English department, entitled Representing Women: Law, Literature and Feminism (Duke, 1994). She spent many years investigating and writing about the life and career of another trailblazing legal scholar, Soia Mentschikoff, teaching generations of students and colleagues about Mentschikoff along the way.
"Zipporah fought many odds to succeed in this profession," said Texas Law colleague Prof. Karen Engle. "Far from shutting the door behind her, she opened it as widely as possible, doing all she could to ensure that others would follow in her path. She was an exceptional role model and mentor who, though fiercely committed to her ideas and ideals, also loved learning; she thrived on intellectual engagement with colleagues and students alike." According to Prof. Mechele Dickerson, who served as Associate Dean during much of Prof. Wiseman's tenure, "Zipporah supervised far more student independent directed research projects than any other faculty member. She influenced and inspired generations of students."
Born in Montreal, Prof. Wiseman graduated from McGill University and then came to the United States to attend Yale Law School. Following law school, she clerked for Justice Raymond Wilkins of the Massachusetts Supreme Judicial Court. Over the years, she held visiting professorships at American University Washington College of Law, Boston College Law School, and L'Institut d'Études Politiques in Paris. She also was awarded a fellowship at Harvard-Radcliffe where she served as a Bunting Fellow.
Prior to her time in Austin, she was a longtime resident of Cambridge, Massachusetts, where she was a private practitioner and public interest lawyer before beginning her academic career. She is survived by her husband, the award-winning documentarian Frederick Wiseman, founder of Zipporah Films, whom she met in law school, as well as by her sons Eric Wiseman and David Wiseman and their families.
One can also read an official, family-written obituary of Professor Wiseman.
UPDATE: On February 12, 2021 the School of Law proudly announced the Zipporah B. Wiseman Prize for Scholarship on Law, Literature, and Justice. The international and multidisciplinary writing prize, administered by the Bernard and Audre Rapoport Center for Human Rights and Justice, is offered annually in honor of Professor Wiseman's important work at the intersection of law and literature. Learn more about the prize from the Rapoport Center website.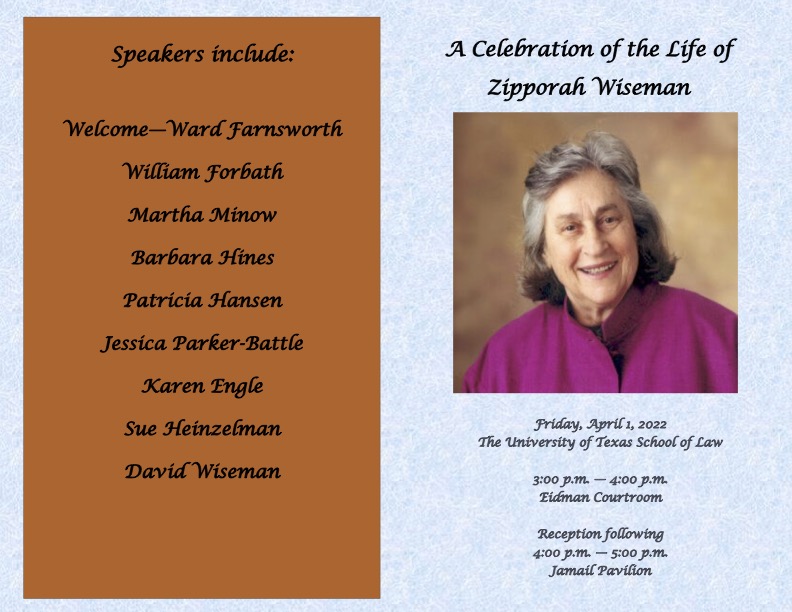 Zipporah B. Wiseman guestbook