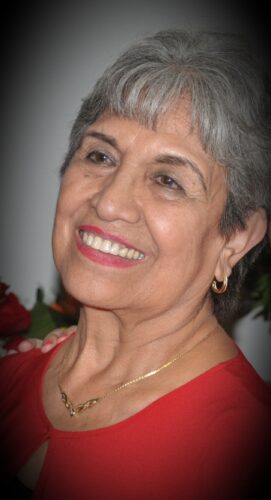 The University of Texas School of Law mourns the loss of retired, longtime staff member Anna María Herrera Saldaña. She passed away peacefully at home on Nov. 29, 2021 at age 87.
Mrs. Saldaña was hired at The University of Texas School of Law on Oct. 1, 1964 as one of the first Hispanic employees at the State of Texas' flagship law school. She began her employment as a faculty secretary and later worked as Dean Byron Fullerton's assistant for several years. She then served for decades as the Director of the Law School's Financial Aid Office. Over the span of her career, Mrs. Saldaña served as a financial aid counselor for over 6,000 students with aspirations to become lawyers. She retired after 35 years with the Law School on Oct. 1, 1999. Both her retirement and her service to the law school were celebrated with an article in the Fall 1999 edition of the Townes Hall Notes, Adiós, Señora Saldaña: Beloved Financial Aid Counselor Retires.
Generations of law students at Texas Law have benefited from her generous spirit and commitment to their welfare. Mrs. Saldaña had been honored by many student organizations at the Law School. She was named by the student body as the Honoree for Law Week and was given lifetime honorary memberships to the Chicano Hispanic Law Students Association and the Thurgood Marshall Legal Society.
"Anna María inspired many generations of our community with her warmth, kindness, and commitment to the well-being of the thousands of students she helped in such important ways," said Dean of the School of Law Ward Farnsworth. "She will always live on in the memories of those students and in the hearts of the rest of us, too. Her way of being made this school a better place."
An endowed scholarship has been established in her name at the Law School. The Anna María Saldaña Endowed Scholarship in Law Fund is a permanent recognition of her service and commitment to the school, and it provides an heirloom of her compassion for education to future Texas Law students.
"We are saddened to have lost her but are determined that she be honored by all who knew and loved her," said daughter AnaMaría Lawrence. In lieu of flowers, the Saldaña Family requests consideration for donations in honor of Mrs. Saldaña to the Anna María Saldaña Endowed Scholarship in Law Fund. Donations can be processed online at utlsf.org/saldana, or by directing a personal check via USPS mailing to The University of Texas at Austin, P.O. Box 65080, San Antonio, TX 78265-9724. The UT Endowments Team can be contacted at 1-866-488-3927 for additional assistance.
Details of her life story and funeral services may be found at memorials.harrellfuneralhomes.com/anna-saldana/4794230.