Greenberg Traurig Commits to Support Pipeline Program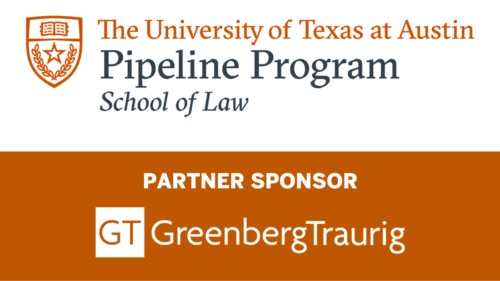 As Texas Law's Pipeline Program prepares to announce its first cohort class, global law firm Greenberg Traurig, LLP has pledged its support to the program for the next five years as a Partner Sponsor. Demetrius G. McDaniel '90, president of the Texas Law Alumni Association Executive Committee and co-regional operating shareholder of the law firm's Texas offices, helped foster the connection between Texas Law and Greenberg Traurig.
The Pipeline Program is dedicated to supporting students in high school, college, and law school from underrepresented backgrounds who aspire to a law career. On June 4, it will welcome its first year-long Cohort Program class who will apply to law school in Fall 2022. Greenberg Traurig's support of the program will benefit the broader law community, supporting students who traditionally may not have had a direct pathway to a legal career.
"When I met with Dean Ward Farnsworth, I was so moved by his genuine commitment, and the unique combination of his deep background in traditional excellence and his orientation toward innovation, opportunity and change—all hallmarks of our own firm," Greenberg Traurig Executive Chairman Richard A. Rosenbaum said. "Even before that meeting was over, I knew that it was right for the firm to support him, Demetrius, and Texas Law in these important efforts."
"Diversity, equity, and inclusion are personal to Greenberg Traurig and have been since our founding. Through initiatives such as the Pipeline Program, we are able to participate in the advancement of equal access to a legal education and make a difference in the lives of these students. Over time this farsighted program will meaningfully increase diversity in the Texas legal community, and beyond. Thank you to Texas Law for implementing this program and for giving Greenberg Traurig the opportunity to participate," McDaniel said.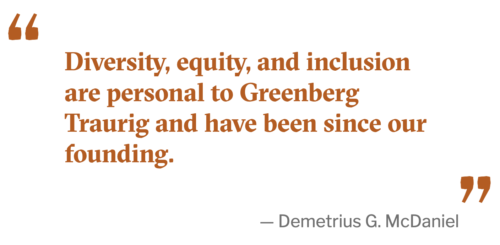 According to Greenberg Traurig, the firm's diversity, equity, and inclusion efforts have been recognized through its Mansfield Rule 4.0 Certification Plus administered by The Diversity Lab, as well as by local, national, and global publications and organizations including Chambers and Partners. The firm has 2,400 attorneys in 43 offices, including three in Texas.
"We're proud to have such generous support for this mission from Greenberg Traurig," Dean Farnsworth said, "and we look forward to having more partners in this work as it goes forward."
The Pipeline Program involves outreach, education, mentoring, and scholarship support. It includes specific initiatives and workshops tailored for students at each academic level, including outreach programs for high school students, application workshops for undergraduate students and recent college graduates, tuition scholarships for admitted students, and a "Thriving in Law School" program for current law students.
Cohort programming will include LSAT instruction, admissions coaching, law student and alumni mentoring, workshops presented by law school faculty and staff, and networking opportunities with practicing attorneys.
Eligibility was open to students who are either first-generation college students or members of a racial, ethnic, or socioeconomic group that is underrepresented in legal education, with at least a 3.00 grade-point average. Nearly 200 students applied for the 30 available spots in the cohort class. The cohort's year-long program begins on June 4, 2022 and will culminate with a graduation planned for April 15, 2023.
"Partners like Greenberg Traurig are vital to the success of this initiative. We are grateful to the firm for its investment in preparing the next generation of attorneys for law school admission and success," said Nicole Simmons, director of Pipeline Outreach and Development at Texas Law.
How to Support the Pipeline Program
Law firms looking to support aspiring lawyers in the Pipeline Program can email alumni@law.utexas.edu.