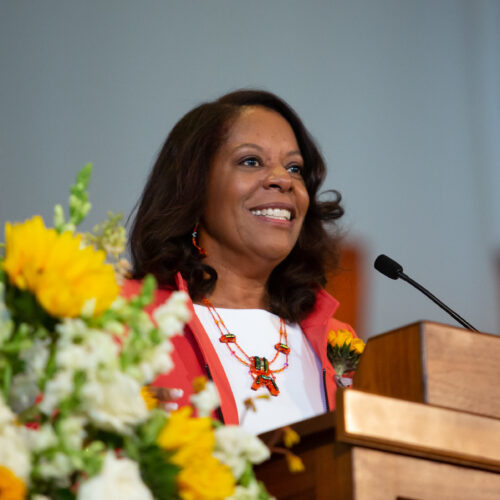 Texas Law alumna Sandra Phillips Rogers '91 returned to the Forty Acres to share words of wisdom with the Class of 2022 at this year's Sunflower Ceremony. She recalled how her law school experience helped influence her life and encouraged graduates to leave this world a better place than how they found it.
Phillips' impressive career includes her current position at Toyota Motors North America as vice president, chief legal officer, general counsel and chief diversity officer. Previously she was on the legal team at Pfizer and was a partner in two Houston law firms. Phillips has remained connected to the law school, as a founding member of the Texas Law Center for Women and a current member of the Law School Foundation Board of Trustees.
A full transcript of her remarks is below the video of her speech.
As delivered on Saturday, May 21, 2022:
Thank you very much dean for that exceptionally kind introduction. And hello to everyone. I want to thank Dean Farnsworth, Dean Chesney, members of the faculty, distinguished guests and most of all the graduating Class of 2022! 
I'm truly honored by the opportunity to say a few words … on an occasion that represents for many of you, I suspect, a potent mix of excitement, anxiety, pride, relief and exhaustion! At least that's what I felt on the afternoon when I, myself, was sitting in one of those seats.   
In preparation for today, I spoke with a mentor for some guidance. The secret, she said, is to be brief, be brilliant … and be gone. I'll do my best! 
Walking around this campus this afternoon brought back many memories. I deeply appreciate the experience of learning the law here. UT Law was a place where I learned the value of diversity of thought and began a career of standing up for certain truths … for refusing to accept constraints … for challenging convention and being an agent of change. Looking back at where I have come from, it's an attitude that has served me well.   
I grew up in Beaumont, Texas, a small town close to the Louisiana border. Even though my siblings and I were raised in modest surroundings, we were taught to pursue our passions to the fullest, to fulfill our life's purpose.  
My mother has been a lifelong inspiration. She suspended her own undergraduate studies to get married and have children. But Mama didn't quit pursuing her dreams. She returned to college as a single parent to obtain her undergraduate degree. Eventually, she earned her master's degree and started a career as a schoolteacher. To this day, I remember watching her study at the dining room table. It instilled in me the importance of education, hard work and perseverance.  
And the day I graduated from UT Law I found my own way to honor her. I made the bold decision to buck the sunflower ceremony tradition and instead wore a cap and gown. It wasn't easy to find one. And boy was it hot! But Mama had worked hard for me to be there … and that's what she expected to see. I know many of you also fought hard to make it to this very moment for your family, friends and loved ones. I know I sure did.   
But that was hardly the most subversive thing I did during my time at UT Law. In fact, as a 1L, I was a part of the first class at UT Law to boycott the school for a day, demanding more diversity. That's something students had done for years at some schools, but at the time, it was a shock to the system here.  
And so, I'm going to stay true to myself and challenge convention again today. I'm going to suggest … contrary to what you might think, and contrary to what some of you and your family members thought they were paying for … that you have NOT spent the last three years only training to be a lawyer, but rather to serve a much greater purpose.  What you've REALLY spent three years learning is how to make a difference in the world … how to think rigorously about the problems facing our society … how to untangle the logic of those problems … how to arrive at their solutions … and how to convey those solutions persuasively.  To leave this world a better place than how you found it. 
It reminds me of one of my favorite quotes: "To whom much is given, much is required." Over the last three years, you've also learned how to think about the principles, the values, the agreements — the laws, in short — that societies and people have created for organizing themselves and solving their problems. For coexisting. 
You've learned to see the world through many lenses. I vividly remember a philosophical disagreement with my Constitutional Law professor, who held a contrarian view that our country would have been better served if civil rights and integration had evolved organically – at its own pace, with its own timing.  I thought his views were outrageous. I still do. But, with the benefit of a lot of hindsight, I realized that he exposed me to critical thinking.  He forced me to see and engage a view opposite to mine, on an issue that I was emotionally invested in. Whether he intended to or not, he taught me to find some modicum of common ground. He taught me how we could coexist … as Justice Ruth Bader Ginsburg famously said, to disagree without being disagreeable. 
You will have many tough conversations. Ones where you will disagree passionately. And when you are in that moment, take another moment to remember – seeking to understand different perspectives is truly a gift – it will help you come up with better solutions and better outcomes. 
So, you might make your difference in the world with the word "attorney" in your title … working within the domain of the law …  perhaps in a firm … or in a corporate C-suite … in a courtroom or a boardroom … maybe even someday on a judicial bench. 
But many of you will apply your legal training — and this new ability you now have to make a difference — in other vitally important walks of life, like public service, politics, or social activism. 
And your journey may not go as planned. Personally, I thought I was going to be America's next great trial lawyer like my television idol, Perry Mason. Instead, I went where the journey led me … Corporate America. No matter where your journey leads you, what you've learned here at UT Law will make you better at it and better for it. And it will help you fill an urgent need. It's a need that arises from the dramatic changes we're seeing in the world. 
While you've been working towards your degree, you've also lived through an extraordinary two plus years of a pandemic that has shaken and tested the foundations of governments, political institutions and our public health infrastructure. Long-standing rights have come up for debate; there has been a rise in hate crimes against people who look like me and other minorities; and a region of the world – Europe – which we thought could never again be at war is now suddenly in flames.  
So yes, you're graduating into a world of extraordinary challenges, but also incredible opportunities. But for people who have been trained to make a difference … who want to be in the thick of it and take on work that is meaningful … you are graduating into an environment where you and your skills are desperately needed.   
These are times that call for transformative leaders … and that's what this school and these times have uniquely prepared you to be. You have what it takes to stand for something. To fight for something. To make that difference.    
Dean Farnsworth put it well when he told me once: "You will always be criticized for something, so you may as well pick the thing you're going to be criticized for." Make it count. 
One of the most profound impacts on my career came during a research project interview of Ken Frazier, a lawyer and mentor who is best known as the chairman and CEO of pharmaceutical giant Merck. The tenure of a CEO can sometimes be short, and Ken told me, "if they're going to come for me, they're never going to find me behind my desk." 
Ken began his career as a lawyer. He saved the life of a wrongfully convicted death row inmate before becoming a businessman. When he became CEO of Merck, he did so in the midst of a company crisis. One of his first acts after assessing the company's financials and business environment was to withdraw the earnings guidance, an audacious move to say the least! He told me that in that moment, the Merck board knew that he stood for something and that he could be trusted to do the right thing. He was rarely caught behind a desk because he was constantly out in his company, being with the people and working in his community making a difference. After leaving Merck last year, Ken co-founded OneTen, an initiative that aims to provide opportunities for Black talent by hiring and promoting one million Black individuals who lack four-year degrees. Ken continues to make a difference. 
In my own career — one in which the law and business have intersected — I have tried to live up to the example of lawyers like Ken. This brings me to another quote I love: "Be part of the change you want to see."  This is also my personal D+I commitment. 
In my current roles, it's been a real honor to help foster more diversity, equity and inclusion not just within Toyota, but also beyond our four walls, particularly in the legal profession. For example, our law firm Partnering Program expands Toyota's own commitment to diversity and inclusion to our partner law firms.  
As part of the program, we make clear that we need them to offer us diverse teams — because we expect the kind of outstanding legal advice, creative thinking and innovative approaches that only come from diversity of thought. We also offer a variety of resources to help member firms to build on their existing diversity and inclusion programs. As a result, the diversity of our outside counsel, as well as the culture of diversity inside their firms, have significantly improved. 
But in the wake of the social justice unrest of 2020, it became clear that there was even more immediate and urgent work to be done. I realized that my colleagues and I in Toyota's legal department could help advance the cause of social justice — even from inside a global corporation. I challenged my legal team to come up with a plan of action. The result was an ambitious social justice pro bono program to support initiatives that make our legal and democratic systems more just for everyone.         
One example is the Dallas Expungement Expo, where volunteer attorneys help eligible people file legal documents to expunge their criminal records in order to secure employment, including clients who had been arrested while participating in the lawful social justice protests in Dallas in 2020. 
Currently, I'm working with one of our partner law firms to help Afghan women living in the U.S. gain asylum. Like Ken Frazier, Toyota's legal team and I are determined not to be caught behind a desk, and I'm so grateful to Toyota for supporting our efforts.  
As for you, the graduating Class of 2022? Well, I envy you. There is so much important work to be done. So many problems to be solved. Such transformational change you will affect. So yes… you are justifiably proud of what you've accomplished here under extraordinary circumstances.  It truly is a time to exhale and celebrate!    
But I urge you, as you leave the hallowed halls of the law school and go out into the world, never to let them catch you behind a desk. I invite you to stand up for what matters to you… and to use the tools you have acquired to tackle the challenges the world faces … as suffragist Mary Church Terrell said, "lifting as we climb."  
I encourage you to choose what it is that people will be mad at you about. Let it be for doing the right thing.  Let it be for making a difference. 
Thank you all very much. Congratulations and the best of luck to each and every one of you.  Hook 'em!