Class President Emma Culotta Delivers Remarks at 2022 Sunflower Ceremony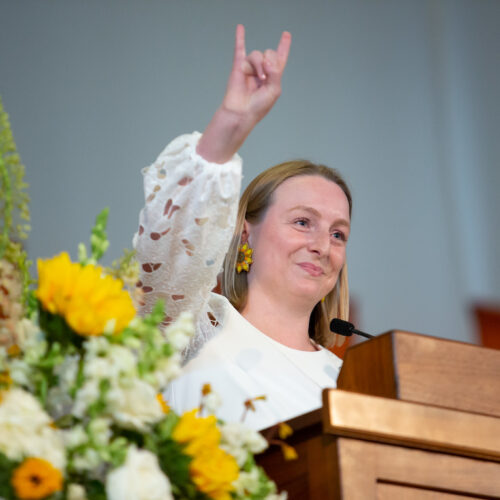 Emma Culotta, permanent class president for the Texas Law Class of 2022, shared inspiring remarks at the Sunflower Ceremony on May 21, 2022. She reflected on the three-year journey that she and her classmates embarked upon in the pre-COVID era, using an analogy of a grueling Ironman competition. Culotta shared experiences of the past three years and expressed gratitude to professors, classmates, and family members.
A Houston native, Culotta was a deputy clerk for the Supreme Court of Texas prior to enrolling in law school. At Texas Law, she was research editor of the Texas Law Review, served on the board of Texas Law Fellowships, and was inducted into the Chancellors Honor Society.
A full transcript of her remarks is below the video of her speech.
As delivered on Saturday, May 21, 2022:
Good afternoon to the Class of 2022, and to all the friends, family, faculty, and staff gathered to celebrate today: 
This April, I drove down to The Woodlands, just north of Houston, to watch a good friend compete in an Ironman competition. An Ironman, for those who may not be familiar, is a long-distance triathlon. It consists of a 2.4 mile swim, a 112-mile bike ride, and a marathon run, raced in that order. It's an incredible demonstration of human strength and grit. 
 If you asked me to come up with an analogy for what 1L felt like, I think being woken up at 5 a.m., thrown into a cold pool of water, and told to swim two and a half miles gets pretty close. That first event sets the tone for the rest of the race, yet we were just getting our feet wet. The workload as a 1L was a shock to the system, and—pardon the pun—it was hard to keep our heads above water at times. In my 1L ConLaw class, for example, the professor often had us choose our seats for the day based on whether we agreed more with the Majority opinion from that day's reading assignment or the dissenting opinion. There was no telling who would get called on on any given day. So one day, a classmate sitting on the majority side of the room was cold-called to give their reasons for agreeing with that opinion. They did a fine job and the Professor moved on. The next day, we were still discussing that case—a Commerce Clause opinion, for sure—and that same classmate had switched seats over to the dissent side of the room. Defying the adage that lightning and law professors never strike the same place twice, the professor called on that student again, asking, "Counselor, what happened last night to make you switch to the Dissent side today?" and this beloved classmate answered truthfully and to everyone's amusement, [*sheepish voice*] "Oh, um, I read the case." 
Little moments like this—introducing humor and vulnerability into an otherwise tense environment—were critical to shaping the camaraderie that I know we all experienced as Texas Law students. I personally experienced it after that first exam information session put on by the Student Affairs Office. I left the atrium overwhelmed by the amount of work that preparing for three law school exams requires and broke down in tears at my locker. A classmate from another section saw me and said, "Hey, why don't we go for a walk outside?" and led me around the building while we shared our anxieties about the upcoming exams. When everything shut down on March 13, 2020, I felt some comfort knowing that my classmates were feeling what I was feeling—nervous, disappointed, a little afraid—and thinking what I was thinking: "Are we going Pass/Fail?" That year-long swim through 1L, made all the more challenging by the COVID-19 pandemic that sent us home to sit in front of lonely Zoom backgrounds for months, was made bearable—and at times, even enjoyable—by the group of people receiving degrees here today.  
And thus began the grueling 112-mile bike ride through 2L. And I think the analogy has to be to 112 miles on a stationary bike in your kitchen or bedroom that you haven't left for several weeks. They say 2L is the school year that works you to death. And work we did. We worked through the polarizing 2020 election and its aftermath, seeing in real-time how important lawyers are to the existence of democracy, and how serious of a responsibility we have to restore and protect the integrity of our core institutions. We worked through Winter Storm Uri. While pipes froze and the line to HEB wrapped around the block, we exchanged tips on melting snow to flush the toilet and offered groceries and shelter to those without food or power.   
We worked inside the classroom and out. So many of you did incredible things to support the communities and causes you care about, through clinics, journals, and student organizations, taking on leadership roles and—in the case of the inspiring group that founded Law Students 4 Black Lives—forming a new organization to bring racial justice to the fore in our curriculum. Despite COVID and climate crises, we survived 2L and dismounted our stationary bikes, grateful all that was left was to run a marathon. "What, like it's hard?" 
But it is hard. And though law school—like a triathlon—is an individual sport, it takes a team effort. To the cheer squads who supported us, who believed in us even when we didn't believe in ourselves, and who empowered us to define our own visions of success, thank you. Law school has been a long race for you, too, and we could not have done it without your help, your sacrifices, and your encouragement. I want to give a personal shout-out to my 1L boyfriend, who was so supportive through all this that he became my 3L husband. 
Thank you to our professors, not only for teaching us to think like lawyers, but also for showing us how to act like compassionate professionals, and for bringing the same enthusiasm for teaching to Zoom School of Law that you brought in person. Thank you to Dean Bangs and the Student Affairs Office, for always looking out for our well-being and for helping us deal with the unique challenges that our class faced during our time as law students. And thank you to my classmates for being the most supportive, hopeful, and resilient group of people to learn with. To those of you going into public service after graduation, thank you. The work you are doing is important, and the world needs excellent lawyers like you. To those of us going into the private sector, let us not forget our ethical obligation of pro bono service. Let us use our knowledge, our skills, and—where those are lacking—our wallets to serve our communities. 
 Fortunately, our 3L marathon came with many highs that made putting one foot in front of the other a little easier: we returned to in-person learning and reconnected with old friends in new spaces on campus; we brought key community-building events like the Texas Law Fellowships Auction, the Law Prom, and Assault & Flattery's annual theatrical production back to their former glory, and the Hodges Society 3Ls finally got to take their 1L boat cruise. Today we crossed the finish line—and that is a huge accomplishment. Let's enjoy this moment and feel proud of ourselves because we earned it. There will be more races to run—in fact, for many of us, the next race starts on Monday. But we know how to swim; we know how to bike; we know how to run; and we know we're not alone. We are Ironmen with a finishing time of three years (but who's counting)? And today is a celebration of the hard work it took to get here. So, here's to us! Cheers!