Today is the official first day of classes, but for the Class of 2025, law school started a week ago. Texas Law's newest 292 1Ls and 20 LLM students have been on campus and in the law school buildings, as well as exploring Austin, enjoying a week-long orientation. It was a chance for them to meet one another, to spend time with faculty and staff, and to start learning what law school is really all about.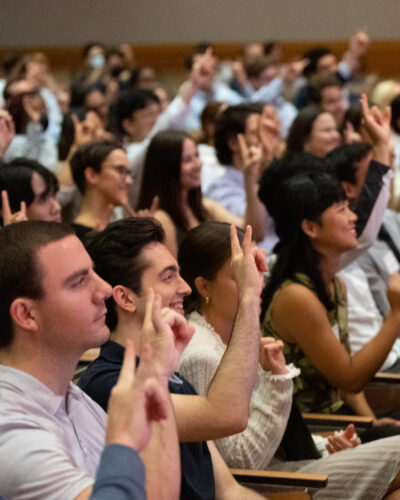 It's Texas Law's first fully in-person orientation since 2019, after two years of hybrid programming. "We're thrilled to be doing this again," says Elizabeth Bangs, the Assistant Dean for Student Affairs. "We had great programming and success through the pandemic but it felt wonderful to not have to drop the Z-word—Zoom!—all last week."
Dean Bobby Chesney, who also began a new chapter at the law school having assumed his leadership role in July, greeted the incoming class with words of wisdom. "You're here to be transformed into attorneys. To be an attorney is to take into your hands, and put on your shoulders, the hopes and dreams of other people … and to be their last, best hope for protecting or realizing those dreams."
Throughout the week, students attended sessions on practical topics to help them make the most of their three-year journey. Sessions included how to prepare for class, tools for maintaining wellbeing and balance, and an introduction to professional development.
The 1Ls met with faculty and took part in programs that introduced them to intellectual life at the law school with "hot topics" panels, their first class on legal research and writing, and a taste of the upper-level curriculum.
Beyond being prepared for academic life, Freshlaws were introduced to Texas Law's innovative Society Program, an integral part of the school's student experience. Society Program student coordinators led daily activities for the new students, helping them feel welcome and comfortable in their transition into law school. (The Society Program's new Instagram feed showed off some of the fun.)
Our new students toured the school and met in a number of spaces at Townes Hall available for the first time for an orientation program, including the Dee J. Kelly Courtyard and Patman Family Plaza that opened in 2021.
Dean Bangs echoed the sentiment of all faculty and staff exclaiming, "Good luck to the Lawhorn Class of 2025! We're happy you're here!"
View Orientation 2022 Photos