Student Organizations Strive to Help Incoming Class Thrive in Law School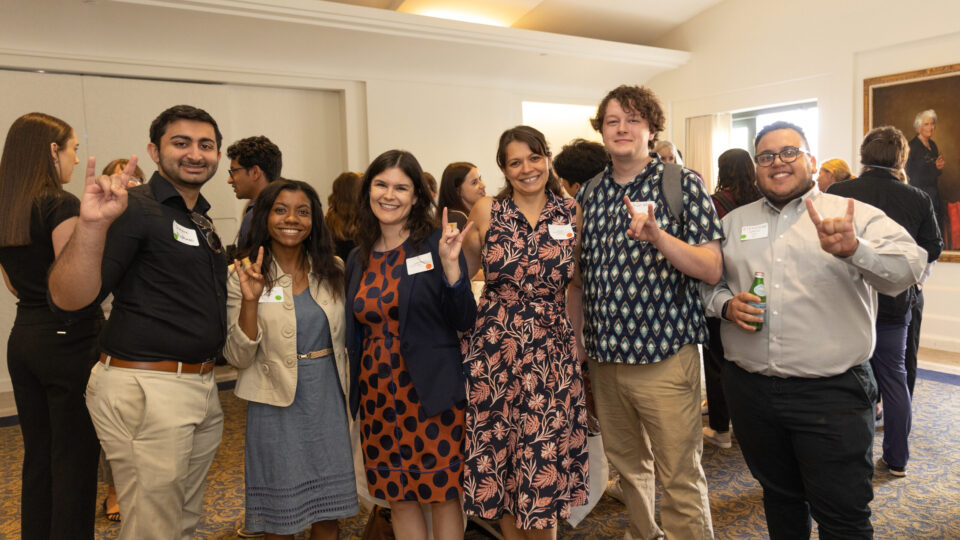 When Texas Law welcomed incoming students during the Class of 2025's Orientation week, several student organizations teamed up to make sure that everyone felt supported and welcome. They hosted "Thriving in Law School" programming throughout the week that helped to lay the groundwork for success for incoming students who may come from backgrounds that historically have been underrepresented in law school or who are first-generation law students.
The program's goal is to ensure that students with diverse backgrounds "not only make it through law school, but thrive in law school," said Thurgood Marshall Law Society President Julian Humphrey-Davis, a 2L. "This program is the initial step towards students finding a home here, setting a foundation for success in their endeavors, and the eventual diversifying of the legal profession."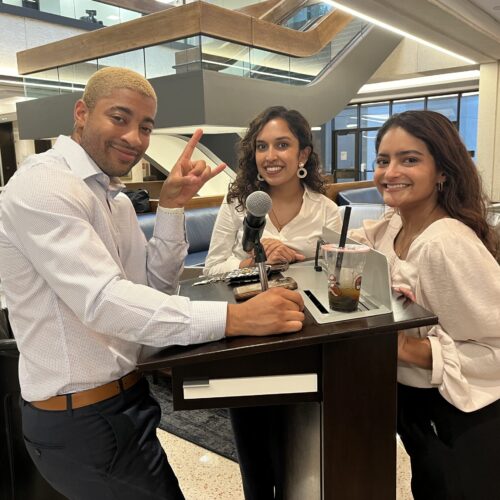 Thriving in Law School is student-driven—planned and coordinated by students from the Thurgood Marshall Law Society (TMLS), the Chicano Hispanic Latino Law Students Association (CHLSA), and the Asian Pacific American Law Students Association (APALSA). The planning committee consisted of Humphrey-Davis of TMLS; 3L Barbara Di Castro, 2L Grecia Rivas, and 3L Bianca Ramirez from CHLSA; and 2L Mansi Chauhan from APALSA. Programming was also supported by the law school's Office for Diversity, Equity, Inclusion, and Belonging (DEIB) and by Texas Law Pipeline Program's founding sponsor Vinson & Elkins LLP and partner sponsor Greenberg Traurig, LLP.
Thriving in Law School programming ranged from community-building to "debriefs" on a variety of topics and one-on-one time with members of our faculty.
At the Academic Debrief, incoming students met in a casual setting to get advice from 2L and 3L students, covering topics from classroom and exam preparation to outlining and cold calls. The Career Debrief featured a "speed interview" session with returning students to learn about their various legal internship experiences. The Freshlaw students voiced their appreciation for these peer-to-peer activities.
"Our upperclassmen are incredibly friendly and kind—their advice and the welcoming atmosphere let me know I made the right choice of law school," said 1L Veda Tsai, a native of Plano and graduate of the University of Texas at Dallas. "The Thriving in Law School events eased many of my worries, helped me transition to Austin, and prepared me for the first day of classes."
At the Faculty Debrief, 1Ls were able to visit with Dean Bobby Chesney and other faculty and staff members. The Final Debrief afforded time for the 1Ls to join student leaders, faculty, and attorneys from sponsoring law firms at a luncheon where they received advice and encouragement.
"This week really affirmed my readiness to start law school," summed up 1L Alyssa Arellano in a social media post. "The sense of community is strong. I really feel supported and like I belong."
Humphrey-Davis said, "The planning committee thanks our faculty and DEIB staff—Dean Shavonne Henderson, Hong Escobar, and Sarah Shannon-Wildt—who guided us in our effort to facilitate this experience for our 1Ls."
View Thriving in Law School Photos