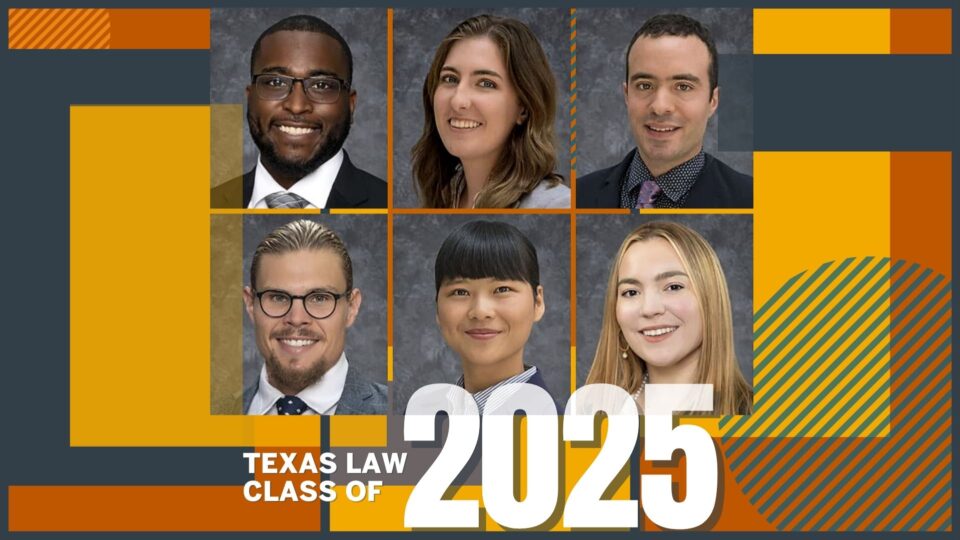 Meet the Texas Law Class of 2025
The Texas Law Class of 2025 begins an exciting three-year journey that will develop them as future leaders in the legal profession. This impressive group of nearly 300 students brings a wide range of academic backgrounds, work experience, community service, and life experience to the Forty Acres. This year's 1Ls represent 32 states and eight foreign countries and, for the second consecutive year and the second time in law school history, women outnumber men in the class. This outstanding cohort was selected from more than 6,300 applications.
These six members of the Texas Law Class of 2025 illustrate the diverse backgrounds represented by this exceptional class. Learn more about what led them to Texas Law, what inspires them, and what makes them unique.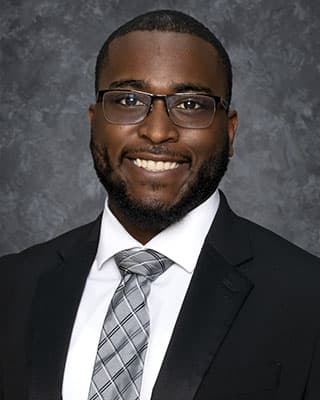 Name: Nathan Alexander
Hometown: Wichita Falls, Texas
Education: Prairie View A&M – B.A., Political Science and Government
As a member of the Prairie View City Council, you were one of the youngest elected officials in the State of Texas. What has that experience meant to you?
I have truly cherished the opportunity to serve as a member of the Prairie View City Council, representing the people. While an undergrad at Prairie View A&M University, I witnessed many of the residents' and students' rights to fair access to the ballot under attack by county officials, which prompted me to run for office my senior year, and furthered my commitment to pursue law. While serving on Council, I have been a very active member accomplishing many things to elevate the City of Prairie View to the next level. It's truly an honor to serve one of the only minority-led communities in the state.
What led to your decision to go to law school?
As far as I can remember, I have always wanted to attend law school. I became attracted to the profession seeing the many unjust things happening in my hometown. When Shelby County v. Holder came down in 2013, I immediately noticed how this decision impacted my community. I knew then that it would be my duty to speak and use my voice for the interest of others in underserved and underrepresented communities.
Why Texas Law?
The uplifting vibrant community and the mix of so many individuals from different backgrounds of life is why I chose to attend Texas Law.
What/who do you draw inspiration from?
I draw my inspiration from a variety of different sources. At the top would have to be a firmly rooted belief in the Lord. Without him, none of this would be possible. My parents would be next. The sacrifices that have been made to get me to this point give me hope and a vision to keep pressing toward my dreams … remembering that I belong in every room I step in. Civil Rights and Black leaders like Martin Luther King Jr., John Lewis, Thurgood Marshall, and President Barack Obama remind me that change starts with us, and each generation must define how that looks.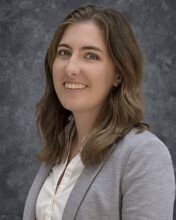 Name: Elizabeth Blackford
Hometown: Dayton, Ohio
Education: California State University, Chico – B.A., Political Science and Government
What have you learned from your international experiences, both working and volunteering?
As an undergrad, I had the amazing opportunity to travel to Peru and Guatemala and learn from local leaders about some of the various community initiatives that they are working on in fields, like eco-agriculture and healthcare. Upon graduating, I knew I wanted to spend an extended period of time abroad and really get to know a community different from the one I grew up in. My year living and working in Spain helped prepare me for my future legal career. I hope to work in international law someday and the language skills I built and the connections I made will undoubtedly help me in this endeavor.
How do you think your leadership and life experiences have prepared you for law school? 
I came into undergrad terrified of public speaking. Through my involvement in clubs on campus, and later, my work in politics, I not only overcame this fear but actually began to enjoy public speaking. Had it not been for these experiences, I would be much less confident going into the law school environment where public speaking and leadership skills are necessities.
Why Texas Law?
Texas Law became my top choice very early on in the application process. Not only is Texas Law one of the best law schools in the country, it's also one of the most affordable, even for out-of-state students like me. Further, from the minute I received the acceptance call from Dean Le, I could see firsthand the welcoming atmosphere at Texas Law. The Society and Dean's Fellow Programs, no ranking policy, and emphasis on 1L involvement in student organizations all create a culture centered around community over competition.
What do you most look forward to as you begin this journey?
One thing I am most looking forward to as I begin my law school journey is getting involved in pro bono work. Volunteering and other community engagement opportunities have always been my outlet, not only for helping give back to the communities I've lived in, but also for creating a home for myself within those communities. I am very excited to get hands-on experience in various areas of the law early in my law school journey.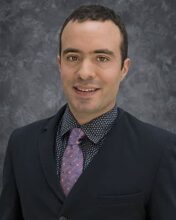 Name: Dan Fishbein
Hometown: Northborough, Mass.
Education: Dartmouth College – B.A., History and English
How do you think your experience as a middle school teacher will help you in law school?
My teaching experience enabled me to develop interpersonal skills that help me navigate stressful situations. The COVID pandemic heightened my students' learning struggles and made it more challenging for me, from a distance, to help them. When I did find success in meeting those challenges, it resulted from my ability to collaborate with other teachers and community members. As a law student, I will hold on to a lesson I learned as a teacher about the importance of mentorship as I look to other law students, professors, and lawyers for help in my efforts to enter a challenging professional field.
What do you most look forward to as you begin this journey?
I look forward to realizing my academic potential through continuous hard work and passion for becoming a lawyer. I recently completed a 2,200-mile thru-hike of the Appalachian Trail (AT). From the experience of crossing the AT finish line after a great deal of effort, I can envision what it will feel like to accomplish the milestones of law school – completing 1L, graduation, passing the bar – having devoted all I can to the work that will lead up to those moments. I look forward to the rewarding opportunities that will come from developing a skill set I can carry with me for the rest of my life.
Why Texas Law?
I chose Texas Law because I would love to have a career in the environmental legal field in the Mountain West or Southwest. Texas is strong in that area and in those regions, so it seemed like a great fit.
Who do you draw inspiration from?
I draw inspiration from my mother because of her dedication to helping others and her ability to thrive in more than one pursuit at a time. My mother has devoted her career as a doctor to improving birth outcomes for low-income women of color; I hope to emulate her in becoming a professional who prioritizes doing good for others over making a profit. While my mother saw patients, built an academic CV, and won awards for her abilities, she also managed to find time for my sister and me whenever we needed her, go running, and find community in her many friend groups. As I begin the new challenge of law school, I hope to always strive to find a similar balance between work and life.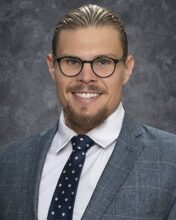 Name: Anders Huizenga
Hometown: Trophy Club, Texas
Education: Yale University – B.A., Political Science
How did playing football at Yale help you develop skills that will help you now?
One of the most relevant lessons was learning to be a good teammate. I came to understand "good teammate" to mean embracing and being responsible for the role in which I could be most useful to my team without becoming bitter or resentful. In short, being a "good teammate" is to subordinate your desires to the group's common goal voluntarily. I was able to apply that lesson through the building of genuine relationships with my teammates, who were from disparate cultural and economic backgrounds and all competing against each other. Without strong relationships, it would have been exceedingly difficult to sacrifice our selfish interests for the benefit of the team.
What led to your decision to go to law school?
I came to law school because I am energized by the process of analyzing laws and regulations to make arguments on behalf of, or to guide clients. In my most recent role at Goldman Sachs Compliance, my client was the internal real estate business I supported. When I worked at a law firm, my clients were unaffiliated individuals and businesses filing suit or being sued. What both of those situations have in common is a party that has been presented with a problem and is seeking guidance concerning possible remedies. Law school is where I will hone the skills necessary to become a more effective counselor — learn the law that governs our lives, develop stronger arguments and writing skills, and cultivate persuasive articulation of my clients' positions.
Why Texas Law?
I am a native Texan who wants to give back to the state that raised me. Texans, some of whom got here as fast as they could (e.g., my parents), shaped me into the man I am today. Texans are proud, unselfish, and inviting. We have strong convictions, but we are always ready to lend a hand to our neighbors when times are tough. I hope my career in the legal field allows me to do just that, and Texas Law provides the best opportunity to prepare myself for a career of legal service in Texas.
What/who do you draw inspiration from?
My parents and my wife are some of my sources of inspiration. My parents — who raised my four siblings and me — were the first to demonstrate to me how difficult work can be done if you are willing to make sacrifices and have identified the purpose of your sacrifice. Separately, during her battle with cancer, my wife taught me that rejecting cynicism and pity when terrible things happen and instead taking responsibility for the limited scope of what you can control keeps you from becoming a victim of your circumstances and leads to better outcomes. I look to all three of them when life's inevitable challenges confront me.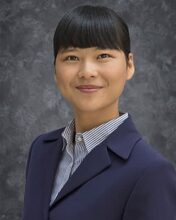 Name: Weiyuan "Circle" Robie
Hometown: Chuzhou, Anhui Province, China
Education: Shanghai University – B.A., International Economic Law
Can you share some thoughts about making the transition to the U.S. after growing up and attending college in China?
The culture of self-expressing in the U.S. is very different from that in China. I was taught from a very young age to say less and listen more, stay humble, and don't outshine others. After moving to the U.S., I started to share my opinion more, but the Chinese part of me was still trying to quiet me down. I'm still learning how to work with them both without compromising my identity.
How do you think your leadership and life experiences have prepared you for law school?
I am brave and calm in the face of challenges; in other words, I'm not afraid of being the first one to tackle tough problems and make a change. Law school might be challenging, but I know I can overcome it with the right mindset and work ethic. I'm also more sensitive to the needs and wants of marginalized people and communities because I was one, and I lived in one. I see them, and I care about them.
What led to your decision to go to law school?
One reason is my intellectual curiosity. I'm the kind of person who's always curious about how things around me work. Going to law school is my way of equipping my head and figuring out how this country runs. I want to acquire the capacity to integrate the multiple forms of knowledge and expertise needed to understand corporate America and be smarter every day! Another reason is my desire to make a difference for my family and community. As the first one in my family to go to college and study abroad, I want to open the door to higher education for them and potentially for the next generation.
Why Texas Law?
First, I've been living in the U.S. for a while now, but haven't had any chance to experience the south, and my goal is to explore the U.S. as much as I can! Second, when I was considering where to go for school, everyone told me Austin is great, Texas Law is great … lots of opportunities and fun, and that I would have a great time. So far, they're not wrong!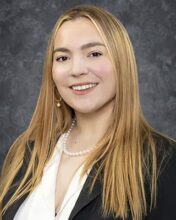 Name: Meredith Spalding
Hometown: Sugar Land, Texas
Education: Chapman University – B.F.A., Television Writing and Production
Can you share how working for several years at the STARZ Network helped develop skills that will help you in law school?
One of the main duties of my job at STARZ was giving notes, which I now see as a form of issue-spotting. I would receive outlines, scripts, and cuts of episodes to be reviewed and I had to comb through each of them looking for potential problems and then give feedback. Whether it was something that might confuse the audience, something that contradicted the books (in the case of a television adaptation), or lighting, clarity, or continuity issues in the cuts. Because I became pretty good at spotting issues, my former boss gave me the nickname "Eagle Eye." Hopefully, this skill will migrate over to law school and help me catch legal issues.
What led to your decision to go to law school?
Both my parents (and step-parents) are lawyers. Growing up, the dinner table was always a place of lively debate, and my brother and I were expected and encouraged to participate. At times it could definitely feel like a cross-examination, but it taught me that, to be persuasive, I needed to provide support and reasoning for my opinions.
Why Texas Law?
As a 7th-generation Texan, I feel very at home here. My late stepfather attended Texas Law in the '70s and there was something very special to me about the idea of sitting in the same classrooms as him and walking the same halls — not to mention how impressed I was with the faculty and programs Texas Law offered.
What do you most look forward to as you begin this journey?
Groups of people experiencing the same challenging conditions tend to bond together, so I'm looking forward to making new friends. I love to learn new things so I'm also excited to be back in an academic environment.