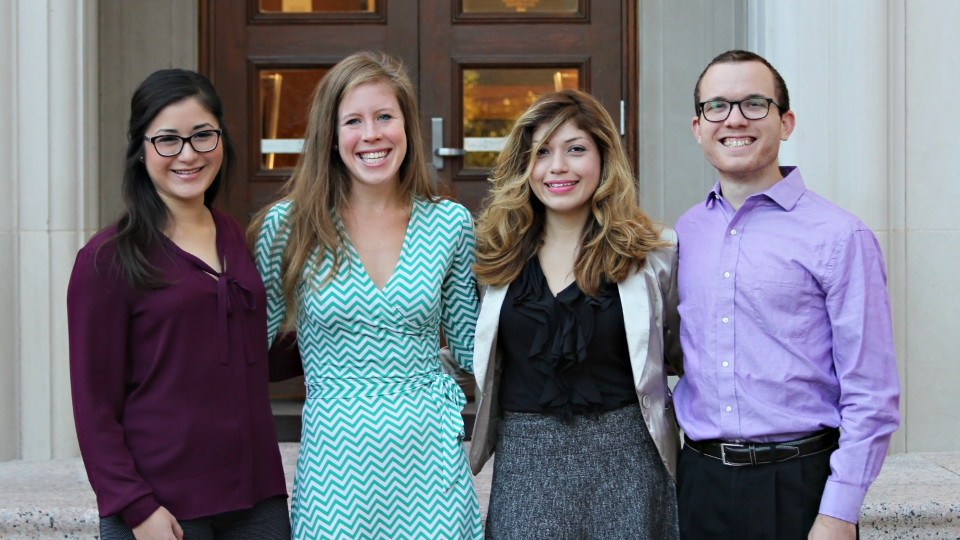 2014-15 Mithoff Pro Bono Scholars
Berenice Medellín, '16, worked with the Mithoff Program's Educational Equity Project during the 2014-2015 academic year. Specifically, Berenice contributed to the the day-to-day operations of the Youth Court program, which embraces a transformative justice system for school disciplinary issues by empowering youth to learn from their behavioral issues and earn a second chance. Berenice also contributed legal research and writing, analyzing access to justice issues in the school system such as school enrollment issues for foster care youth. Berenice was involved in the Board of Advocates and the Chicano/Hispanic Law Students' Association.
Andrea Meza, '15, helped to organize Deferred Action for Childhood Arrival (DACA) immigration clinics and Citizenship Clinics as a Pro Bono Scholar. In addition, she worked on a parole packet project in partnership with the Domestic Violence Clinic and helped organize the Mithoff Program's 2014 and 2015 winter break trips to the Texas Rio Grande Valley. Meza's personal pro bono work included volunteering for Catholic Charities of Central Texas and Casa Marianella. During her 3L year, she served as President of the Chicano/Hispanic Law Students' Association and Co-President of Texas Law Fellowships. Meza received an Equal Justice Works Fellowship to work with Raices to assist families in immigration detention in Karnes, Texas, following graduation.
Colleen Mulholland, '15, worked primarily on immigration projects, including DACA Clinics and Citizenship Clinics, as a Pro Bono Scholar. She also helped organize winter break trips to the Rio Grande Valley in 2014 and 2015. In addition to her work as a Scholar, Mulholland served as a Society Program mentor and was involved in Texas Law Fellowships. Mulholland received a Justice Center Fellowship in Public Interest Law to work with the Equal Justice Center in San Antonio following graduation.
Simone Otenaike, '15, helped to plan the 2014 Mithoff Program winter break trip and worked on materials for multiple Expunction Clinics at which Texas Law students helped people erase or seal their criminal records. Otenaike participated in the 2013 winter break trip and volunteered for the law school's DACA clinics. She was involved in the Thurgood Marshall Legal Society and the Board of Advocates.
Bryan Zubay, '16, helped organize and manage Mithoff Program Expunction Clinics to help low-income Texans remove uncharged or acquitted arrests from their criminal records, in order to increase their housing and employment opportunities. Zubay also was on the planning committee for the Pro Bono in January winter break service trip. He was a summer law clerk at the Texas Fair Defense Project and a student in the immigration clinic. He also was a member of American Constitution Society, the Texas International Law Journal, and OUTLaw.