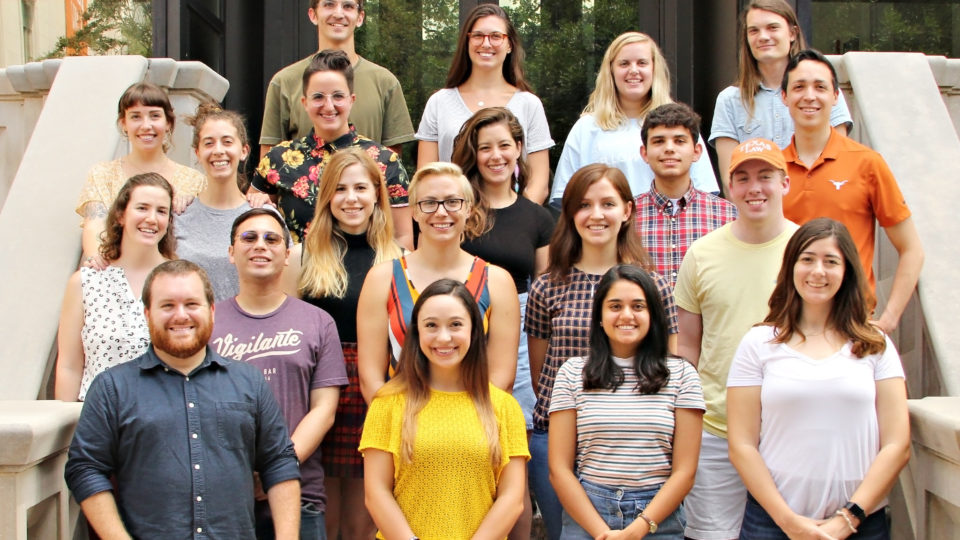 Mithoff Pro Bono Scholars
The Mithoff Pro Bono Scholars Program provides scholarships in the amount of $3,500 to second- and third-year students who commit to working with the Mithoff Program in a project leadership and coordination role for 200 hours during the academic year. The Mithoff Scholars work closely with the Mithoff Program Director to plan and implement pro bono projects, and conduct research, intake, and outreach that further the mission of the program.
Applications for the 2021-22 academic year will be available in Spring 2021.
2019-20 Pro Bono Scholars
Top/Fourth Row (Left to Right) – Nicolas Sawyer '21, Taylor Shields '21, Lena Dennington '21, Francis Wellin '21
Third Row (Left to Right) – Madeleine Mashon '20, Nat Fine '20, Meredith Luneack '20, Jess Hallam '21, Alexander Gras '21, David Gonzalez '21
Second Row (Left to Right) – Madeline Waddell '21, Nathan Simmons '21, Olivia Lee '21, Thaisa Howorth '21, Anna Harris '21, Jake Herrel '21
Bottom/First Row (Left to Right) – Joshua Wagner '20, Breanna Wenke '21, Arushi Pandya '21, Kate Moody '20
Not pictured – Noorulanne Jan '21, Simon Lu '21