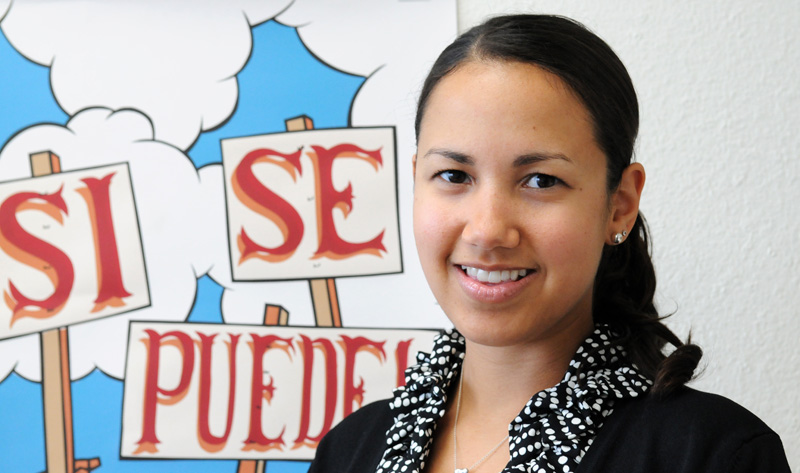 National Pro Bono Week at UT Law: Spotlight on the 2012–2013 Pro Bono Scholar
In celebration of National Pro Bono Week (October 21–27, 2012), the UT Law Pro Bono Program is pleased to announce that third-year student Megan Sheffield has been selected to serve as a Pro Bono Scholar for the 2012–2013 academic year.
The Pro Bono Scholars Program provides scholarships to second- and third-year students who commit to working with the UT Law Pro Bono Program a minimum of three hundred hours during the academic year. The scholars plan and implement pro bono projects and conduct research and outreach that furthers the mission of the program.
This fall Sheffield has worked with UT Law faculty, attorneys from local nonprofit organizations, and private law firms to develop volunteer legal projects for the law school community. She has been instrumental in launching free legal clinics to assist high school students with their applications for special immigration status under the new Deferred Action for Childhood Arrivals (DACA) program. Her work on the clinics has included outreach to local schools, community groups and nonprofit organizations; coordinating the training of attorneys, law students, faculty, and staff, and other volunteers; and helping to orchestrate the clinics themselves.
In addition to her work on the DACA clinics, Sheffield helps facilitate the Pro Bono Program's projects involving U visa cases with Catholic Charities and asylum cases with American Gateways, as well as a pro se family law project with the Travis County Law Library and a general legal clinic with Texas RioGrande Legal Aid.
Sheffield has found her work on the DACA clinics particularly rewarding. "I am inspired by the outpouring of support for the 'Dreamers,' from the law students and attorneys who have provided pro bono assistance, to the community members who have volunteered their time at the clinics," said Sheffield.
Sheffield is not new to pro bono service. Last year she was a student leader for UT Law's winter service trip to the Texas Rio Grande Valley. She served as the VAWA group leader, collaborating with the South Texas Civil Rights Project (STCRP), the VAWA project host, preparing training materials, conducting a pre-trip orientation and training, and providing general guidance to other students during the trip.
Tina Fernandez, director of the Pro Bono Program, considers herself incredibly lucky to work with Sheffield. "Megan is dedicated to fostering a pro bono ethic at the Law School," said Fernandez. "The Pro Bono Program has been able to significantly extend its reach this fall in large part due to Megan's efforts. And it is rewarding for me to be a part of Megan's professional development."
After her 1L year, Sheffield worked on immigration matters for STCRP. Last summer she worked with American Gateways in Austin. She has participated in the Law School's Immigration Clinic, and is involved in the Thurgood Marshall Legal Society and the Public Interest Law Association. She plans to pursue a career in immigration law.
About the Pro Bono Program:
The Pro Bono Program's vision is that students at the University of Texas School of Law will engage in pro bono work to increase access to justice and develop a lifetime commitment to providing legal services to those in need. Launched in 2009, the Pro Bono Program is a project of the Law School's William Wayne Justice Center for Public Interest Law.
Related links:
Contact: Tina Fernandez, Director, Pro Bono Program, William Wayne Justice Center for Public Interest Law, 512-232-6170, tfernandez@law.utexas.edu