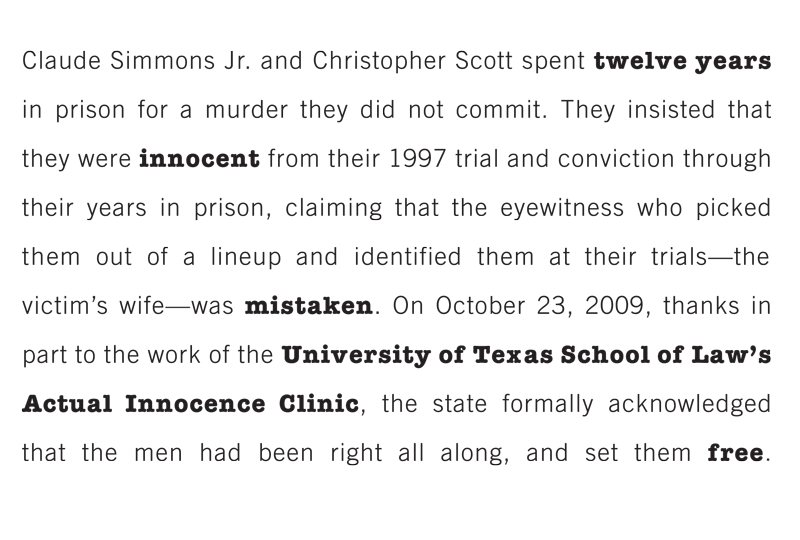 From Strength to Strength
The Law School's faculty grows and adapts to face the unprecedented challenges of a changing world.
The next generation of lawyers and citizens will face unprecedented challenges: an uncertain economy; a dwindling supply of traditional energy sources; environmental and climatic changes that threaten to alter and disrupt ways of life around the world; all in an increasingly connected, science-andtechnology-driven world. In order to meet the problems posed by these phenomena, lawyers will often need to be as knowledgeable about scientific policy as about oral advocacy. They'll need to be seasoned researchers as well as nimble legal thinkers and advocates. They'll need to be as comfortable in the world of ideas and innovation as in the world of the courtroom and the law firm.
The Law School faculty has always stood with one foot in the world of research,
theory, and scholarship, and the other in the real-world political and legal arenas where such ideas are debated, fought for, tested, altered, and implemented. Over the past two years, Law School Dean Larry Sager has sought to strengthen that connection through hiring the best legal scholars and teachers available, and encouraging them to follow their research wherever it may lead, joining a fabulous extant faculty and its deep tradition of scholarship and teaching.
"We're a large law school with terrific energy on a wide variety of fronts," Sager said. "If you look at the twelve people we've hired this year, there's a  wide range of interests and expertise. And that's because there's a large need  for a wide spectrum of professors at a  school the size of ours." In the past two  years, the Law School has hired twelve  new faculty; eight of the newest are profiled on the next pages. In addition, over the same time period the Law School  has added eight named chairs, both for new hires and already existing positions.  Recent hires include experts on a
diversity of topics, from bankruptcy and  consumer law to environmental law to  race and legal institutions. They join the  already formidable tenured faculty, legal writing faculty, and adjunct professors.  "We go by the best athlete model," Sager  said. "What you really want to get is very smart people and set them loose."
Sager said that in addition to finding excellent teachers and scholars in a variety of legal specialties, he was glad to have been able to hire professors with diverse personal backgrounds. "We're very alert to the possibility of hiring at a time when there's still a gender imbalance and the faculty is less ethnically diverse than it could be."
Scholarly breadth, diversity, and excellence will help current and future Law School students to craft an education that will prepare them for a rapidly changing world. "We must think about the kind of world our graduates will face," Sager said. "A world in which the connection between energy and the environment will pose some of the hardest problems our planet will ever face. A world in which it will be increasingly vital to make the world safe for innovation and investment. The old economy is broken, and there is no obvious way to fix it. It's a world in which, notoriously, the mounting efficacy of modern medicine is offset against mounting costs and inequitable distribution of care. A world that really is a world—that is to say, we can expect that many of our grandchildren will lead their lives in more than one country. It's a world in which despite significant progress in social and political justice, there are still acute episodes
of great injustice and chronic patterns of injustice."
Sager said the strength of the faculty will allow the Law School to become even stronger and better able to compete with and outperform its peer institutions. He also pointed to Austin's growing profile as a great city to live in as a way of attracting the best scholars and students to the Law School. "There is a very tangible sense of momentum here," Sager said. "Austin and the Law School have become extraordinarily attractive places to be. We have a lot going for ourselves in the market for fine professors, and students. Success begets success."