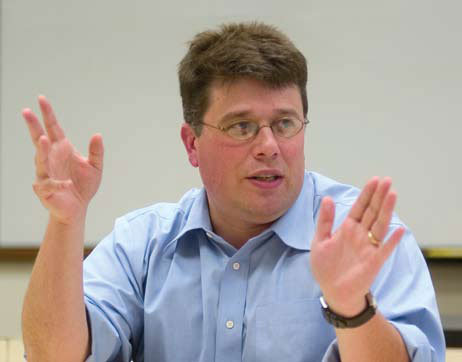 The Rules of War
UT Law Professor Derek P. Jinks brings his expertise on international law to the Naval War College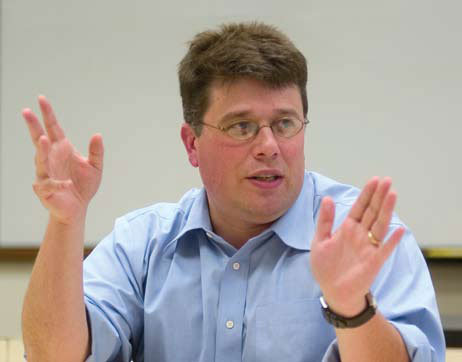 Derek P. Jinks, Marrs McLean Professor in Law at the Law School and a senior fellow at the Robert S. Strauss Center for International Security and Law at the University of Texas, has been appointed to serve as the Charles H. Stockton Professor of International Law at the U.S. Naval War College for 2009–2010. The Naval War College, located on Coasters Harbor Island in Narragansett Bay near Providence, Rhode Island, is an educational and research institution that is part of the U.S. Navy, and offers classes to naval officers in a variety of subjects. As at the Law School, Jinks will teach classes on international law during his year-long appointment. "All the students are officers in the military with extensive operational experience," Jinks said. "A  a consequence, it is a terrific experience for me. I'm teaching the law of armed conflict to officers with extensive experience in the field."
In a political climate that has produced much debate over the role of international law and how it applies in military combat situations, especially those involving the war on terror, Jinks is looking forward to a fruitful dialogue with the War College's officer students. Jinks is passionate about international law, and he has argued skillfully against those who would prefer to weaken spheres of cooperation such as the International Criminal Court or the Geneva Conventions. To him, international law and its key institutions are  a common-sense reaction to the threat of violence in an ever-shrinking world. "Social, economic, and political interaction now routinely take place across borders," he said. "Although nation-states are endowed with political sovereignty (itself a principle of international law), the relations between these discrete units of political authority cannot be meaningfully governed by the laws of any one of these formally equal units."
Beyond war, Jinks points to growing trans-territorial challenges, such as global pandemic and climate change, as arguments for the empowerment of treaty regimes. "No state has the capacity to address such problems working alone," he said. "Onlyan international regulatory framework offers any promise of addressing these essentially global problems."
It is in the realm of armed and diplomatic conflict, however, where Jinks has focused much of his attention. During and after law school, Jinks spent time as a delegate to the Rome Treaty Conference for the Establishment of an International Criminal Court and as a clerk with the International Criminal Tribunal for the Former Yugoslavia. Then, in 2001, al Qaeda attacked the United States, forcing enormous new decisions in the realm of international law. Suddenly Jinks, who was already publishing his first articles about cases like People's Mojahedin Organization of Iran v. Department of State (2000), found himself center stage in a historic debate.
Some of these historic questions were eventually tested in the Supreme Court case Hamdan v. Rumsfeld (2006). Along with Ryan Goodman and Anne- Marie Slaughter, Jinks submitted an amicus brief defending the idea that the Geneva Conventions—in particular Common Article 3 of the Conventions— applied to al Qaeda fighters captured in the War on Terror. "Happily," Jinks
said, "the Court ultimately adopted this position in support of its holding that the president lacked authority to convene military commissions to try members of al Qaeda." The decision was seen by its supporters as a crucial defense of international law, helping to ensure that important treaties like the Geneva Conventions would not be circumvented. Though Jinks's amicus brief contradicted the position presented by the U.S. Department of Defense under Donald Rumsfeld, his subsequent appointment to the Naval War College indicates that many uniformed military officers are interested in learning from his perspective and experience.
Jinks's international focus is grounded in a small-town childhood. When Derek Jinks arrived at the University of Texas at Austin as an undergraduate, most of his experience of the world came from growing up in a single-parent home in Alexandria, Louisiana. He'd discovered competitive debate in high school and was lucky enough to receive a debate scholarship to attend UT. On campus, a new world opened up to him. He began to study anthropology, public policy, and international relations. "As a kid from a small town in Louisiana," Jinks said, "I loved the dislocating, paradigm-shifting experience that anthropology provided." For a time, he considered careers in ethnography and medicine. He felt torn between twin desires to further his understanding of the world and to help people in a direct, practical way.
It wasn't until after college that he made his decision: neither and both. "A trip to southern India after my graduation from UT convinced me once and for all that the law was the best route for me," Jinks said. "The poverty and suffering I saw there made clear to me that structural changes—at the local, national, and international level—are necessary to address in any meaningful way our most pressing social problems." Soon he was off to Yale University, where he received a simultaneous MA and MPhil in sociology and a JD from Yale Law School. Since then, he has become a leading scholar on international law, serving on the Secretary of State's Advisory Committee on the subject, and teaching at the Law School and now the Naval War College.
Jinks is now writing a book about the last decade's challenges—a few books, actually. He has four forthcoming in 2010 for which he is credited as author, coauthor, or coeditor, including The Rules of War: The Geneva Conventions in the Age of Terror (Oxford University Press). Two books are collaborations with longtime friend Ryan Goodman, another leader in the field of international law. "Ryan and I have been close friends for nearly twenty-five years," he said. "We debated together in college at UT, roomed together in law school, and have collaborated closely throughout our careers in the legal academy." Jinks also spoke of the importance of his family—wife Cathy, children Hannah and Andrew, and, not least of all, his mother, Beverly, who raised two kids alone and did, Jinks said, "an unbelievably good job of it." Such a good job, in fact, that Jinks is now able to apply the moral lessons of a small-town childhood to the greatest international debates of our time.—Mike Agresta