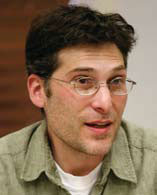 Where Law and Philosophy Meet
The Law School's Law and Philosophy Program brings together an impressive variety of interdisciplinary scholars.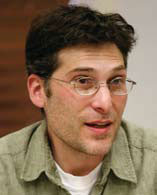 The Law School ' s Law and Philosophy program (LPP) has seen impressive activity in 2009. The program allows admitted students to earn a JD from UT Law and a PhD from the Department of Philosophy at the University of Texas at Austin in seven years. But it offers far more than a combined degree in the role it plays in the intellectual life of the university, and 2009 has been an especially rich year at the Law School for those whose interests lie where the two disciplines meet.
"This year has seen an astonishing scope of extraordinary talent in law and philosophy at the Law School," Dean Larry Sager said. "And this hasn't been just a one-year wonder. There's been an explosion of interest in philosophy a  the Law School, and it's reflective of the ongoing commitment of UT Law to law and philosophy." When the Law and Philosophy Program began in 1998, much of its activity centered on questions of general jurisprudence—on the nature of law and determining what is distinctive about the nature of legal reasoning. In recent years, however, faculty and student participants have expanded their interests into many other areas of intersection between philosophy and law. "We're no longer concentrated only on those core questions," said John Deigh, co-director of the LPP with Richard Dale Endowed Chair in Law Mitchell Berman. "While investigations into the nature of law remain important, we believe it essential not to lose sight of the great variety of legal problems that provoke, and benefit from, philosophical inquiry. For example, we have scholars examining questions about the nature of criminal responsibility, and how it resembles moral responsibility; about the relationship between corrective and distributive justice in tort law; about the moral implications of the use of assisted reproductive technologies;  and about the epistemological grounding of the use of evidence in courts. And that's just the tip of the iceberg."
Indeed, the breadth of interests and expertise represented among the philosophically engaged members of the UT Law faculty make it one of the strongest law and philosophy faculties in the country. In addition to Deigh (an internationally recognized expert in moral psychology, and former editor of the leading philosophy journal, Ethics) and Berman (whose work ranges across the philosophy of criminal law, constitutional theory, and general jurisprudence), UT Law's permanent faculty involved in the LPP represent  almost all important areas of legal philosophical inquiry, including John Robertson in bioethics; Ronen Avraham and Jane Stapleton in tort theory; Oren Bracha and Jane Cohen in property theory; Richard Markovits in general jurisprudence and the philosophy of economic analysis of law; and Bob Bone, who will join the faculty permanently in 2010 from Boston University, who is perhaps the nation's leading expert on the philosophical foundations of the law of procedure (see page 10). All this is in addition to constitutional theory and political philosophy—traditional strengths of UT Law—today well represented by Sanford Levinson and Jeffrey Abramson as well as Sager and Berman.
This core faculty is bolstered by recurring visitors to the Law School such as Peter Cane, a leading international scholar on administrative law and legal responsibility from the Australian National University, and Larry Laudan, an expert on epistemology and the philosophy of science, now at the Institute of Philosophical Research at the National Autonomous University of Mexico. Participants from UT's philosophy department include Robert Kane, a professor emeritus who is author of seven books and sixty articles on the philosophy of mind and action, ethical theory and social ethics, the theory of value, and philosophy of religion; David Sosa, chair of the UT Department of Philosophy, a specialist in the philosophy of mind and language; and Jonathan Dancy, who splits his time between UT and the University of Reading in the United Kingdom, and is one of the most prominent and respected philosophers of ethics and action in the English-speaking world.
The program also benefits from the presence of four remarkable young scholars here for one- or two-year fellowships: Harrington Faculty Fellow David Enoch (see sidebar), Tatum Fellow Mariah Zeisberg, and Emerging Scholars Fellows Ian Farrell and Kevin Toh.
Enoch, associate professor of philosophy and Jacob I. Berman associate professor of law at the Hebrew University of Jerusalem, is this year's Harrington Faculty Fellow at the Law School (see sidebar). He works primarily in the areas of moral philosophy, especially metaethics, and the philosophy of law.
Ian Farrell, who previously taught at Australia's University of Wollongong School of Law, is focused on several writing projects as an Emerging Scholar. "I'm working on an article on the provocation manslaughter defense—how people who kill in response to provocation, in the heat of passion, are guilty of manslaughter, rather than murder," Farrell said. His article, coauthored with Berman, examines the theoretical rationale for treating such people differently. "When you look at the justifications for treating people who kill some people differently from others, that should be in accord with our moral view that some types of killing are more wrong than others," he said.
Another Emerging Scholar interested in that intersection of law and philosophy is Kevin Toh. His work focuses less on the specifics of a particular case, and more on the nature of law itself. "I'm trying to come up with a theory for what law is, and how, as a system of constraints on our behavior, it's different from other systems, such as morality, or etiquette," he said. "So what distinguishes legal rules from other rules? It's certainly much more sophisticated than a community where powerful people say, 'This is how things should be done!'"
Stephen Tatum Scholar Mariah Zeisberg's research focuses on constitutional theory, law and politics, and liberal and democratic theory. Her work explores the significance of political conflict and legal disagreement for theories of constitutional authority. She is currently preparing a book manuscript on the constitutional war powers of the U.S. Congress and president, exploring the value of rightly-structured conflict between these two branches as to the proper scope of war powers.
Taking advantage of the fellows' energy, the law and philosophy faculty initiated a regular discussion group this year, a biweekly meeting where Law School and UT Philosophy faculty members and graduate students share and discuss their works in progress. All of these faculty members participate in a variety of other law and philosophy initiatives, too—including a colloquium on law and philosophy usually run by Deigh in the fall and one on constitutional and legal theory co-taught by Sager and Berman in the spring. Each colloquium is run as a course for students that also brings in leading philosophers and theorists from outside UT to present works in progress to a mixed audience consisting of the students enrolled in the course and all interested faculty. This fall's series featured a number of scholars, including Norman Daniels of the School of Public Health, Harvard University; Henry Shue of Oxford University; Gary Watson of USC; David Luban of Georgetown Law Center; Derrick Darby of the University of Kansas; and Christopher Kutz of the UC Berkeley School of Law.
Finally, this spring, the LPP will host the Leon Green, '15, Lecture in Jurisprudence. The speaker will be Kent Greenawalt, a constitutional law and jurisprudence scholar at Columbia Law School. Greenawalt, who also teaches at Columbia's philosophy department, is the author of several books on first amendment issues, and will deliver his lecture (tentatively on the subject of legal interpretation) on March 4, 2010, at the Law School. The lecture, part of  the LPP since it began, will cap a busy and vibrant year of innovative interdisciplinary work at the Law School, work which will continue in years to come.— Julien N. Devereux and Dan Solomon