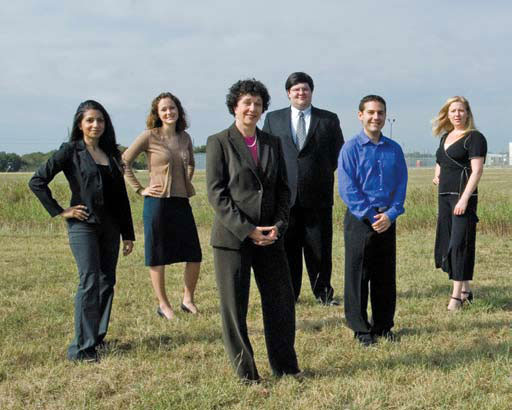 A Family Victory
The Immigration Clinic's work proved instrumental in the decision to end imprisonment of immigrant families at an Austin-area detention center.
A fierce thunderstorm didn't deter dozens of students, attorneys, and community advocates from gathering at the house of UT Law Clinical Professor Barbara Hines, '69, on a mid-September evening to celebrate the August announcement by U.S. Immigration and Customs Enforcement (ICE) that it would end family detention at the T. Don Hutto Family Residential Facility in Taylor. One by one, they shared stories about their three-year fight to stop ICE's practice of detaining entire families of immigrants at the former medium-security prison forty miles northeast of Austin. It didn't matter that not everyone knew each other personally. They were all bound by their work on Hutto, and now by a victory.
"The gathering was powerful because we all had given a part of ourselves to the Hutto struggle," said Houston immigration attorney Frances Valdez, a 2005 Law School graduate and a clinical fellow during the Hutto litigation and ensuing settlement. "Each one of us involved in that struggle felt a great sense of love and compassion for the families, and that is why we fought and maybe why we won."
Current and former Immigration Clinic students talked about their life-transforming experiences representing hundreds of Hutto detainees, many of whom were seeking asylum from dangerous situations in their home countries. Clinical faculty spoke about the courage of clients taking part in a lawsuit filed against ICE's parent agency, the U.S. Department of Homeland Security (DHS), in 2007. Grassroots activists and community residents recalled organizing protests around the state and speaking at county commissioner meetings to raise awareness of substandard living conditions at Hutto. And litigators reflected on the countless hours of strategizing and advocating—in and out of court—on behalf of families, many with babies and young children.
"It was a very emotional moment to bring all of these people together who had been working to end family detention at Hutto for so long," said Hines, director of the Immigration Clinic She credits the combined advocacy strategies of different groups for pressuring the government to close Hutto as a family detention center.
"This is really an important model in achieving an ultimate social justice or legal goal," said Hines, citing the mix of litigation, advocacy efforts, and media involvement. (In addition to local news coverage, Matt Gossage and Lily Keber made a short documentary, T. Don Hutto: America's Family Prison, in 2007, and another documentary film by Clark Lyda and Jesse Lyda about family detention at Hutto, The Least of These, was released in 2008.) Hines said she plans to write a law journal article with ACLU staff attorney Vanita Gupta about the "convergence of many different ways of advocacy to achieve a common goal."
For three years, students and faculty in the Immigration Clinic litigated and advocated, as part of a coordinated community effort, to close down Hutto, which opened in 2006, as a family detention center. As part of this effort, the Clinic, along with the national and Texas ACLU and the law firm of Dewey & LeBoeuf, reached a settlement in August 2007 which improved substandard conditions at the facility. On August 6, 2009, the federal government announced it would end family detention at the Hutto facility as part of an overhaul of the nation's immigration detention system. Under this new policy, the government agreed to extend the settlement until December 31, 2009, while the process of supervised release of families occurred. However, that process happened much faster than originally envisioned, and the last remaining families left Hutto in late September. The Hutto facility is now used for female ICE detainees only.
Valdez, who as one of the first attorneys to visit Hutto observed the barbed wire along the perimeter of the facility and mothers and babies dressed in prison uniforms, said the students and the Clinic were essential in ending family detention. "The Clinic helped spread the word about the facility and helped form the coalition to shut it down," she said.
"It's really the only time that our clinic has engaged in systemic litigation," said Hines, who received the 2009 Excellence in Legal Service Award from the Mexican American Legal Defense & Educational Fund (MALDEF) in September for her contributions to the field of immigration civil rights. "We generally do individual cases so this has been the Clinic's first case challenging systemic abuse within the immigration system."
Professor Denise Gilman, who also teaches in the Clinic, noted that the Clinic also filed briefing papers before the Inter-American Commission on Human Rights (IACHR), challenging detention of families at Hutto under human rights norms. The IACHR visited the center and several other immigration detention facilities July 20–24, 2009, and expressed concern about Hutto and the U.S. government's broad use of detention for asylum seekers and their accompanying minor children.
The Hutto experience had a profound impact on many Clinic students, including attorney Kate Lincoln-Goldfinch, a 2008 graduate of the Law School who decided to practice immigration law. "Working with Professor Hines on the Hutto litigation changed the trajectory of my life and career," said Lincoln-Goldfinch, who took two asylum cases to trial during her first semester in the Clinic. She is now serving the second year of an Equal Justice Works fellowship that allows her to work at Hutto to provide rights presentations to detainees, offer direct representation, and to recruit, train, and support pro bono attorneys.
Even after its success at Hutto, the Immigration Clinic continues to do advocacy work relating to the treatment of families who come to the United States. "The question is what is going to happen in the future with families who are seeking asylum and other relief," Hines said. "It's also important to point out that not everyone at Hutto had entered the United States illegally. If a person comes to the border or an airport and requests asylum, he or she is detained under our current immigration system."
Like Hines, Valdez recognizes that the Hutto victory does not mean there's not more work to do. "The coalitions formed by the Hutto struggle can be used as a springboard for fighting for immigration reform and other detention issues."— Laura Castro, '97