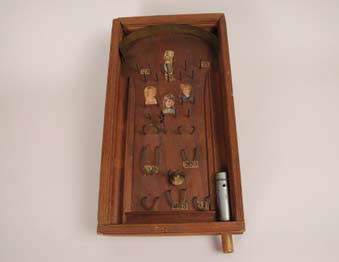 Model History
The Tarlton Law Library displays patent models, giving a glimpse into the inventions and copyright law of the past.
The Tarlton Law Library ' s Department of Special Collections has put up an exhibit on patent models in the Susman Godfrey Atrium, which will run through the summer of 2010. Patent models saw their heyday between 1836 and 1870, the period from which most of the models in the exhibit date. Despite devastating fires in 1836 and 1877, by 1880 the U.S. Patent Office had exceeded capacity and banned new models altogether—with the notable exceptions of flying machines and perpetual motion devices.
The first sale of the models took place in 1925, resulting in the dispersal of more than one hundred thousand models among institutions and private collectors. In 1941, one such collector, the auctioneer O. Rundle Gilbert, purchased tens of thousands of models at a bankruptcy auction, saving them from being melted as scrap. He in turn sold around a thousand of these to Jack R. Crosby and Fred Lieberman in the early 1970s. In 1973 Crosby and Lieberman donated more than eight hundred pieces from this collection to the then Humanities Research Center at the University of Texas. Faced with space constraints of its own, the Harry Ransom Center transferred the collection to the Texas Memorial Museum between 1981 and 1988.
The models now serve the University of Texas as tools for teaching, scholarly exploration, and inspiration, and as concrete examples of the School of Law's commitment to intellectual property law.—Elizabeth Haluska-Rausch
1. Improvement in Animal Traps
Inventor: Armistead M. Lovett
This invention for catching rats, mice and other vermin "consists of decoy chambers, closed to access, and any number of catch-traps surrounding and attached to this decoy in such a manner as will expose to view from without any live animal that may be confined within the decoy chamber." Patent Date: March 18, 1873. Patent Number: 136,842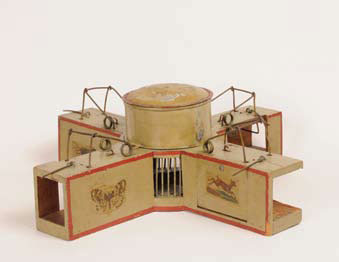 2. Improvement in Artificial Legs
Inventors:  Cornelius Collins and James H. McCalla
"The object of this invention is to allow the heel to turn conveniently upon the ankle joint. The ankle and the foot are wood, or any other approved material, and the lower end of socket B fits over and is attached to the top of the ankle. O is the spring of the toe-joint. A leg of this construction is so light and so easy in its action that it may be worm without shoulder-straps." Patent Date: September 28, 1875. Patent Number: 168.140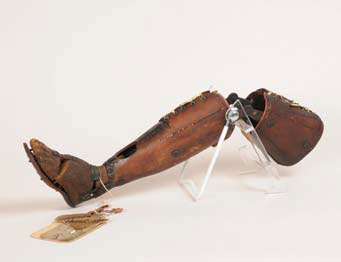 3. Parlor Shooting Gallery
Inventor:  Henry J. Kintz
"This game is played by two or more persons with any preferred number of balls, on an inclined plat or board having numbers at arbitrary points and counting any agreed-upon number for game, and it is provided an indoor entertainment for children, in conjunction with the general advantage of teaching them the science of computing by numbers." Patent Date: July 25, 1876. Patent Number: 180,352