A Supreme Opportunity
The U.S. Supreme Court's 2009–2010 term has been as action-packed as any in recent history. And as in the past several years, Justice Anthony Kennedy has been a fulcrum point between the liberal and conservative wings of the court, breaking deadlocks and writing important decisions on issues from campaign finance law to the use of Christian symbols in public displays. For most of us, Kennedy's decision-making process, as well as that of the Supreme Court in general, remains considerably opaque. Only a very select group of young lawyers are ever offered a chance to experience life behind the scenes of the highest court in the land. This year, recent UT alum Scott Keller, '07, counts himself among that elite group, taking a front seat to history as a clerk for Justice Kennedy.
"Nobody can plan or expect to clerk on the Supreme Court. It takes a lot of hard work and probably even a little more luck," Keller admits. Of course, a JD from UT Law doesn't hurt. In 2010, sixty-four recent alumni obtained clerkships, including twenty-one at federal courts of appeals and twenty-two at federal district courts. Keller's clerkship, however, is a cut above. Supreme Court clerks are often informally referred to as "The Elect" because of the prestige of the job and the difficulty of securing the position. "Every year there are tens, if not hundreds, of really smart and talented people from great law schools and clerking for judges across the country who apply," Keller said. "To get your foot in the door and even get an interview—you can't expect for that to happen."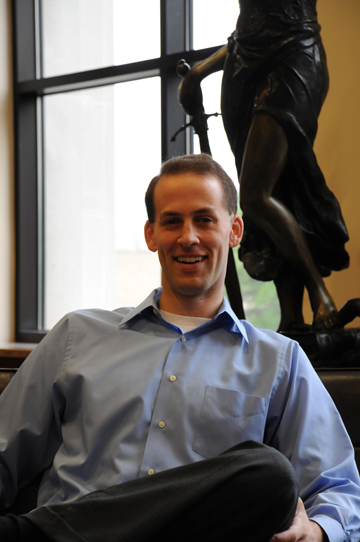 Keller grew up in rural Wisconsin and came to the Law School from Purdue University. He points to UT Law's constitutional law faculty as a major influence on his decision to come to Texas. As a third-year student in 2007, he participated in the inaugural year of UT Law's Supreme Court Clinic, a program that gives students the opportunity to work with clients seeking Supreme Court review of lower court decisions. A case that he worked on that year, Altadis USA Inc. v. Sea Star Line LLC, was granted certiorari to be heard by the Supreme Court. This was a major coup for the clinic—given the large number of petitions for certiorari each year, the team of students and faculty beat odds of greater than a hundred to one to earn their day in court.
On the Supreme Court Clinic, Keller worked closely with Law School Professors Michael Sturley and Lynn Blais, both former Supreme Court clerks themselves. "The Clinic was an invaluable experience for understanding the ins and outs of how the Supreme Court works," Keller said. "In law school, you read the decisions of the Supreme Court, but you don't know how they got there. Until someone like Sturley or Blais explains to you how the court operates, it's sort of shrouded in mystery."
So how does the court operate? Keller is careful to speak judiciously about the traditionally discreet institution, but he does admit that he's been surprised by the collegiality between justices. "Sometimes in the written opinions, there's this perception that justices are really at each other's throats, because they're heavily critiquing each other," he said. "But personally, I've never seen anything like that, or even heard of it, really. Some people would expect that there would be a carry-over to the personal side, but there isn't."
Among clerks— a "fantastic group," according to Keller—the collegiality extends even further. The athletically inclined play basketball in a gym inside the Supreme Court twice a week, and everyone gets together for a Thursday-evening happy hour. "You want to get to know the other clerks, because you know they're going to get the chance to do some pretty interesting work for themselves down the road," Keller said. Each justice employs four clerks, and each retired justice keeps one, making for a community of just under forty elite young lawyers.
Basketball games, however, can get a bit deliberative. "It's call-your-own-foul, and you can imagine, you get a bunch of lawyers together . . . " he trails off, laughing. "They're pick-up games; it's all in fun, but there is a lot of competitiveness around." No justices join in the games this session, though Keller mentions that Justice Clarence Thomas played in seasons past.
Keller's favorite part of the job is the dialogue with his boss, preparing for cases and discussing the merits of various arguments. Justice Kennedy has been described in the media as "the single most influential arbiter of domestic policy in the land," (Washington Post), "the most important jurist in America" (New York Times), and even, by conservative leader James Dobson, as "the most dangerous man in America." Keller's experience of Kennedy is more down-to-earth. "He does the little things, like taking time to talk to your folks when they're in town," Keller said. "He's a gracious person who's really a class act. I could not ask for a better boss."
Keller has been particularly impressed by Kennedy's humility with regard to his generally perceived role as a key swing vote. "There's definitely not a perception, even in dialogue with the justice himself, that somehow being the swing is different, and you need to be catered to in some way," Keller said. "It's really just considering the issues, vetting the arguments, and coming to a reasonable conclusion."
The job is demanding, but for Keller it is a dream come true. He has long harbored a passion for constitutional law, and now he goes to work every day in the crucible of constitutional interpretation. "The opportunity to be here and actually see how it's all made is fascinating," he said. "It's not just an opinion on a page that you're reading. It's knowing how the justices are arriving at their decisions, how the litigants and advocates are making their arguments. It's a culmination of many things."
The clerkship is likewise the culmination of a long process for Keller. Since graduating from UT Law in 2007, Keller has immersed himself in the inner workings of the federal court system, first as a clerk to Chief Judge Alex Kozinski of the United States Court of Appeals for the Ninth Circuit, and then as a Bristow Fellow in the U.S. Office of the Solicitor General. Both positions are highly competitive and prestigious. As a Bristow Fellow, Keller worked on briefs in opposition to petitions for certiorari in cases involving the government. His experience working both sides of the appellate process helped prepare him for his daily tasks under Justice Kennedy, which include reading and evaluating such petitions.
When his clerkship ends this summer, Keller expects to take a job with a law firm. "I have a few years of government work under my belt now," he said. "While there are amazing opportunities there, I'd really like to try private practice." He expects that he'll continue to pursue appellate law. "Neither law school nor clerking has dissuaded me from that," he said.
As for further down the road, Keller is leaving his options open. Indeed, with a Supreme Court clerkship under his belt, he'll have plenty of options to choose from.—Mike Agresta