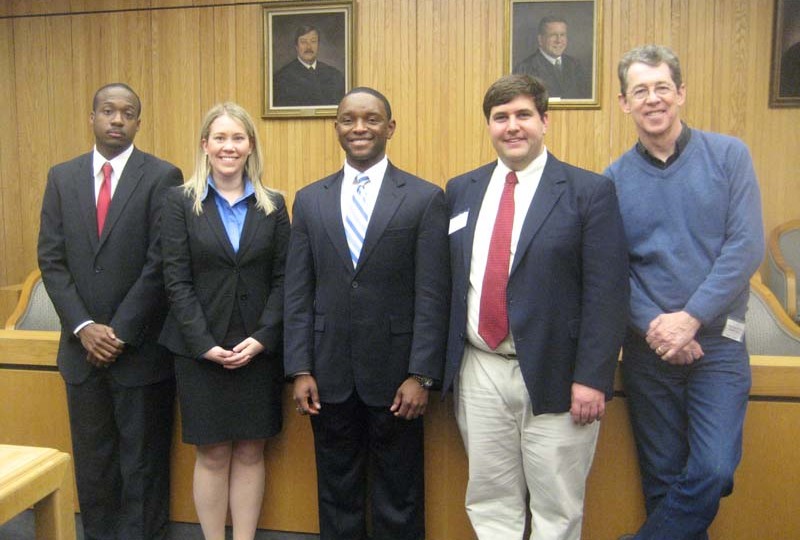 UT Law team wins national championship at John L. Costello National Criminal Law Trial Advocacy Competition
The Law School's interscholastic team won a national championship at the John L. Costello National Criminal Law Trial Advocacy Competition, held in Fairfax, Virginia, February 10–13, 2011. The members of the team were Bryan Acklin, '12; Robert Clopton, '11; Tony McDonald, '12; and Lauren Sprouse, '11. The team was coached by Jay Adkins, '82, assistant attorney general in the Attorney General of Texas's Medicaid Fraud Control Unit, and Ciara Williams, '07, of the Law Offices of C.M. Williams. This is the first UT Law interscholastic national championship of the 2010–2011 school year.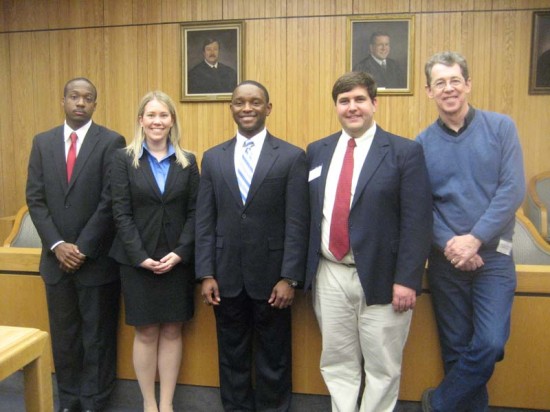 The UT Law team defeated the team from Catholic University in the final round to win the national championship. This is the first time a team from UT Law has participated in this competition, and the first time Adkins and Williams have coached an interscholastic team.
The Costello Competition, hosted by George Mason University School of Law's Trial Advocacy Association, is designed to simulate the evolving and unexpected nature of real-life criminal trials. It does so by revealing unknown facts and witnesses as the trial progresses. The competition is presided over by volunteer practicing judges. This year's case involved a 21-year-old woman charged with DWI and involuntary manslaughter.
The Law School's interscholastic teams are trained through the Advocacy Program, a nationally recognized center of training in advocacy.
Contact: Cheryl Brandt, Associate Director, Advocacy Program, 512-232-1257, cbrandt@law.utexas.edu.