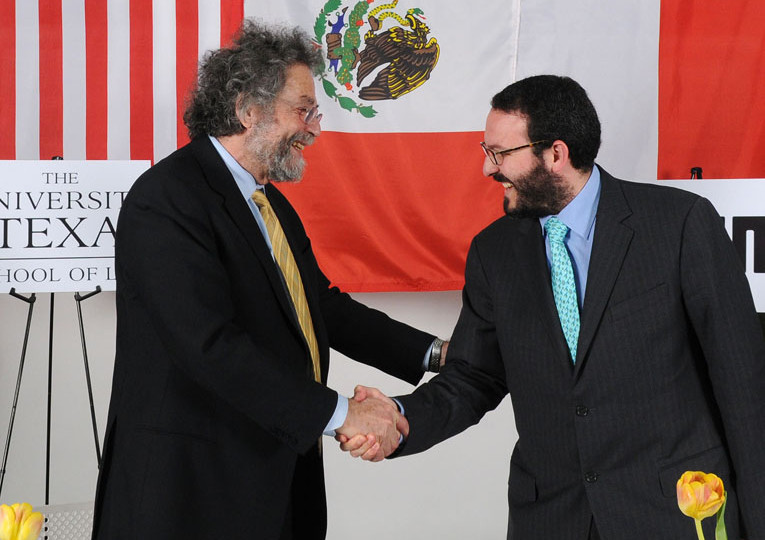 University of Texas School of Law Announces Joint Degree Program with Instituto Tecnológico Autónomo de México
The University of Texas School of Law and the Instituto Tecnológico Autónomo de México (ITAM) in Mexico City have announced a new joint-degree program that will allow students to earn both a Juris Doctor degree from the University of Texas School of Law and a Licenciatura en Derecho (Mexican professional degree in law) from ITAM. Lawrence Sager, dean of the UT Law School, and Jorge Cerdio, dean of the Department of Law at ITAM, signed the agreement at a ceremony in UT Law's Susman Academic Center on March 5, 2011.
The program will help meet an increasing need for lawyers who can practice in two countries, and builds on the strong ties that Texas and Mexico already share. "Texas and Mexico share a long history," Sager said. "Because of our cultural, political and economic ties, it makes sense to form a strong partnership with a leading Mexican law school. And in this increasingly globalized world, we need to train lawyers who understand different legal systems and can practice law in different countries."
Second-year UT Law students and third-year students at ITAM will be able to apply to the program immediately, with the first students beginning studies for their second degree in Fall of 2012. Those who begin their studies at UT Law will spend their first two years there and then will spend four semesters and one summer of study in Mexico.  Students who begin their studies in Mexico will spend their first four years at ITAM and then will spend the following two years of study at UT Law.
Graduates of the program will be well qualified to practice law at an international level, having gone through a complete course of study in both the U.S. and Mexican legal systems. They will be academically eligible to sit for the Bar examination in any United States jurisdiction and to file a license application before the Mexican Ministry of Education in order to be admitted to practice law in Mexico. Because the degrees granted by each institution are complete and comprehensive, students who wish to enroll in the joint-degree program will be able to pursue any area of legal specialization they wish after graduation.
"Being a global lawyer makes a remarkable difference in the job market in Mexico and elsewhere," said Jorge Cerdio, dean of the Department of Law at ITAM. "For Mexico, the biggest commercial partner is the United States, hence the growing need for a bi-national lawyer. UT Law is a natural partner for ITAM because of its prestige, academic standards, strong faculty and remarkable ties to the Hispanic community."
UT Law has the highest percentage of Hispanic students of any top U.S. law school, and many of the Texas-based law firms UT Law graduates go on to work for have strong partnerships with Mexican and Latin American law firms. The University of Texas at Austin has rich and unrivalled offerings in Latin American subjects, including the Teresa Lozano Long Institute of Latin American Studies, which supports education, research, and exchange concerning Latin America across numerous university departments and programs.
Sager and Cerdio said the joint-degree program would initiate and promote the expansion of scholarly and educational cooperation between the two schools and foster opportunities for collaboration and cooperation between them, including student and faculty exchanges, joint research and publication projects, and other collaborative opportunities.
"This partnership reinforces the academic standards of both schools," Sager said. "It's a long-term partnership that goes beyond the legal degrees."
UT Law-ITAM Joint-degree Program Website
Contact: Eden Harrington, 512-232-7068, eharrington@law.utexas.edu