UT Law hosts Advisory Committee on Civil Rules
The University of Texas School of Law was proud to host the Advisory Committee on Civil Rules for their meeting in early April. The Committee is tasked with considering and recommending amendments to the Federal Rules of Civil Procedure, which govern procedure, practice, and evidence in the federal courts.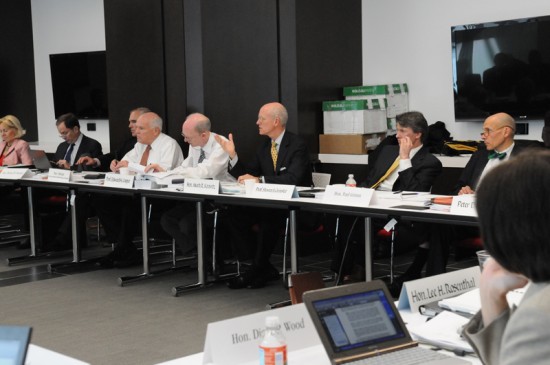 The Committee comprises District Court Judges, Courts of Appeal judges, law professors, and practicing attorneys. It is chaired by the Honorable Mark R. Kravitz of the United States District Court, District of Connecticut.
"The rule of law is crucially dependent on the infrastructure of the rules by which disputes are adjudicated," said UT Law Dean Larry Sager. "We are pleased to play host to the distinguished members of the Advisory Committee on Civil Rules."
Initial consideration by the Committee is the first step of the federal rulemaking process. Once the Committee has completed investigation and discussion of suggested changes, they write draft amendments to the rules with an explanation of their reasoning. The recommendations are published and opened for public comment. Then the Committee reconvenes again to consider, and incorporate if appropriate, the public comments before offering its final approval and sending it to the Standing Committee and finally to the Judicial Conference. If approved by the Conference, the amendments are transmitted to the Supreme Court. The Court must then transmit the proposed amendments to Congress, which has a prescribed period in which to enact legislation to reject, modify, or defer the rules, or else they take effect.
At this meeting, the Advisory Committee considered the application of the pleading standards following the Supreme Court's decisions in Bell Atlantic Corporation v. Twombly and Ashcroft v. Iqbal.
For information about the federal rulemaking process and the various committees responsible for different aspects of the law, please visit the United States Courts website on Rules and Policies.