WEBCAST: The Honorable Stephen Breyer visits UT Law, discusses Making Our Democracy Work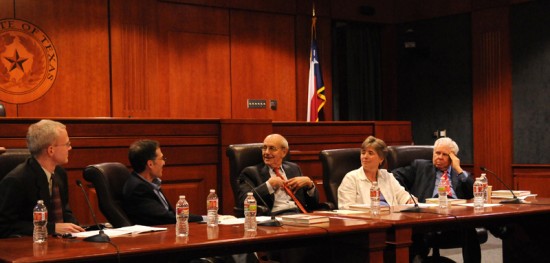 The Law School welcomed Supreme Court Justice Stephen Breyer to campus on April 4, 2011, for a series of events, including a lively colloquium about his most recent book, Making our Democracy Work. Dean Larry Sager introduced Justice Breyer, and professors Mitchell Berman, Lynn Blais, and Sanford Levinson offered intriguing questions to facilitate discussion.
The colloquium was recorded; watch it here:
Following the colloquium, Breyer gave a talk about the book at the Lyndon Baines Johnson Library and Museum. Library Director, Mark Updegrove, introduced the Justice.
On the morning of April 5, Breyer gave a seminar for law students with Professor Stefanie Lindquist, at which the participants discussed constitutional and statutory interpretation as well as other legal issues addressed in Breyer's book.
Breyer also took questions from students that afternoon. The visit was organized by Professor John Golden, who clerked for Justice Breyer during the October 2002 Term.