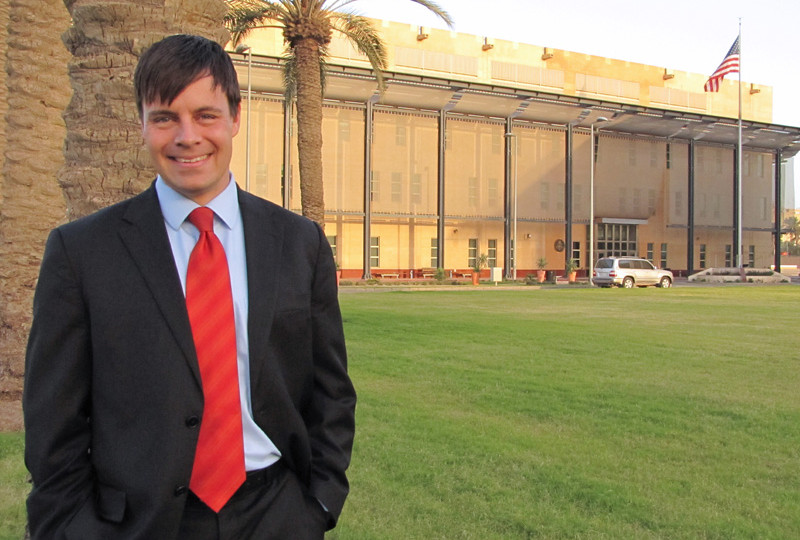 Over There
Dan Mangis, '03, lives nearly 7,400 miles from Austin, in Baghdad's Green Zone, where he serves as an assistant cultural affairs officer at the United States Embassy. That may seem like a long way, but it probably doesn't feel as far to him as the 2,165 miles from Baghdad to Stockholm, Sweden, where his wife, Susan Szmania, currently resides while working for the embassy there.
"From the time I entered the Foreign Service, I expected to do an unaccompanied tour in a top priority place like Iraq, Pakistan, or Afghanistan," Mangis said. "We have a high demand for people to serve there, but a fairly small overall number of Foreign Service officers and a lot of other positions to fill around the world."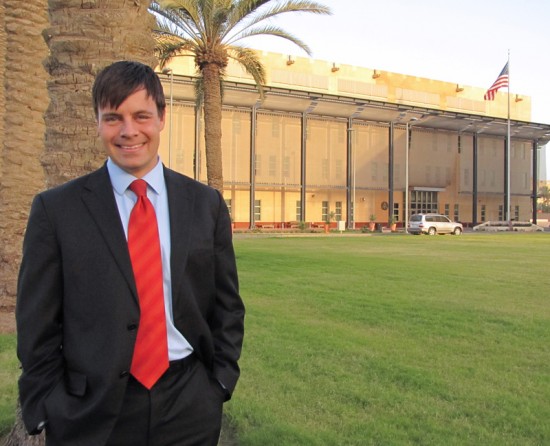 Mangis noted that about 60 percent of Foreign Service assignments worldwide are classified as hardship posts. And, as recent events in North Africa, Japan, and Mexico demonstrate, relatively calm assignments can turn dangerous very quickly.
"All Foreign Service families end up making tough sacrifices wherever they serve," Mangis said. "Susan and I felt that it was the right time to make this particular contribution and volunteer for Iraq."
Mangis joined the Foreign Service in 2005, and after serving in Monterrey, Mexico, and Stockholm he felt he was ready to take on the challenges of the Iraq post. But first, the State Department wanted him to go through some additional—and out-of-the-ordinary—training.
"When you go to high-risk posts like Iraq, you have special safety training—colloquially referred to as the 'crash and bang' course," Mangis said. "Basically, you learn how to use common types of guns safely, what different types of explosions sound like, and how to handle a car under stressful conditions. It's defensive driving on steroids—you go to a track and drive around at high speed in forward and reverse. The 'crash' part comes when you learn to ram through roadblocks."
Not exactly a typical day at the office for most Law School grads, but then life in the Foreign Service isn't like most other jobs. There are, however, the long hours that would be familiar to many others in the legal profession. This results, at least in part, from being several time zones away from "Main State," also known as the Harry S Truman Building, the State Department's Washington, D.C. headquarters. Mangis has his duties in Baghdad, plus any requests that arrive during State Department hours stateside.
With the mission in Iraq transitioning from a military to a civilian focus, the State Department is taking on a more central role and administering projects throughout the country. Mangis's duties often find him far afield working with Provincial Reconstruction Teams around Iraq.
"Much of my work revolves around large grant-funded projects," Mangis said. "One good example is our university linkages program, which is building an administrative-level exchange between five U.S. and Iraqi universities. We want to help each Iraqi university build up one or two colleges to approach international university standards. For example, if they are focused on engineering, we want to make sure their graduates are ready to compete in the global engineering-employment market."
When institutional, administrative, or cultural factors complicate these programs, it's Mangis's job to help to sort them out.
"Like all diplomats here, I spend a significant amount of time troubleshooting," Mangis said. "There is an endless array of challenges that pop up and you have to deal with them and keep momentum going forward. It helps to be an optimist, but with a bottom-line mentality."
Despite the long days and separation from family, Mangis says there are upsides to his duties in Iraq as well.
"One thing I like about the job is that I get to travel around Iraq, often on short notice, using everything from helicopters and military cargo planes to armored military transport vehicles and everyday SUVs," he said. "I also get an opportunity to meet ordinary Iraqis, especially those outside of Baghdad, and some of our soldiers still working in Iraq. A lot of Embassy people yearn for those invaluable perspectives."
Mangis grew up in a military family, so he is familiar with packing up and leaving for the next service assignment. After living overseas in Spain and Italy as a child, his family eventually moved to Montgomery, Alabama. While attending high school there, Mangis joined the speech and debate team, where one of his coaches was Michelle Coody, wife of Federal Magistrate Charles Coody, who also volunteered as a debate coach.
Under their guidance, Mangis went on to win a high school national championship at the National Forensic League Student Congress competition. He earned a full speech and debate scholarship to the University of Alabama in the process, where he continued to compete as an undergraduate.
"They were both terrific coaches and mentors," Mangis recalled. "In the debate world, I was surrounded by all these great role models who were lawyers, whether they were my coaches or judges at the tournaments. That helped dispel any negative stereotypes I may have had about what being a lawyer was all about."
After earning a bachelor's degree in political science and journalism and a master's degree in speech communication at the University of Alabama, Mangis came to the University of Texas where he decided to pursue both a doctorate in communication studies and a law degree.
"One of my advisors was Richard Cherwitz," Mangis recalled. "He helped me cut through a lot of red tape so I could balance graduate school in communication studies and attending the Law School. But even more important, he introduced me to a program called Intellectual Entrepreneurship. It focuses on the connection between theory and how you actually apply it in real life. It really set a tone and attitude that I embrace and that still motivates me. It was one of the reasons why I pursued my dual degrees, and also why I wanted to apply my advocacy skills in public service."
Both Dean Larry Sager and Law School Professor Sanford Levinson also sat on Mangis's doctoral dissertation committee.
"For a number of my classmates, we looked at things and wondered where we could make a difference," Mangis said, commenting on the impact of September 11 on his law school experience. "A lot of them looked at the military, and I considered becoming a JAG or working for the DOJ, but I thought the Foreign Service would suit my skills better. My wife and I also both had a strong interest in working abroad and doing international conflict-resolution work."
Between graduation and joining the Foreign Service, Mangis spent two years at Strasburger & Price LLP in Austin. One of the highlights was working on a dispute involving the horror movie franchise, The Texas Chainsaw Massacre.
"I couldn't decide whether the screenplay or the deposition transcripts were more violent," Mangis recalled.
Once in the Foreign Service, his first assignment was in Monterrey, Mexico, where he spent much of his time adjudicating visa applications.
"I enjoyed consular work immensely, and would be happy to do more," Mangis said. "People apply for a wide range of visas and have all kinds of interesting reasons to come to the U.S. During the visa interview, you have to be fast and accurate, and in a lot of cases you are trying to tell if people are telling you the whole story. For a lawyer, that's a lot of fun—it's like a live deposition, and the Law School prepared me for that work."
For Mangis, this once-in-a-lifetime experience offered a unique perspective into the lives of ordinary people.
"I will never have as much contact with normal foreign citizens as I did in my first five years on the visa line," Mangis said. "You meet all these people, and there is a real humanity in listening to them talk about why they want to travel to the U.S. I don't know if I'll ever have that kind of intimate experience again where literally tens of thousands of people just tell me about their hopes and dreams."
While he performed similar duties at his next assignment in Stockholm, he also had the opportunity to get in a little "advocacy" work promoting Austin and some of its regional cuisine.
"Sweden is full of professional musicians touring the U.S. who require performer visas," Mangis said. "If Austin wasn't on their tour schedule, I usually harangued the band managers during their visa interviews until they promised to put it on. I also approved several visas for Swedish bands to go to South by Southwest, but I also made sure to give them an extensive list of restaurant recommendations and specific guidance about how to order breakfast tacos."
Even 7,400 miles away, there are some things that a Longhorn will always remember.—Tom Gerrow