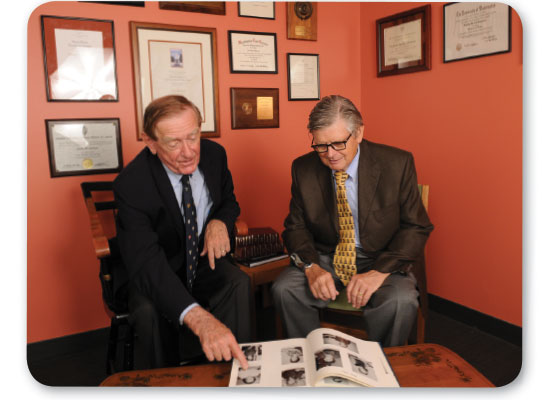 Take your pick. Serendipity. Destiny. Or just really good fortune that Ernest Smith and Stanley Johanson committed in 1963 to becoming legal educators at The University of Texas School of Law.
It was 50 years ago that they both walked through the front doors of the law school on the same day in August 1963 to begin their careers as teachers, counselors and grand stewards of knowledge and inspiration to more than 15,000 law students.
Growing up in the post World War II years, many youths went into the family business, but both Smith and Johanson had other interests. They gravitated toward reading, debate and even Latin, rather than ranching for Smith and commercial fishing for Johanson.
Originating from different parts of the country, Smith and Johanson crossed paths at Harvard Law School and were "acquaintances from afar," with the common denominator being UT Law Professor William O. Huie. Huie was on leave teaching at Harvard when Smith and Johanson took his oil and gas class the same semester. When Huie returned to UT Law, he served as the faculty appointments chair and consequently offered both Smith and Johanson positions starting in fall 1963.
The rest is history.
Settling into Teaching Careers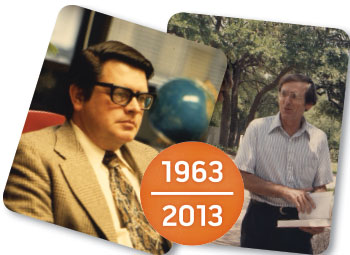 Johanson, the James A. Elkins Centennial Chair in Law and University Distinguished Teaching Professor, has dominated the legal areas of wills, estates and estate planning, while Smith, the Rex G. Baker Centennial Chair in Natural Resources Law, is a legend in oil and gas law, various aspects of environmental law and property law.
There are many fond memories from the early years. The popular coffee gatherings in the second floor faculty lounge always found Charles Alan Wright sitting in his special spot on the couch. And there was "Boys Town" on the fourth floor of Townes Hall, where the new faculty crammed into small offices. And at 1:35 p.m. every Friday at the old Austin Country Club, Johanson would tee off with a group that included some combination of Keith Morrison and Parker Fielder (the Tax duo), Charles Alan Wright and Albert Jones — "the Procedure guy" according to Johanson.
Over the years, Smith and Johanson have taught some of the law school's most illustrious alumni, have published influential and innovative works of legal scholarship, and witnessed — or helped bring about — many changes. However, both claim they have learned as much, if not more, from the generations of students they have taught, than what they themselves have taught them.
"I've always tried to maintain a warm atmosphere in my classes," Johanson said. "I am very sensitive to student critiques. You want to get better as a teacher. I do have the sense that students like me. And I like them."
Smith agrees. "Teaching has always been the most meaningful part of my work," he said. "Even though when I started, I wasn't sure I would do it the rest of my life."
Johanson, who is originally from Washington, but spent a fair amount of time on the East Coast, had only been in Texas twice before committing to UT.
"My wife made me promise that we'd leave after one year if she didn't like it," he said. "But we came to love the climate, the ethos and the atmosphere, and never left."
UT Law even became a family affair for Johanson. One of his daughters (Barbara) and son (David) attended the law school.
For Smith — given his exposure to the influence of the energy industry in his home region of south Texas — the allure of teaching was mixed with a fascination for the law, especially as it related to oil and gas.
Changes Bring Needed Improvement to Law School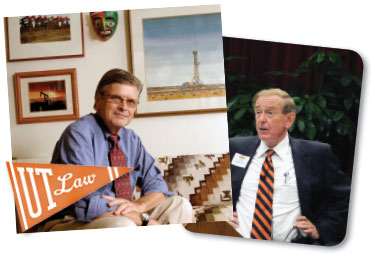 Smith and Johanson's long careers have also been marked by influential and innovative legal scholarship. Johanson's book, "Wills, Trusts and Estates" (co-authored with Jesse Dukeminier, Robert H. Sitkoff and James M. Lindgren), is a standard and influential casebook on the subject, and his advice on related legal questions has been sought by bar associations and media.
Meanwhile, Smith has established himself as an authority on oil and gas law — from the days of derricks to current issues surrounding horizontal drilling and hydraulic fracturing. He also taught the very first course on wind law at a major law school, and is a founding member of the Center for Global Energy, International Arbitration and Environmental Law at UT Law.
Johanson and Smith say they've seen many changes at the law school over the years. Enrollment has grown and shrunk in response to a variety of factors. However, for them, the most notable changes have been in the makeup of the student body and faculty.
"When I began in 1963, the student body was very different," Smith said. "It was overwhelmingly white and male, but with a wide range in socioeconomics. Since then, gender and ethnic diversity are much greater, but I feel the economically disadvantaged have much less opportunity to attend law school."
The shift toward more diversity has taken place among faculty as well, which Smith initiated when he served as dean of the law school from 1974–79.
"The most stressful time here was when I was dean, following the tenure of Page Keeton," Smith said. "Many people were surprised that someone of my age would follow him. [To which Keeton responded], 'don't worry, he'll grow into it.'"
Smith said there had been a significant increase in the number of female students at that time who were admitted — around 15 to 20 percent or more.
"I thought we needed more women law professors to match that," Smith said. "Some of the older professors believed women were too fragile and delicate to teach the law." Smith paused and said, with a wry smile, "That's no longer an issue."
Though stressful, Smith looks back at his deanship with great pride for hiring the first female and minority law professors at the law school.
Johanson also said the ever-higher admissions standards have had a great effect on the school over the years. "Being the dominant law school in Texas, we always had a body of strong students at the top of the class. But when I first came here, almost anybody could get in if they were breathing, which meant of course that 20 to 30 students flunked out after the first year. Eventually, we began to drop the bottom half of the admissions pool to make sure there were better students at all levels, primarily when women started coming in larger numbers and that had a powerful impact on the classroom."
Many of those who have come through Johanson and Smith's classes have significantly influenced the law school, with endowed chairs, buildings and rooms named after former students such as John Massey, Stephen Susman and Robin Gibbs.
Though they fondly remember their past at the law school, both Johanson and Smith remain resolutely future-oriented. Neither plan to fully retire just yet. "I'm moving toward partial retirement," Smith said, while Johanson, in his indelible jocular way states he has no plans to retire. "I just keep slogging away," he said.
---
Join UT Law Feb. 27 for "Legacies: A Celebration of Stanley Johanson." Read more about the event and how you can help in the creation of the Stanley M. Johanson Chair for Teaching Excellence.
— By Maria Arrellaga with additional reporting by Julien Devereux