Excel at Exams: Faculty and Staff Offer Advice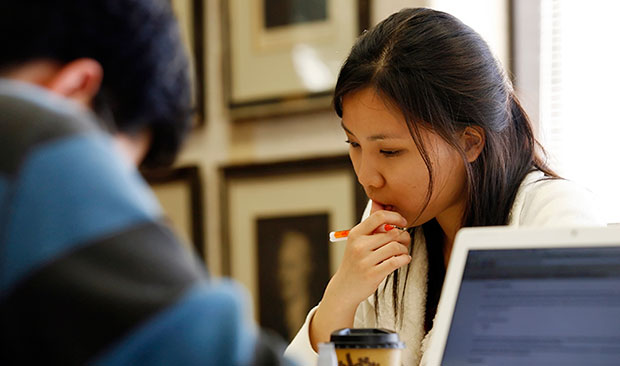 As students prepare tirelessly for final exams, University of Texas School of Law faculty and staff offer tips for students on studying and taking law school final exams. Finals begin Dec. 9 and last through Dec. 20.
The Advice-Givers:
The J.D.-Librarians at the Tarlton Law Library specialize in many different subjects and are available to help students locate information and to provide assistance in legal research methodology. Read their 10 tips for exam success.
Lecturer Kamela Bridges teaches legal writing including the course Legal Research & Writing (LRW), and is co-author of the text for students and new lawyers, "Writing for Litigation." Read her advice on writing for exams.
Assistant Dean for Student Affairs Elizabeth Bangs counsels and advocates for students as well as oversees a range of student services. Read her advice.
Professor Steve Goode is a member of the university's Academy of Distinguished Teaches and teaches Evidence, Criminal Law and Professional Responsibility. Read his advice.
Lecturer Lucy Wood teaches in the LLM, Public Service and Legislative Internship programs. She also serves as Senior Attorney for the Texas Title Project, a project of UT Law's William Wayne Justice Center for Public Interest Law. Read her advice for international students.
---
Tarlton Law Library's Top 10 List for Exam Success
Refresh your exam preparation and test taking skills by referring to expert advice found in the exam preparation research guide's resources
Help yourself focus by using the "Pomodoro Technique" or other concentration methods.
Keep your electronics powered up. Laptop power cords can be checked out at the circulation desk and mobile devices can be charged at the charging station near the computer lab on the 3rd floor.
Use a study aid in the Hyder Popular Reading Room to clarify confusing concepts or work through an online CALI exercise.
Check out a laptop to double your computing power. The library has gadgets students can borrow.
Visit the Reference Desk. Tarlton's J.D.-librarians can suggest specialized study aids, commiserate with you, and might even offer you some candy!
Work through a past exam. Many are available online or in the Hyder Popular Reading Room.
Take some time to relax; "Legally Blonde," or any of the hundreds of other law-related movies in the Law in Popular Culture Collection, may be just what you need. Or take a tour of the Hyder Collection; self-guided tour brochures are available at the Reference Desk.
Take advantage of studying in your law library, which is open extended hours and reserved for law students during exams. Bring your ID card for admission!
Study with friends. Reserve a library conference room online.
Kamela Bridges: Transitioning from Writing for LRW to Writing for Exams
Good writing is good writing, right? Yes, but a good writer always considers audience and purpose. In LRW, you have learned to write for a lawyer who understands the law generally but doesn't know the specific aspect of the law you are addressing. Your purpose is to explain the law so clearly that your audience can make a decision based on your writing alone. In exam writing, your audience and purpose are different. You are writing to a professor who knows more about the law than you do. You are writing to demonstrate your understanding of the law and how it applies, not to explain the law to someone unfamiliar with it. With that difference in mind, consider these suggestions for writing a timed exam:
Show that you understand the law: Since your purpose is to demonstrate your proficiency, you can likely omit background information and use legal terminology you'd have to explain in a memo.
Practice writing quickly: You might have been able to agonize over your prose for your LRW memo, but you won't have that luxury on an exam. Take practice exams, and hold yourself to the time limits for the real exam.
Adopt professor-approved shorthand: You shouldn't use ¶ for plaintiff or K for contract in a legal memo, but if your professor approves, abbreviations and symbols can speed up your exam writing.
Use a bullet-point list to organize your thoughts before writing: You don't need to waste time with a formal outline, but jot a bullet-point list of issues you see as you read the prompt. Then take a minute or two to arrange your bullet points into a logical order.
These suggestions are, of course, trumped by any advice to the contrary from your professor. Remember, the audience is always right.
Elizabeth Bangs
If you're taking an open-book exam, prepare a one-page sheet with the most important information from your outlines (such as a checklist of issues or a flow chart).
Take as many practice exams as you can. (If you're studying for Civ Pro, Examples & Explanations is especially useful for practice questions!)
The most important word in an essay answer is "because." You'll earn the most points by explaining why you've reached your conclusions. Remember the song from the "Wizard of Oz" – "Because, because, because, because, because, because … " and you'll do fine!
At some point, stop studying and get some sleep. Eat well. And remember that the Student Affairs Office is here to help!
Steve Goode
The only advice I give students about studying and taking law school exams is not to think that there is one way to study or take law school exams. Each student has to figure out what works best for him or her.
Lucy Wood: Advice for International Students in an Introductory Course
Because this class has a 24-hour take-home exam, you will have plenty of time in which to complete it. Do not study by attempting to memorize detailed information. Instead, take the time to "sit" with the material days in advance, reviewing notes, assignments and readings with an eye toward achieving a deeper understanding of the material and drawing connections between the different topics. Pretend that you are about to go to a dinner with your closest friends in your home country and will need to explain to them the fundamentals of the U.S. legal system, in your own words, in a way that will make sense to them. If you are nervous (please don't be!) you might take the time to label your book, notes and assignments with tabs that organize the material by subject matter so that you may pull up information quickly in a pinch.
Above all, good luck! Remember that you have just tackled the nuts and bolts of a foreign legal system in just one semester, also making new lives for yourselves here in Texas, and all while speaking, listening to and reading a second language! You've done the hard part!