Political insider and accomplished lawyer Robert S. "Bob" Strauss died March 19 in Washington, D.C. He was 95. Strauss graduated from The University of Texas School of Law in 1941 and is the namesake of The Robert S. Strauss Center for International Security and Law, a research center at the university.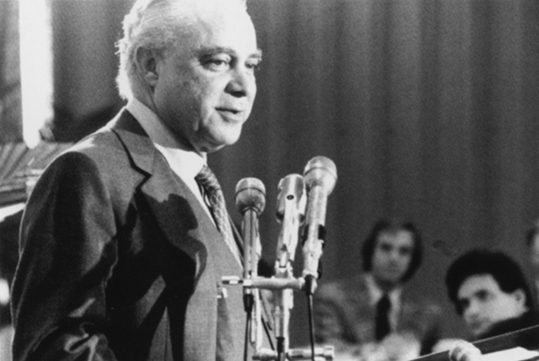 Among some of Strauss' outstanding accomplishments, he served as chairman of the Democratic National Committee and as President Jimmy Carter's personal representative to the Middle East peace negotiations. He helped guide America's policy on Russia during George H.W. Bush's presidency and was the last U.S. ambassador to the Soviet Union, having played an integral role in transforming a long-standing rivalry into a relationship characterized by a greater level of cooperation. In honor of his exceptional character and dedication to his work, Strauss was awarded the Presidential Medal of Freedom and is a Distinguished Alumnus of The University of Texas at Austin, as well as a former lecturer at the university.
"Ambassador Strauss was one of the most influential figures on the world stage of the past half-century," said former UT Law Dean and President of UT Austin William Powers Jr. "His stature and successes were rooted in Texas, and he has been vital in UT Austin's growth as a global research university. As a Distinguished Alumnus, thought leader and philanthropist, he supported and elevated programs across the university. And our Robert S. Strauss Center for International Security and Law has brought together the best minds in academia, government and the private sector to find solutions to the world's most pressing problems. The UT family will miss Bob greatly, but his legacy will serve our students, our nation and our world for generations to come."
In 1945, Strauss and friends formed the law firm that became Akin Gump Strauss Hauer & Feld LLP. Akin Gump developed into one of the largest law firms in the world with offices in 20 cities including Austin, Dallas, New York, Washington, D.C., Hong Kong, Moscow and more. Jim Langdon, '70, a fellow UT Law alumnus who was Strauss' partner at their law firm said: "Bob Strauss was an American original and he was my friend, my partner and my mentor for the last 40 years. He was a statesman and a political figure who spanned the decades. He had friends across the political spectrum at home and abroad, and he believed in the art of compromise. While he lived most of his professional life in Washington, D.C., his heart and soul were firmly rooted in Texas and his beloved University of Texas. Whether the task at hand was the Middle East or the work of an ambassador or dealing with the Congress or advising a president, one could always see those Texas roots at work.
An innovator and leader, it was Strauss' passion for solving challenging global issues that served as inspiration for the founding of the Strauss Center on campus.
"A giant in American life has passed from the scene, and we are all the poorer for it," said UT Law Associate Dean for Academic Affairs Robert Chesney, who is also director of the Strauss Center. "Ambassador Strauss embodied profoundly important — and profoundly American — virtues. He had a burning desire to serve the greater good, and in doing so to elevate pragmatic solutions over the temptations of partisan advantage. And he did it all with humor and grace, leaving us with an extraordinary and timely example we would do well to emulate. Our thoughts and prayers — and deepest appreciation — go out to him, and to his family."