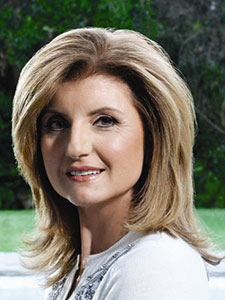 The Center for Women in Law at The University of Texas School of Law will celebrate its fifth anniversary with an awards ceremony and luncheon featuring a keynote speech by Arianna Huffington on Friday, April 11 at the Four Seasons Hotel in downtown Austin. Huffington's latest book, which is her 14th book, is titled "Thrive: The Third Metric to Redefining Success and Creating a Life of Well-Being, Wisdom, and Wonder" and comes out March 25.
At the luncheon, the center will recognize the inaugural recipient of the Hortense Ward Courageous Leader Award as well as its growing Circle of Leaders. Registration for the event begins at 11:30 a.m. in the Four Season's ballroom foyer followed by the luncheon at noon and then a book signing. All attendees will receive a complimentary copy of Huffington's new book.
"Arianna Huffington's insights and the example set forth by Mary Cranston, the recipient of our Hortense Ward Courageous Leader award, will inspire all those in attendance at this celebratory event to challenge the status quo for women," said Linda Bray Chanow, executive director of the Center for Women in Law.
Tickets to the luncheon are available for purchase by the public until April 4 on the center's website and will not be sold at the door.
About Arianna Huffington
Arianna Huffington is the chair, president and editor-in-chief of the Huffington Post Media Group, a nationally syndicated columnist and prolific author. In May 2005, she launched The Huffington Post, a news and blog site that quickly became one of the most widely read, linked to and frequently cited media brands on the Internet. In 2012, the site won a Pulitzer Prize for national reporting. In 2013, she was named to the Forbes Most Powerful Women list. In 2006, and again in 2011, she was named to the Time 100, Time Magazine's list of the world's 100 most influential people. Originally from Greece, she moved to England when she was 16 and graduated from Cambridge University with an M.A. in economics.
About Mary Cranston
The Center for Women in Law is honored to present the first ever Hortense Ward Courageous Leader Award to Cranston, retired senior partner and immediate past chair of Pillsbury Winthrop Shaw Pittman LLP. In her eight years as chair, she expanded Pillsbury into an international platform through two of the largest law firm mergers in history. She has received numerous honors and awards, including being named "One of the Best Female Antitrust Lawyers in the World" by Global Competition Review, and in 2005 she was the recipient of the Margaret Brent Award, the American Bar Association's highest award for women lawyers given for legal excellence and for paving the way for other women lawyers. She has been practicing complex litigation, including antitrust, telecommunications and securities litigation since 1975.
About the Center for Women in Law
The Center for Women in Law is an academic institution and nonprofit housed at UT Law that is devoted to the success of the spectrum of women in law, from first-year law students to the most experienced attorneys. In the five years since it was founded, the Center for Women in Law has received national recognition for innovative and comprehensive programs that combat the persistent obstacles facing women lawyers. For more information about the center and the April 11 luncheon, visit www.centerforwomeninlaw.org.
Fifth Anniversary Celebration & Awards Luncheon co-chairs are Linda Broocks and Julie Hardin. The event committee is made up of Hilda Galvan, Lisa Genecov, Michelle Goolsby, Marcy Greer, Linda Hunsaker, Meredith Mouer and Jennifer Spencer.
For more information, contact: Samantha Youngblood, UT Law media relations, at syoungblood@law.utexas.edu, 512-232-1156; and Linda Chanow, Center for Women in Law executive director, at lchanow@law.utexas.edu, 512-232-1911.