Justice Center, Student Bar Association Event Celebrates Service and Teaching
The William Wayne Justice Center for Public Interest Law and the Student Bar Association held their annual award ceremony and ice cream social at the end of the 2013-14 academic year in celebration and recognition of exemplary University of Texas School of Law students, recent alumni and teachers.
Congratulations and hook 'em, horns to the following 2014 award recipients:
Justice Center Graduating Student Awards
Inaugurated in 2011, the Justice Center Graduating Student Awards honor students who have demonstrated an extraordinary commitment during law school to using the law to serve others. The following 2014 recipients received $500 and discounts on bar review courses from BarBri, Kaplan and Themis: Alejandra Ávila, Kali Cohn, Cassandra McCrae, Catherine McCulloch, Ashley Steele, Stephanie Trinh, and Catherine Wagner.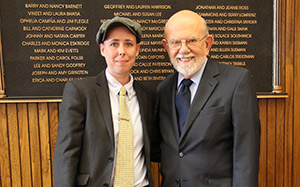 Hildy's Cutback Award
Reviving a law school tradition, Professor Jay Westbrook presented Maddy Dwertman with the Hildy's Cutback Award. This honor, named after Dean Hildebrand, a legendary dean of the law school, goes to the 3L student selected by vote of the faculty who, "by virtue of intransigence or adaptability, failure or success, personality or persistence, handicaps or ability, or perhaps simple mundane magnetism, captures the imagination and respect of the law faculty."
Post-Graduate Fellows
Several graduating students and recent alumni were recognized at the event for post-graduate fellowships they've received to work at nonprofit public interest organizations. Those recognized included: Mark Dawson, Texas Law's G. Rollie White Trust Fellowship; Catherine McCulloch, Texas Law's Julius Glickman Fellowship; Derrick Ward, National Education Association Law Fellowship; and Erin Gaines, Megan Sheffield and Gonzalo Serrano who received Equal Justice Works Fellowships.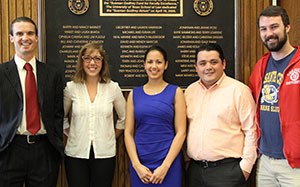 Pro Bono Superstars
The Pro Bono Program, a project of the Justice Center, recognized members of each class who reported a high number of pro bono hours. The 2014 Pro Bono Superstars include: 1Ls Hensleigh Crowell, Alexandra Fulcher and Alysha Seroussi; 2Ls Maritza Sanchez, JoAnna Serrato and Maxwelle Sokol; and 3Ls David Player, Adam Prom, Ashley Steele and Catherine Wagner. Sixty-three 3Ls have reported over 100 hours of pro bono service, and more than 225 students have met their Pro Bono Pledge benchmarks.
Professor of the Year Awards
The Student Bar Association presented 2014 Professor of the Year Awards to: Stanley M. Johanson in the Tenured Professor and Senior Lecturer category; Natalia Blinkova in the Legal Research & Writing/Advocacy Lecturer category; Tina Fernandez in the Clinical Faculty category; and Philip Durst in the Adjunct Professor category.
Related stories: