Two Law School Alumni Named 2014 Texas Exes Distinguished Alumni
The Texas Exes, the university's alumni association, recently announced the recipients of its highest honor, which counts two alumni of The University of Texas School of Law among the list of six — H. Scott Caven Jr., '67, and John H. Massey, '66, president of the Law School Foundation.
Also named to the 2014 Distinguished Alumni annual list are Oscar-winning actor Matthew McConaughey, NASA astronaut Karen Nyberg, historic preservationist Dealey Decherd Herndon and legendary athlete Earl Christian Campbell. Jody Conradt, former head coach of the Texas women's basketball team, will receive the Distinguished Service Award. The honorees will receive the award in an Oct. 17 ceremony at the LBJ Library.
Last year, law alumni swept the Exes' annual list of outstanding alumni claiming three of the six prestigious spots. This year's law alumni recipients add to the legacy of lawyer beneficiaries dating back to the creation of the award in 1958.
Read more about our Texas Law alumni recipients from the Texas Exes announcement: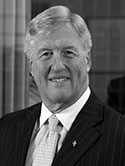 H. Scott Caven Jr., BBA '64, LLB '67, Life Member, is managing director of Atlantic Trust, a private wealth management firm. He was a member of the UT Board of Regents from 2003-09, including service as chairman from 2007-09. During a 32-year career with Goldman Sachs, Caven was a vice president and a regional manager. A longtime UT advocate, Caven has chaired the UT System Chancellor's Council and the McCombs School of Business Advisory Council. He is a founding member of the executive committee of the Texas Coalition for Excellence in Higher Education. He has also chaired the board of directors of the University of Texas Investment Management Company and the Texas Growth Fund board of trustees. Caven is currently a member of the board of trustees for the Texas State History Museum Foundation.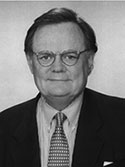 John H. Massey, LLB '66, Life Member, is the chairman of the Neuberger Berman Private Equity Funds Investment Committee and a member of the Co-Investment Partners Investment Committee. He has been a senior executive and director for many insurance companies, banks, industrial and service companies, and consumer product companies. He and his wife, Elizabeth Shatto Massey (2010 Distinguished Alumna), have created endowments at the McCombs School of Business, the School of Law and the College of Education, as well as three Texas Exes Forty Acres Scholarships. In addition to serving as president of the Law School Foundation, Massey is also a trustee of the University of Texas Foundation. He is a recipient of UT's Presidential Citation and in 2012 was inducted into the Texas Business Hall of Fame.
Hook 'em, Horns!