Gov. Abbott Names Professor Scott McCown to HHSC Strike Force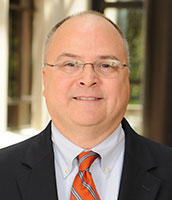 Texas Gov. Greg Abbott this week named additional members to the strike force he deployed to conduct a comprehensive performance review of the Texas Health and Human Services Commission (HHSC). Scott McCown, clinical professor and director of the Children's Rights Clinic at The University of Texas School of Law, is one of the new members.
"Maintaining public confidence that government is honest and efficient is essential," said McCown, a former Texas District Judge. "I hope we can be helpful to the Governor."
In a statement released earlier this month, Abbott called for the creation of the independent strike force, which was charged with monitoring the agency and its functions.
"In the wake of recent revelations at the Health and Human Services Commission, my transition team has taken steps to ensure there is a full and thorough outside review of management, operations and contracting at the agency," Abbott said in the statement.
Additional strike force members include: Billy Hamilton, executive vice chancellor and chief financial officer of the Texas A&M University System; Heather Griffith Peterson, chief financial officer of the Texas Department of Agriculture; and former State Rep. Talmadge Heflin, director of the Center for Fiscal Policy at the Texas Public Policy Foundation.
"While Judge McCown and Rep. Heflin come from different sides of the political aisle, they are united in their distinguished service to the State of Texas and unflinching commitment to good governance," Gov. Abbott said. "I am confident that their experience and unique perspectives will ensure a thorough and effective review of HHSC."