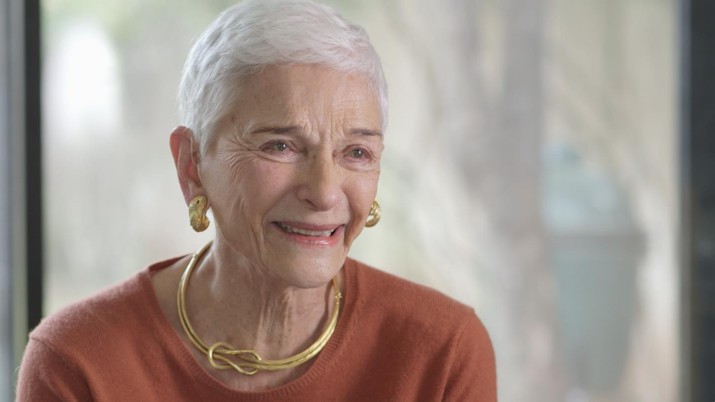 Rapoport Center Receives Award for Sissy Farenthold Online Exhibition
Texas Law's Bernard and Audre Rapoport Center for Human Rights and Justice has won an Exceptional Merit in Media Award (EMMA) from the National Women's Political Caucus (NWPC) for its online exhibition Frances Tarlton "Sissy" Farenthold: A Noble Citizen.
The interactive, multimedia website chronicles the life and work of Sissy Farenthold (Texas Law '49), a trailblazing reformer, grassroots activist, and feminist icon. Created and curated by the Rapoport Center, the exhibition showcases a variety of archival materials from Farenthold's papers, housed at the Dolph Briscoe Center for American History on the University of Texas campus. It also features four original short films, using the archives as well as over 36 hours of interviews with colleagues including Gloria Steinem and current and former chairs of the NWPC.
The site is separated into three principal sections, which represent different stages of Farenthold's career: state (focused on her time in the Texas legislature and her gubernatorial campaigns); national (centered on her nomination to be the Democratic National Party's vice presidential candidate and her time as the first chair of the National Women's Political Caucus); and international & human rights (covering her organizing and grassroots activism for peace, disarmament, and social justice).
Farenthold notes, "I am proud to see the Rapoport Center recognized for the care, energy, and creativity that went into this site. It's amazing to see so many parts of my life, even the illegible scrawls, examined from so many angles through such an array of media."
The project was directed by Professor Karen Engle, Minerva House Drysdale Regents Chair in Law and co-director of the Rapoport Center. The lead author and researcher was award-winning journalist Susan Richardson, who is now editor and publisher of the Chicago Reporter. The films were directed by Joe Bailey, Jr., award-winning documentarian.
"It is a real honor to receive this award, given that Sissy has spent half a century fighting against sexism, racism, institutional violence, war, and poverty, in keeping with the NWPC's founding principles," says Engle. "These issues have always been related for Sissy in ways that could usefully inform our understanding of and response to gross inequality and other threats to contemporary civil society."
"It was truly a pleasure to partner with the Rapoport Center on this project," says Briscoe Center director Don Carleton. "This is wonderful recognition of the hard work put into this valuable online resource, and a fitting tribute to a true Texas treasure."
The EMMAs were created by the NWPC to recognize journalists and media outlets in radio, television, print, and the internet that inform, engage, and educate the public about critical issues impacting women and girls in the U.S. and globally. Past winners include Ellen Goodman, Cokie Roberts, Barbara Ehrenreich, Diane Sawyer, and Eleanor Clift, among many others. This year the NWPC received a record number of submissions from renowned media outlets such as The New York Times, Mother Jones, Marie Claire, Al Jazeera America, and more.
The award ceremony will take place on Monday, May 16, 2016 from 6:00-8:30pm at the American Foreign Service Association in Washington, DC. Farenthold will give a keynote speech on reporting human rights in the media. Various clips from the films will be shown, and Engle will offer a few remarks on the project. For more information and tickets, please visit http://www.nwpc.org/emmas/.
Read the official announcement from the NWPC here.