Steve Goode Named Civitatis Award Winner for 2016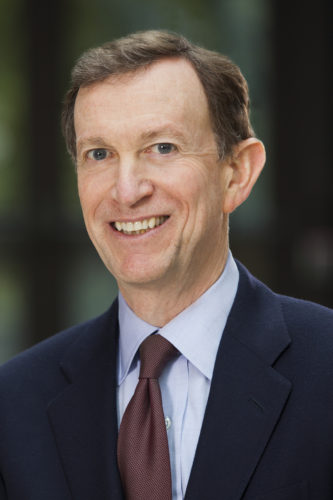 Professor Steve Goode of the UT Law School has been named the winner of the University's Civitatis Award for 2016.  The announcement was made this week by President Greg Fenves.
The Civitatis Award is the highest distinction made by the University of Texas to recognize outstanding citizenship.  It is conferred on a member of the UT faculty for "dedicated and meritorious service to the university above and beyond the regular expectations for teaching, research, and writing."  Nominations are considered by the Executive Committee of the Faculty Council, then forwarded to the President of the University for decision.
Professor Goode has served on the faculty of the School of Law since 1977, and holds the W. James Kronzer Chair in Trial and Appellate Advocacy.  He is a former interim dean of the Law School.  He is also a member of the University's Academy of Distinguished Teachers, and has won the Law School's Massey Award for Teaching Excellence.  Over the past year, Professor Goode served as chair of the University's Campus Carry Policy Working Group. 
Ward Farnsworth, Dean of the School of Law, praised the selection.
"Steve Goode has long been one of the truly great members of our faculty," he said.  "He is one of our most decorated and revered classroom teachers.  He is a first-rate scholar of evidence law whose writings are constantly consulted by the bench and bar.  And he is one of the finest citizens in our community—a colleague of impeccable judgment.  There can never be a more deserving recipient of this award." 
Farnsworth especially singled out Professor Goode's work on the Campus Carry law.
"Chairing the committee that interpreted that law was one of the most challenging administrative tasks I can imagine," Farnsworth said.  "Steve was the perfect choice, and did a superb job.  Everyone was fairly treated and knew it.  Nobody else could have done the job as well."
Prof. Goode's reaction to the announcement was modest but heartfelt: "The University has been my home for nearly forty years. I am deeply touched to be recognized in this way. I thank President Fenves and the Faculty Council Executive Committee."