A Memorial Service will take place at Westminister Presbyterian Church on Tuesday, July 31, at 1 p.m. A reception will follow at Tarry House at 2:30 p.m. In lieu of flowers the family asks those interested to consider making a donation to the Westminister Presbyterian Church or Hospice Austin.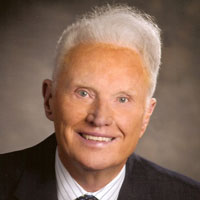 One of the greatest men from the Greatest Generation, Frank Wofford Denius '49 has died at the age of 93. The cause was pancreatic cancer.
Denius was known for a record of philanthropy that rarely has been equaled in Texas history. Through the Cain Foundation — established by Frank Denius's aunt and uncle, Effie and Wofford Cain — he delivered millions of dollars in scholarships and grants to universities within Texas and funded academic medical research. His benevolence touched thousands of people and many organizations, including his beloved University of Texas, and the city of Austin.
Though Frank Denius was best-known for that philanthropy, along with his legendary devotion to Longhorn football and his status as one of America's 10 most decorated World War II veterans, he was also a seminal figure in the Austin legal, business, and political worlds of the 20th century.
"Frank Denius was a Hall-of-Fame graduate of the UT Law School — a war hero, a wonderful lawyer, and a great friend of this school and the rest of the University," said Dean Ward Farnsworth. "We were very honored to be able to recognize him in 2017. His memory will live on with us always. Our thoughts are with his family."
Denius received the Law School Alumni Association's Lifetime Achievement Award last year at a gala dinner. Moved to tears by the ceremony, Denius told the assembled dignitaries, "I owe everything to the law school. That education, that degree, made everything I did possible."
Full obituaries of Frank Denius can be found at the UT Athletic's website and on Hookem.com.