IN MEMORIAM: Prof. J. Leon Lebowitz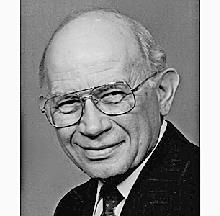 J. Leon Lebowitz, the brilliant and well-loved professor of law, passed away peacefully at home on January 11 at age 98.
Professor Lebowitz became a member of the Texas Law faculty in 1956. For over four decades he educated and guided thousands of aspiring Texas lawyers on the Forty Acres. Though he formally retired as the Joseph C. Hutcheson Professor Emeritus in Law in August of 1993, Prof. Lebowitz continued as an instructor at UT through May of 2000.
"We are ever grateful to Professor Lebowitz for imparting his love of the law and learning to our alumni," remarked Dean Ward Farnsworth. "He was well-known amongst colleagues and friends for his humility and kindness, as well as his scholarship."
Professor Lebowitz's funeral will take place on January 14 at 11:30 a.m. at Congregation Beth Israel.
For those who wish to make a gift, the family has asked that contributions be made to Congregation Beth Israel, the Leon and Elaine Lebowitz Endowed Presidential Scholarship at Texas Law, or the charitable or civic organization of your choice.
Gifts may be sent to the UT Law School Foundation at 727 E. Dean Keeton St., Austin, Texas, 78705, or by calling 512-471-2144.
Until then, we share below the obituary for Prof. Lebowitz prepared by his family.
Prof. J. Leon Lebowitz, 1921-2020

J. Leon Leon Lebowitz, longtime professor of law and a true mensch, passed away peacefully at home on January 11. He was 98. Leon, a scholar of both Judaism and the law, was a rare combination of brilliance, humility, and kindness. He was born and raised in Waco, Texas, where he often worked in the dry goods store owned by his parents, Frances and Dave Lebowitz.

After receiving his law degree from Baylor University, Leon enlisted in the U.S. Army, where he served as a staff sergeant in the 3rd Infantry Division. He fought in the Battle of Anzio, participated in the liberation of Rome, and was awarded the French Legion of Honor for his role in the liberation of southern France. Leon returned to Waco after the war. In a 1940s version of the Dating Game, arranged by a friend, he was introduced to Elaine Ephraim, a visitor from Plaquemine, Louisiana. They married in 1948 and had two children, Brian and Amy.
In 1956, Leon left his teaching position at Baylor Law School to begin his career at the University of Texas, where over the years he taught thousands of Texas lawyers Civil Procedure, Business Associations, and Securities Regulation. Through his State Bar committee work, Leon was instrumental in shaping Texas law in those areas.

Leon was a leader in the Austin Jewish community, serving as president of the Jewish Community Council, B'nai B'rith, and his synagogue, Congregation Beth Israel, where he was an active member for over 60 years and where he instituted the lay-led Saturday morning minyan. He also worked passionately for justice and equality, working to end Jewish quotas in American law schools in the 1950s and to expand banking opportunities to East Austin in the 1960s. He supported a diverse array of organizations, including the Anti-Defamation League, Austin Symphony, Chabad of Austin, and West Austin Rotary.

In addition to his amazing whistling talent, Leon had a beautiful singing voice, and he always serenaded Elaine at their anniversary celebrations. He loved traveling, garage sales, books, music, interfaith dialogue, and playing bridge and poker with his buddies. He was devoted to his family, friends, community, and any cause he saw as helping the less fortunate.

Leon is survived by Elaine, his wife of 71 years; his son, Brian Lebowitz and wife Lise Goldman, along with granddaughter Samantha Goldman, of Chevy Chase, MD; his daughter, Amy Greenspan and husband Donny; his grandson Adam Greenspan and girlfriend Shannon Scott; his granddaughter Gina Manlove and husband Kyle; and his great-grandchildren, Nelly and Miles Manlove, all of Austin. He is also survived by his two sisters and his brother-in-law, Bernice Beckerman and Shirley and Hy Warshaw of Houston. along with their children and grandchildren.

Funeral services will be held at Congregation Beth Israel, 3901 Shoal Creek Blvd., at 11:30 a.m. on Monday, January 13. A shiva memorial service will be held at the same location at 5:30 p.m. that evening.

The family extends its heartfelt thanks to Lena Shaw, Hospice Austin, and the many caregivers whose skill and compassion eased Leon's last years. In lieu of flowers, contributions in Leon's memory may be made to Congregation Beth Israel, the Leon and Elaine Lebowitz Endowed Presidential Scholarship at the UT School of Law, or the charitable or civic organization of your choice.

Published in Austin American-Statesman on Jan. 12, 2020