Taking Freshlaw Orientation By The Horns
On the eve of the unofficial start of the academic year—Freshlaw Orientation, when all new students first arrive on campus to meet one another and see what law school's all about—there was the usual excitement that attends this annual ritual. "It's always my favorite time," said Brandi Welch, Texas Law's Director of Academic Advising and Student Affairs. "New beginnings, fresh possibility, the culmination of all our planning." But this Orientation was, of course, hardly usual. Masks, plentiful signage calling for social distancing, and newly ubiquitous hand sanitizing stations were the most visible markers of a new normal, at Texas Law as everywhere.
"We are about to carry out our mission under extraordinary circumstances," noted Dean Ward Farnsworth in a message to faculty and staff. "But I know this:  our community has put an immense amount of preparation, care, and commitment into this moment.  We are ready to begin."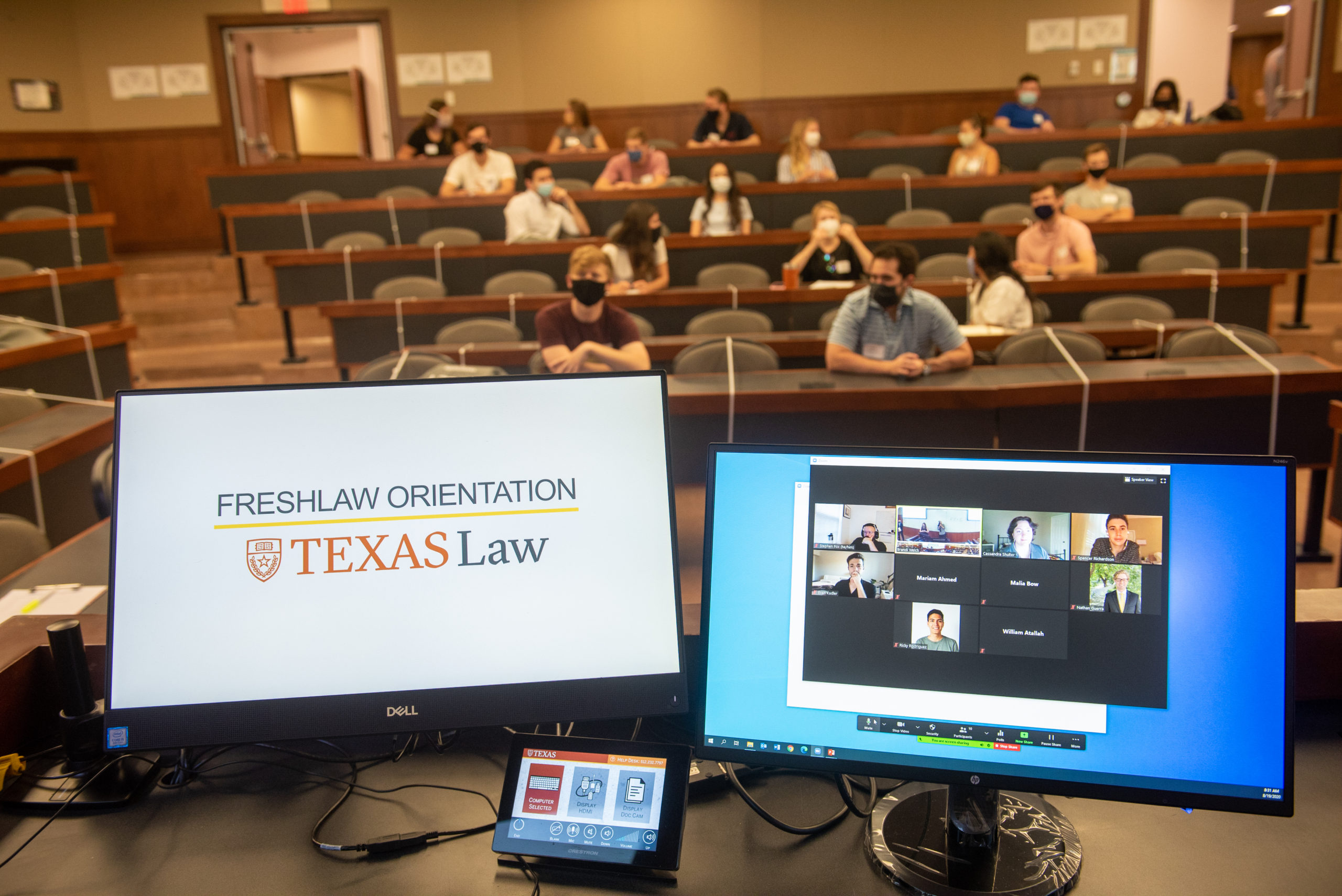 That spirit of resilience, and steadfast determination to make Fall 2020 memorable for excellence and not just "making do," has been a constant feature of the Texas Law community's work ethic all summer. With our highest priorities having been to make in-person learning possible for those who want it while keeping everyone in our community safe, and to provide our trademark world-class legal education to those learning remotely, the school has taken many precautions, thinking creatively about programming, and making carefully considered policy choices. Nowhere was this more evident, than this year's Orientation activities.
For one, instead of dividing our first-year students into the traditional four sections, the 1L class was broken up into six sections. This decision was made in order to allow any student who wants to attend in person to do so. This policy worked well for Orientation. Students who wished to attend events in-person were able to meet with law school leadership and faculty in smaller, chronologically staggered groups while maintaining social distancing. Each section, including both in-person and remote attendees, received a warm welcome from Dean Farnsworth, attended Law School 101 and other introductory sessions, and swore their Oaths of Professionalism. Students were able to enjoy socializing and getting to know each other during lunch in their Dean's Fellows Groups in various locations outside the Law School buildings.
(Check out photos from Freshlaw Orientation here!)
"The Deans Fellows program, along with our Society Program, are distinctive features of our school," beamed Dean for Student Affairs Elizabeth Bangs. "These students are ambassadors for everything that's wonderful about Texas Law, and they're go-to resources for those times when law school gets challenging. Dean Farnsworth likes to say that we're in the relationship business here at Texas Law. And the student leaders are a key piece of that. This year, in light of the additional challenges our new students are facing, we've increased the number of Dean's Fellows from 16 to 24, enabling them to provide their students even more support."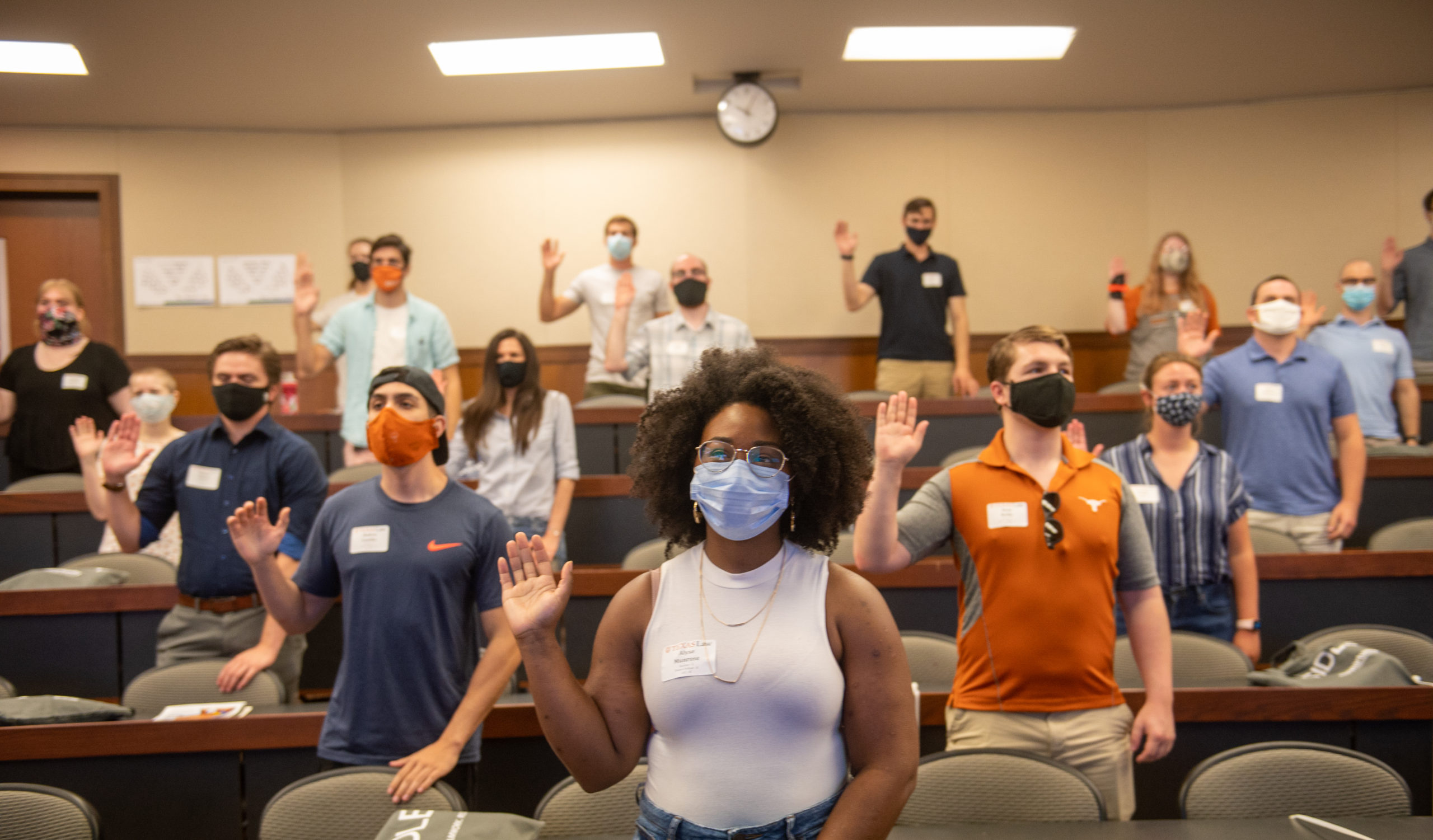 Those student leaders were essential to this year's Orientation's unique mixture of in-person programming and online programming—including both asynchronous and live Zoom sessions—which allowed the Class of 2023 to begin establishing the invaluable relationships vital to a collaborative legal education while maintaining safety for all who took part.
"We took advantage of the pandemic to develop asynchronous orientation programming, in addition to the material we presented live, in person and via zoom," Dean Bangs continued. "The asynchronous presentations were enthusiastically received by the incoming 1Ls. I expect that we will continue to present a mix of live and asynchronous material for orientation, even after COVID-19 is behind us."
The 1Ls' warm welcome didn't just come from the school's leadership and staff and upper-class students. All 1Ls received a Freshlaw Orientation goodie bag from Sidley Austin, who sponsored Orientation. While the Alumni Relations and Development office contributed branded Texas Law headphones, handy for showing their Texas Law pride from wherever they're learning.
"The dean says it often, that one of the best things about our school is that students have a whole Texas Law nation of 23,000-plus alumni waiting to help them and have their backs," remarked Jennifer Sloan '98, the Director of Development and Annual Giving. "These gifts are just a tiny down payment on the investment the community is ready to make in the Class of 2023."
Upper-class support wasn't just limited to the Dean's Fellows. Many of the law school's nearly 40 student organizations have offered 1L programming and events. Organizations like the Women's Law Caucus, OUTLaw, the Jewish Legal Society, the Texas Law Women's Christian Fellowship, Texas Federalist Society, among others, hosted Zoom meet and greets for incoming 1Ls to find community and learn about organizations they might be interested in.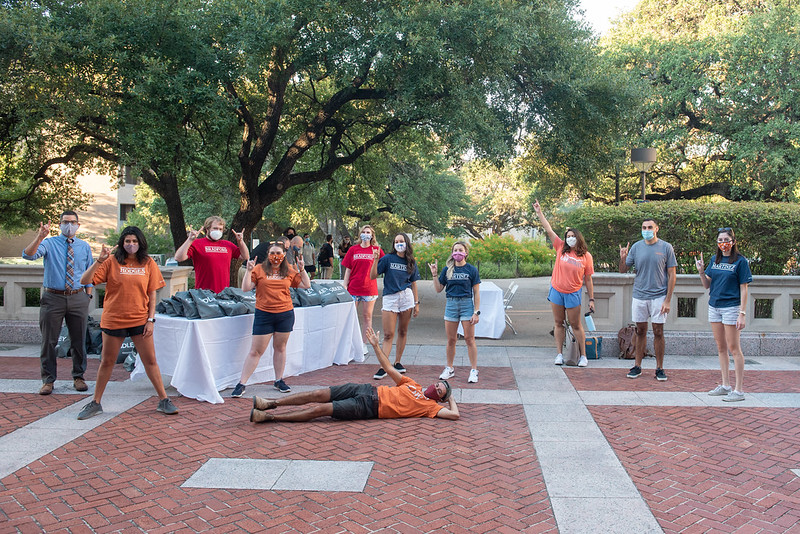 While this semester is going to require effort and ingenuity from faculty, students, staff, and the community, all parties are putting in that effort with great enthusiasm. "No one is prepared for this semester to be second-best in any way," said the school's Communications Director Christopher Roberts. "If it's not the best, then no one here will think we've done all we could do. But that shouldn't surprise anyone to hear, because that's always been the Texas way."