Carl Guthrie '17 Is Fighting for, and Winning, Greater Access to Justice for All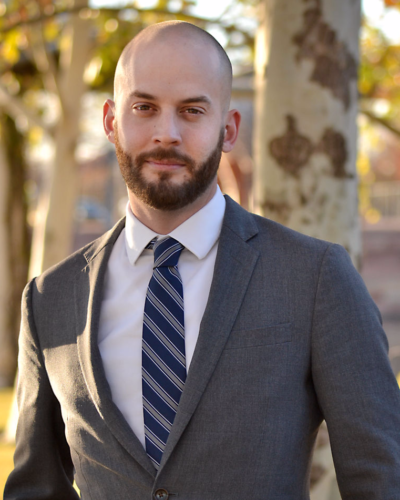 "What starts here changes the world" is more than a catchphrase for Carl Guthrie '17. After graduating with honors, and winning the prestigious Niemann Cup for his accomplishments as a student in trial advocacy, Guthrie promptly started a remarkable non-profit, the Texas Poverty Law Project (TPLP); opened his own law office; took an adjunct teaching role in Texas Law's Trial Advocacy Program; and, earlier this year, led the defense in the nation's first virtual criminal jury trial.
Also of note is that Guthrie and his future TPLP partner Kannon Moore joined the Texas Opportunity & Justice Incubator, whose mission is to "expand access to justice by supporting Texas lawyers who are building sustainable law practices serving low- and modest-income Texans." That program arose out of an initiative undertaken by the Supreme Court of Texas' Chief Justice Nathan Hecht in 2016 to improve the quality of legal services available to Texans at the lower end of the economic ladder and to remove barriers to the profession facing poorer law students.
In 2019, Guthrie and Moore, took the lessons they learned together at the incubator and launched TPLP. The nonprofit works to fight "the issues that put people in poverty, trap people in poverty, and punish people for being in poverty."
"Carl Guthrie dreamed of starting something new, that does something different, and that accomplishes some real good in the world," remarked Dean Ward Farnsworth. "Fortunately for the cause of access to justice, he has the great talent needed to pull it off.
Guthrie and Moore spoke with the Texas Bar Journal about the Texas Poverty Law Project and the nation's first online criminal jury trial in the November issue of the journal. We reprint a portion of that interview below, with permission; readers can find the full article here.
Creating Alternatives: TWO TEXAS OPPORTUNITY & JUSTICE INCUBATOR ALUMS FOUNDED THE TEXAS POVERTY LAW PROJECT TO ADDRESS INEQUITIES IN THE LEGAL SYSTEM.

Interview by Eric Quitugua

This article was originally published in the November 2020 issue of the Texas Bar Journal.

Since 2017, the Texas Opportunity & Justice Incubator has equipped attorneys with the business skills to establish practices serving low- and modest-income Texans. Attorneys Carl Guthrie and Kannon Moore, members of the State Bar of Texas program's fourth cohort, have taken some of the savvy they picked up from TOJI to launch the Texas Poverty Law Project. Through their nonprofit, the two and their team have focused on helping clients caught in the poverty cycle navigate the legal system. Guthrie and Moore spoke with the Texas Bar Journal not long after wrapping up the nation's first online criminal jury trial in August

Tell me about the impetus for the Texas Poverty Law Project. What's your motivation for launching the nonprofit?
When we survey the legal landscape, we see too many traps that only exist for people living in poverty. These traps are self-perpetuating. They snag people who can't afford to pay fines for misdemeanors, who can't make it to court because of work, or logistics, or family, and who don't know about the protections written into the law to help them (because those protections, like most of the legal system, are absurdly convoluted). These traps often also involve some pretty severe power imbalances (think debt collection, evictions, criminal charges, etc.). We're fighting the issues that put people in poverty, trap people in poverty, and punish people for living in poverty. That includes everything from criminal charges and evictions to consumer protection and access to justice.

What are the main legal issues you see that stem from or contribute to poverty?
Our primary focus is at justice courts and municipal courts. These cases can quite literally lead to being unhoused or being incarcerated to significant and often traumatic effects on every aspect of our clients' lives. The system permits these outcomes, but the system doesn't provide counsel.

How are you addressing this?
We're building a system to provide criminal representation in justice of the peace and municipal courts where the law doesn't provide for attorneys. With our partners, we're building an in-house model for homeless shelters, addressing the needs of their clients, and helping people get back on their feet. We're trying to push forward the idea of virtual court, allowing clients who don't have the time, money, or transportation to get access to justice in a way that's never been seen. As lawyers representing clients, we have an obligation to help each person we represent, on an individual basis, but if we want to see lasting change, if we want to make the system better, we have to tackle things on a bigger scale.