Trailblazing Lawhorn Julius Whittier Immortalized on Campus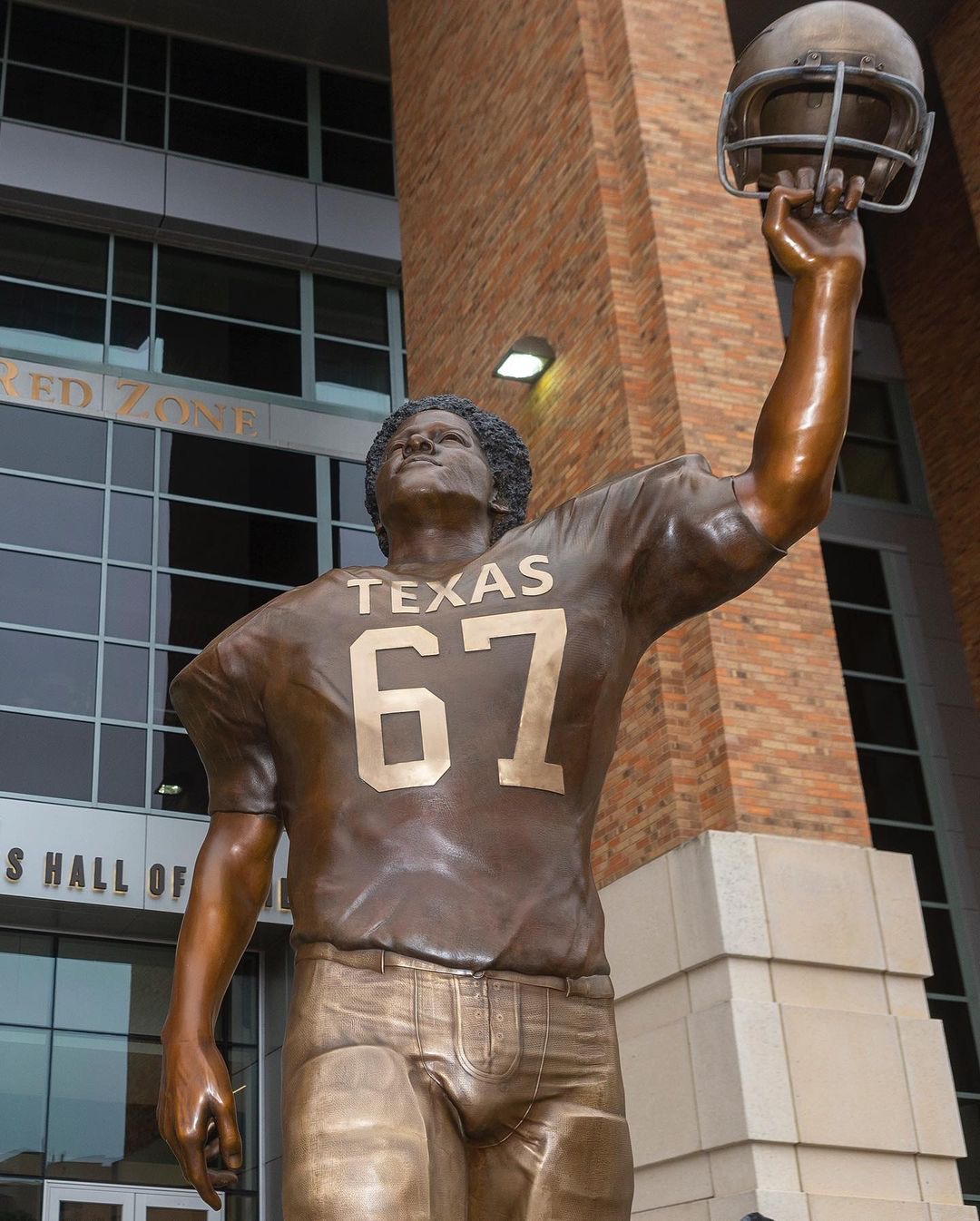 Julius Whittier—a larger-than-life trailblazer as Texas' first Black letterman, a member of the 1970 National Championship team, a Texas Law alum, and a triple Longhorn—has been honored with a larger-than-life bronze statue in the north end of Darrell K Royal-Texas Memorial Stadium. The 12-and-a-half-foot tall bronze sculpture, depicting Whittier from his playing days with his helmet held high, was unveiled November 27, before the Texas football game against Iowa State.
Whittier, who died in 2018, was one of just 300 Black students on campus when he arrived in 1969. Inspired to make an impact at the University beyond his leadership on the field, he earned his B.A. in Philosophy, a Masters in Public Policy as part of the inaugural class of the LBJ School, and later returned to Austin as a member of the School of Law's Class of 1980.
The San Antonio-native was one of the first African Americans to receive a football scholarship from Texas and became Texas' first Black football letterman in 1970. With Whittier on the team, Texas won three Southwest Conference titles from 1970-72 under Hall of Fame coach Darrell Royal. After law school, Whittier enjoyed a long and distinguished career as a criminal prosecutor for the Dallas County district attorney's office, retiring in 2012.
There had long been popular and widespread support to recognize Whittier's UT career, and the effort came to fruition in the aftermath of activism by Longhorn student-athletes this past summer. Indeed, the statue of Whittier is the first of several permanent fixtures and namings to honor historically significant Longhorn greats, such as Whittier and Heisman Trophy winners Earl Campbell and Ricky Williams.
Former Longhorn running back Ricky Brown who now serves as director of the T-Association spoke with Texas Athletics,
"During my time as a player, he was immortalized as a verbal legend, but there was not a physical representation and reminder of history. Having the statue now, and for the future, is meaningful for so many who were part of his story. It also means that more people will have the opportunity to connect with and be inspired by Julius Whittier and his incredible story of heart, determination and courage."
Dean Ward Farnsworth noted, "Julius Whittier is an important part of The University of Texas' story, and we're proud to have been an important part of Julius Whittier's story. He was as beloved by his law classmates and legal colleagues as he was by his teammates."
Read more about Julius Whittier here.