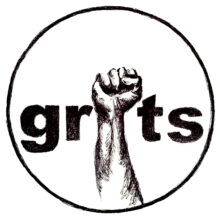 Launched by a group of students at the University of Texas School of Law in 2015, GRITS (Getting Radical in the South) is an entirely student-run public interest law conference that focuses on social justice work in the South. GRITS emphasizes innovative, progressive, and even radical approaches to building community among students, practitioners, and community activists in the South to bring about social change.
In spring 2021, GRITS moved online due to the pandemic with events over six days. Because of the virtual format, GRITS organizers were able to invite speakers from across the country who might not otherwise have been able to travel to Austin. GRITS 2021 began with a keynote address by Y. Frank Southall, lead organizer at Jane Place Neighborhood Sustainability Initiative in New Orleans, who spoke about eviction and housing justice during the pandemic. Over the following days, GRITS hosted panels of lawyers and activists on a broad array of social justice issues with a focus on the South: the intersection of disability rights and racial justice; environmental justice; prison abolition; movement lawyering; the 2021 Texas Legislature and women's equity; labor organizing; organizing in law school; and the intersection of immigration and criminal justice. Panelist information and panel recordings are available on the GRITS 2021 website.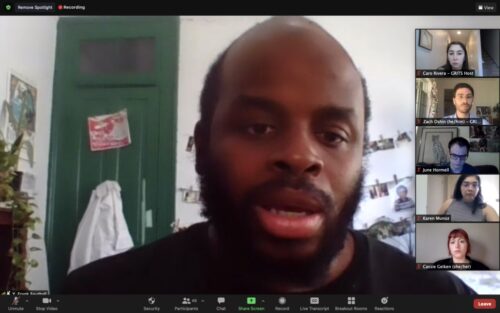 In addition to the new online, multiday format, GRITS 2021 included other firsts. "In the past, the GRITS board has been limited to second-year students at Texas Law," said GRITS 2021 board member Caro Rivera, '22. "This year, GRITS expanded its leadership board to include 1Ls and law students from other southern law schools, including St. Mary's Law and Alabama Law. This conference would not have been possible without the collaborative work of our team."
"Participating in GRITS as a 1L during the pandemic has helped me engage with likeminded peers and build a sense of community at law school," said Crystal Tran '23.  "And, in the wake of the devastating winter storm and lackluster COVID-19 response, GRITS has shown that we need to radically reimagine and push for the vision of an equitable, inclusive society."
"I'm in law school to fight climate change by shifting the needle here in Texas. GRITS was something that drew me to Texas Law. Having a dedicated group of students focused on reimagining how the law impacts the world was really encouraging," said Stephen Fox '23. "Working on the conference was amazing. I got to meet classmates and panelists who are dedicated to the same things I am and who are doing the work. Disasters like the pandemic and the recent storm are going to happen more and more and get worse and worse.  We'd better Get Radical In The South if we want a livable future."
Texas Law's Student Affairs Office and the William Wayne Justice Center for Public Interest Law have been annual GRITS sponsors. GRITS 2021 was also sponsored by Law Students for Black Lives, the Rapoport Center, and Grassroots Leadership.