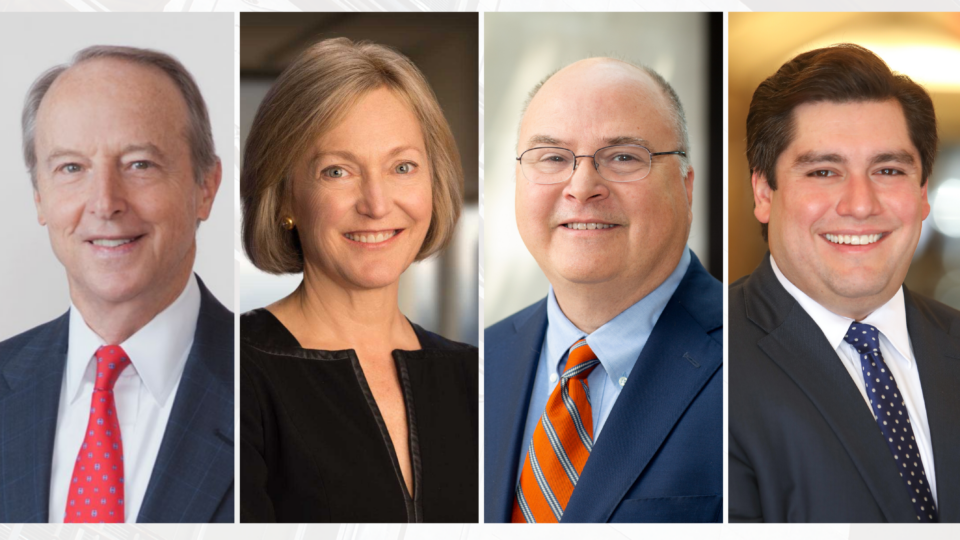 Alumni Association Announces 2021 Alumni Award Honorees
Four of Texas Law's most accomplished and distinguished alumni will be honored this September by the Texas Law Alumni Association and Dean Ward Farnsworth. Texas Law's late trailblazer Julius Whittier '80 will also be honored with a special memorial tribute. The awards were announced by Alumni Association President Milam F. Newby '03.
"The Alumni Awards honor some of our most highly accomplished alumni. We are delighted to recognize them and their outstanding contributions to our Law School and their professional and civic communities."
Pictured above, from left: David Beck '65, Karen Seymour '86, the Hon. F. Scott McCown '79, and Carlos Zaffirini '06
Preeminent Houston trial lawyer and legal writer David Beck '65 will receive the Association's Award for Lifetime Achievement. New York City-based Karen Seymour '86, a partner at Sullivan & Cromwell LLP, will be honored as Outstanding Alumna. The Hon. F. Scott McCown '79, a former state district judge and current lecturer at Texas Law, will be recognized as the Distinguished Alumnus for Community Service. Carlos Zaffirini '06, who is President and CEO of Adelanto HealthCare Ventures, LLC, will be named the Association's Outstanding Young Alumnus.
The Alumni Awards will be presented at an invitation-only dinner in Austin on April 28, 2022*. Read more about these extraordinary awardees below.
*(Update, September 21, 2021) Please note that we have rescheduled this event in consideration of public health circumstances in our community.
Lifetime Achievement — David Beck '65
David J. Beck, a founding partner of Beck Redden LLP in Houston, received his law degree from The University of Texas School of Law School in 1965. He is consistently recognized as one of our country's preeminent trial lawyers. Additionally, he has published numerous law journal articles, appeared as a lecturer on many bar association and law school continuing legal education programs, and won various awards for his legal writing. The Law School has named The David J. Beck Center for Legal Research, Writing, and Appellate Advocacy after him.
Beck was appointed to the prestigious Judicial Conference Standing Committee on Rules of Practice and Procedure by United States Supreme Court Chief Justice William Rehnquist in 2004 and reappointed to a 3-year-term by Chief Justice John Roberts in 2007. The Committee's members include some of the leading judges, academicians, and practitioners in the United States.
Beck recently finished serving a six-year term on the The University of Texas System Board of Regents in 2015-21. He is a past president of the American College of Trial Lawyers (2006-07) and the International Association of Defense Counsel ("IADC"). He has been named a Fellow in the International Academy of Trial Lawyers, an Advocate in the American Board of Trial Advocates, and an "Honorary Overseas Member" of The Commercial Bar Association ("COMBAR"), a preeminent association of English barristers. Beck was honored with the Anti-Defamation League's 2005 Jurisprudence Award.
Beck served as president of the State Bar of Texas in 1995-96. In 2007, he received the Leon Green Award from the Texas Law Review Association "for outstanding contributions to the legal profession." He is a past recipient of the prestigious University of Texas Law School Faculty Award and the State Bar of Texas Presidents' Award. He also received the distinguished "Honorary Barrister" Award from the University of Texas Law School Board of Advocates. In 2005, he was named as a member of the Board of Trustees of The Center for American and International Law (CAIL), in 2007 he was appointed to the Center's Executive Committee, and in 2010 was named CAIL's Chair.
He has been listed in Best Lawyers in America as one of the few listed in eight different practice areas, was named a Lawyer of the Year in Texas for Antitrust Law by Texas' Best Lawyers and was also recognized for Bet-the-Company Litigation, Commercial Litigation, and several other practice areas. He is recognized in Chamber USA with a Band 1 ranking. In Thomson Reuters, he is one of a very small number of Texas lawyers consistently recognized every year since 2003 as "Top 10 Super Lawyers – Texas," 2003-2021. He was listed in Benchmark Litigation, "Top 100 Trial Lawyers in America," and was named to 2017 Lawdragon 500 Leading Lawyer Hall of Fame. More recently, he received the Texas Bar Foundation's 2019 "Best Law Review Article Award" for his article in the Baylor Law Review.
Beck was honored in 2000 as Outstanding Alumnus by the Texas Law Alumni Association and in 2010 as a Distinguished Alumnus of UT Austin by the Texas Exes.
Outstanding Alumna — Karen Seymour '86
Karen Patton Seymour is a partner and member of the Management Committee at Sullivan & Cromwell LLP in New York City. She has a multidisciplinary practice focusing on corporate governance, crisis management, complex commercial litigation, white-collar criminal defense and internal investigations.
Seymour recently rejoined the Sullivan & Cromwell from Goldman Sachs, where she served as Executive Vice President and General Counsel and was a member of the Management Committee. She oversaw the firm's strategy regarding class action and other litigation and enforcement issues and served as a key advisor to the firm across a wide variety of legal, reputational and other matters. She successfully resolved a number of important matters on behalf of the firm and was key in negotiating the firm's most critical legal matters, including 1MDB. She also advised the "Launch with GS," Goldman Sachs' $500 million commitment to narrow the gender investing gap and to increase access to capital for women and diverse entrepreneurs and investors.
Prior to her time at Goldman Sachs, Seymour was co-managing partner of S&C's Litigation Group and represented corporations, financial institutions and individuals in state and federal investigations and proceedings involving allegations of securities fraud and insider trading, and Foreign Corrupt Practices Act, anti-money laundering, OFAC sanctions, and criminal antitrust violations. She often worked on complex, multi-jurisdictional matters, such as leading the negotiations of numerous significant settlements involving multiple jurisdictions. Seymour has tried numerous jury and bench trials in federal court and argued many appeals before the U.S. Court of Appeals for the Second Circuit. She has deep experience representing corporations and individuals outside of the United States in responding to U.S. inquiries and investigations, and assisting in complex international investigations.
From 2002 to 2004, Seymour served as Chief of the Criminal Division for the U.S. Attorney's Office for the Southern District of New York, where she supervised 165 federal prosecutors and oversaw all criminal investigations and prosecutions in the district.
During her first tenure in the U.S. Attorney's Office in 1990-96, she prosecuted a wide variety of cases and served as Chief of the General Crimes Unit.
Seymour has served as an Advisory Board Member for the NYU Program on Corporate Compliance and Enforcement and as an Honorary Trustee for Vera Institute of Justice. Additionally, she is a trustee of the Metropolitan Museum of Art and has been a Board Member for the Public Art Fund. She is also a member of the American Law Institute. 
Distinguished Alumnus for Community Service — The Honorable F. Scott McCown '79
The Hon. F. Scott McCown is a Distinguished Senior Lecturer at Texas Law, teaching courses on professional responsibility and Texas civil procedure. He rejoined the faculty in 2013 after years of serving as a state district judge and then as executive director of a nonprofit policy institute.
From 1989 to 2002, McCown was a state district court judge of general jurisdiction, hearing a broad range of civil cases, including many public interest cases such as the state's public school finance litigation. By special assignment, Judge McCown also presided over a child protection docket. In 1999, Judge McCown's Petition in Behalf of the Forsaken Children of Texas to the Governor and 76th Legislature resulted in significantly increased state appropriations for Child Protective Services. He was recognized for this work with the 1999 Award for Leadership in Public Child Welfare by the National Association of Public Child Welfare Administrators, an affiliate of the American Public Human Services Association, and the 2000 Leadership in Local Government Child Advocacy Award by the National Association of Child Advocates. He was also named the 2000 Texas CASA Judge of the Year.
After retiring as a state district judge, McCown served as executive director of the Center for Public Policy Priorities, a nonpartisan, nonprofit policy institute working to address the challenges of low-income Texas children and families. In 2011 and 2005, while he was the center's executive director, Texas Monthly named him to its list of the 25 most powerful people in Texas politics, calling him a "voice for the voiceless." In 2007, the School of Social Work at The University of Texas at Austin presented McCown with its Vision and Valor Award of Distinction for exemplary accomplishments in the promotion of social justice.
Before serving as a judge, McCown was a special assistant attorney general and chief of the Criminal Law Enforcement Division, an assistant professor of law at Texas Law, and an associate at Vinson & Elkins. McCown earned a B.S. cum laude (Psychology) in 1976 from Texas Christian University and a J.D. with Honors in 1979 from The University of Texas School of Law, where he was elected to the Order of the Coif, the Order of Barristers, and the Editorial Board of the Texas Law Review.
McCown is a member of the American Law Institute. The Austin Bar Association presented him with its 2013 Distinguished Lawyer Award. The Texas Law Review Association presented him with its 2017 Dean Leon Green Award in recognition of outstanding contributions to the legal profession. The Student Bar Association named him Clinical Professor of the Year for 2016-17.
Outstanding Young Alumnus — Carlos Zaffirini, Jr. '06
Carlos Zaffirini is an Austin-based attorney and entrepreneur who earned his BBA and JD from The University of Texas at Austin. He is the President and CEO of AHCV, a healthcare finance consulting company with offices in Washington, D.C.; Austin; Nashville; Tallahassee; and Laredo. The company focuses on Medicaid reimbursement consulting for healthcare providers. He also founded Zaffirini Law, a Texas-based law firm with national reach, and invests in multiple ventures ranging from healthcare to fintech. This includes serving as Board Observer at Lithic. A civic leader committed to public service through philanthropy and civic engagement, he prioritizes charitable interests in education and healthcare.
Through AHCV Zaffirini helped some of the largest and most prestigious hospitals in the country access more than $6 billion of additional reimbursement. His expertise includes extensive experience in structuring complex reimbursement models, including multiple Medicaid UPL, provider tax, Medicaid DSH, and directed payment programs. He also works on complex regulatory issues with health systems, Uber Health, and managed care organizations. Most notably, he created and implemented the concept of the Local Provider Participation Fund in 28 unique Texas localities. Dedicated to improving funding for and delivery of healthcare across other states, Zaffirini is working with 30 health systems across the state while expanding AHCV into Florida.
In a newer area of interest, Zaffirini drafted regulations and statutes that allow ride-sharing organizations to participate in multiple Medicaid programs across the country. The goal of these initiatives is to provide enhanced service in Non-Emergency Medical Transportation.
Zaffirini's passion for public service is reflected in his philanthropy and fundraising for organizations such as the Texas Access to Justice Foundation, South Texas Food Bank, Rio Grande International Study Center, Junior Achievement, and a variety of programs that enhance the quality of life of low-income Texans and their access to education, health, justice, and the arts. A Guardian member of the Champion of Justice Society, he partnered with the UT Law School Foundation to honor his parents by establishing the Carlos Sr. and Senator Judith Zaffirini Access to Justice Initiative, which pays for Texas bar exam review courses and exam fees for low-income law students committed to increasing access to justice for low-income Texans. Additionally, he honored his mother as the namesake of three endowed university scholarships, student loan repayment grants for teachers and healthcare workers, good works grants for civic organizations, and a patient suite at Dell Seton Medical Center.
His honors include being named the 2014 Outstanding Young Texas Ex, 2013 finalist for the Austin Under 40 Awards, and 2012 Santé Ventures Special Advisor of the Year.
Memorial Tribute — Julius Whittier '80
Julius Whittier, who died in 2018, was one of just 300 Black students on campus when he arrived in 1969. The San Antonio-native was one of the first African Americans to receive a football scholarship from Texas and became Texas' first Black football letterman in 1970. With Whittier on the team, Texas won three Southwest Conference titles from 1970-72 under Hall of Fame coach Darrell Royal.
Inspired to make an impact beyond his leadership on the field, he earned his B.A. in Philosophy in 1974 and, as part of the inaugural class of the LBJ School, a Master's in Public Policy in 1976. He returned one year later to attend The University of Texas School of Law, completing his studies as a member of the School of Law's Class of 1980. Whittier enjoyed a long and distinguished career as a prosecutor for the Dallas County district attorney's office, retiring in 2012.