🤘STUDENT SPOTLIGHT: Daniel Edwards '24
We are so pleased to bring back our Student Spotlight series for the 2021-22 school year! For this edition, we invite you to meet 1L Daniel Edwards.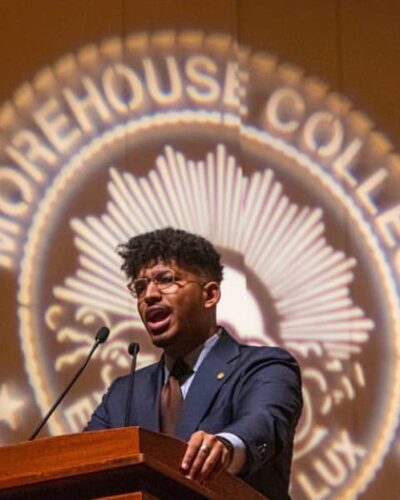 Q: What sorts of things are you engaged in at Texas Law?
My transition to Austin life and life at Texas Law has definitely been much smoother thanks to the great folks in TMLS, Sutton Society, and the Legal Eagles. Even with the multiple affinity groups and clinic work offered on campus, I've found that the friendships made in passing with other members of my class have been incredibly warm, and it's a pleasantly surprising social scene.
Q: We understand you are a national champion debater in four different debate formats. What is it about debate that drew you to compete at such a high level?
When I joined the debate team at Morehouse, I had been involved in some form of speech and debate since middle school. During my time at Morehouse, it was very common to travel with the team to a different city or state almost every weekend. As a result, I think my reasons for competing at such a high level are the same things that make the activity so rewarding writ large. The chance to travel the world, wrestling with the merits of policy decisions, philosophy, and even fundamental epistemological or ontological questions, is vital in the times we live in and is incredibly rewarding as well. I also think it offers a certain camaraderie that can be hard to find during one's undergraduate studies. That same value translates very well to law school – especially when the issues that we wrestle with have effects that are life or death for some of the most marginalized folks in our country.
Q: How have you found life in Austin? Does it suit you?
Austin is great! As a Dallas native who went to college in Atlanta, coming to Austin definitely felt like coming back home in a larger sense. It's a great balance of an active and vibrant city, with enough parks and trails to really unplug when you need to.