Law School Kicks Off What Starts Here Campaign
The University of Texas at Austin launched its most ambitious capital campaign ever on March 4, 2022. As a part of a weekend series of events signaling the public phase of the University's $6 billion What Starts Here campaign, the Law School celebrated its own kickoff to the campaign by hosting an inspiring look into the future of Texas Law.
With the transition to a new dean expected sometime before August 31, 2022, Dean Ward Farnsworth hosted the event with a focus on the school's traditional strengths – top-tier education, phenomenal faculty, and incredible student support – while opening the possibilities for envisioning the next great era of The University of Texas School of Law.
Those possibilities were showcased through conversations with three exceptional leaders in Texas Law: Robert M. Chesney, Associate Dean for Academic Affairs and the James A. Baker III Chair; Eden Harrington, Associate Dean for Experiential Learning and Director of the William Wayne Justice Center for Public Interest Law; and Nicole Simmons, Director of the newly formed Outreach and Pipeline Initiatives.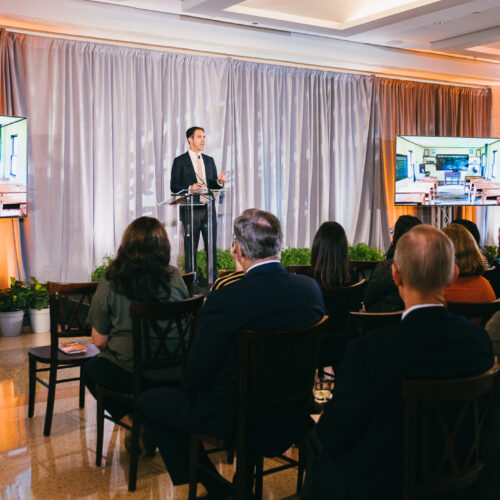 Dean Bobby Chesney offered a compelling picture of Texas Law as the national leader in the conversation of law and technology and its impact on: the practice of law, the subject of law (like cybersecurity, property rights in space, or the metaverse), and the teaching of law.
"Our students need to know and trust that we're preparing them not just for practice when they graduate this spring or next year, but for a lifetime in which the speed of change and their need to adapt to that change will only increase," said Dean Chesney. "No other law school in the country has what we have or can offer more to our students – a location in Austin at the epicenter of innovation, surrounded by Texas's fast-growing economy and supported with deep connections to research, public policy, and a global stage – than The University of Texas School of Law."
Dean Eden Harrington spotlighted the law school's strength in producing lawyers who choose public service or other careers advancing the public interest. Top law schools around the country are investing in their public interest programs through scholarships, stipends and fellowships that are increasingly attractive to incoming law students.
"Texas Law offers all of these types of grants, but not enough to keep pace with other leading schools," said Dean Harrington. "We don't want to fall behind."
Noting a recent $50 million gift for public interest funding to another top-20 law school, Dean Harrington playfully invited the alumni in the audience to "consider that everything in Texas is – or should be – bigger and better."
In addition to preparing law students for the future of law and for public service, Dean Farnsworth talked with Nicole Simmons about launching the school's new Pipeline Program aimed at leading the way for the profession. The Pipeline Program is designed to leverage Texas Law's stature to create a more diverse and inclusive profession. Through outreach, education, and support, the program helps high school and college students from underrepresented backgrounds explore how to become a lawyer and ultimately find success in applying to a law school of their choice. Ms. Simmons noted that Texas Law alumni have responded with very generous support for the Pipeline Program, including those who helped secure more than $1 million in law firm sponsorships and others who personally are funding full-ride scholarships for Pipeline participants accepted at Texas Law.
The What Starts Here Campaign runs through 2026. At the time of the March 4 kickoff, Texas Law alumni and friends had contributed more than $142 million towards the law school's $180 million goal. The Law School Capital Campaign Steering Committee is led by alumni volunteers, including Honorary Chairs Ginni and Richard Mithoff '71, Chair Robin Gibbs '71, Susan Blount '81, Bruce Broillet '74, Nancy McGregor Manne, and Neal Manne '80.
For more information about the campaign and how you can get involved, contact alumni@law.utexas.edu.