Texas Law Students Compete at TYLA National Trial Competition Following Regional Win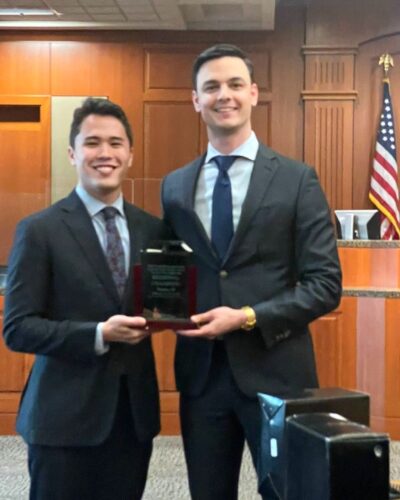 Texas Law students Nick Lowrey (3L) and Gus Talkington (2L) qualified for and competed at the Texas Young Lawyers Association (TYLA) National Trial Competition held in Fort Worth March 30-April 3. Lowrey and Talkington qualified for the national event by taking top honors at the Region 10 TYLA competition. Thirty teams representing law schools across the country qualified for the national competition.
In the regional competition, Lowrey and Talkington beat Texas Southern University's Thurgood Marshall School of Law in the semifinal rounds, then defeated St. Mary's School of Law in the finals to secure the regional title. In addition, Talkington captured the individual award for Outstanding Prosecution Advocate. Fellow Texas Law students Liliana Jayme (3L) and Isabel Johns (3L) also performed well at the regional competition, finishing as semifinalists. The regional event, which featured teams representing 11 law schools in Texas, Arkansas and Louisiana, was held at Houston's Harris County Civil Courthouse in February.
The Texas Law TYLA National Trial Competition teams are coached by Sharon Baxter, who is a Texas Law adjunct professor, and Miesha Aubrey.
The TYLA National Trial Competition is co-sponsored by the Texas Young Lawyers Association and the American College of Trial Lawyers (ACTL). Nationally, TYLA NTC is made up of 15 regions and the competition attracts teams from more than 140 law schools. In this unique competition format, individual teams are made up of advocates only (witness volunteers are provided to competitors at the beginning of each round) and the case file changes between the regional and national rounds. The NTC was established in 1975 to encourage and strengthen students' advocacy skills through quality competition and valuable interaction with members of the bench and bar.
The Texas Law Trial Advocacy Program sponsors several interscholastic mock trial competition teams each year, which consistently have achieved success at the regional and national levels.