Texas Law Reaches Semifinals at National Intellectual Property Moot Court Competition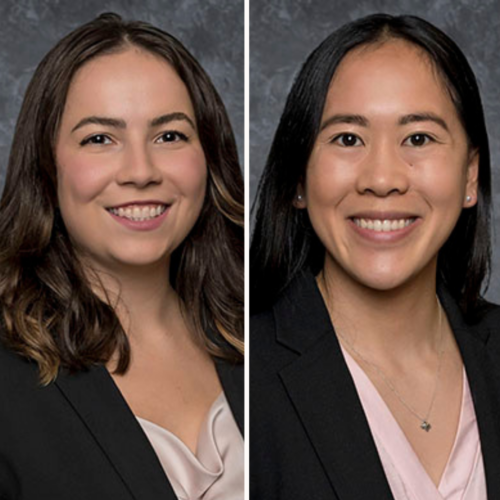 The Texas Law team of Elizabeth Elrod (1L) and Paige Welch (2L) reached semifinals at the 2022 Giles Sutherland Rich (GSR) Moot Court national competition.  The annual event was held virtually for the third year in a row. This prestigious and rigorous competition is sponsored by the American Intellectual Property Law Association (AIPLA), the premier professional development organization for intellectual property lawyers in the country.
Elrod and Welch earned the right to compete at nationals after placing first at the Southern Regional GSR competition. The pair captured the Best Appellate Brief award and Elrod was named Best Oralist by the final round panel.
Peter McCabe and John Williams '19 served as coaches for this year's GSR Moot Court team.
Competitors were selected for regional competition based on try-outs in which students chose one side of a case and prepared an argument of approximately 5-7 minutes to demonstrate their advocacy skill.
The Giles S. Rich Moot Court Competition is the oldest and most prestigious moot court competition in the field of intellectual property and the only national competition specifically directed to the area of patent law. The competition is divided into five regional competitions; the top two teams at each regional advance to the national competition. The event is named for the late Honorable Giles Sutherland Rich, Circuit Judge of the United States Court of Appeals for the Federal Circuit.
Last year, Texas Law 3L students Sarah Propst and Cody Johnson won the national championship.
Learn more about Texas Law's interscholastic moot court program.