Board of Advocates Wraps Up Year with Awards
The Texas Law student Board of Advocates celebrated the year's end with a recent banquet, recognizing officers and law students who excelled in advocacy. The Board of Advocates is a student-run honorary advocacy organization composed of the best student advocates at The University of Texas School of Law.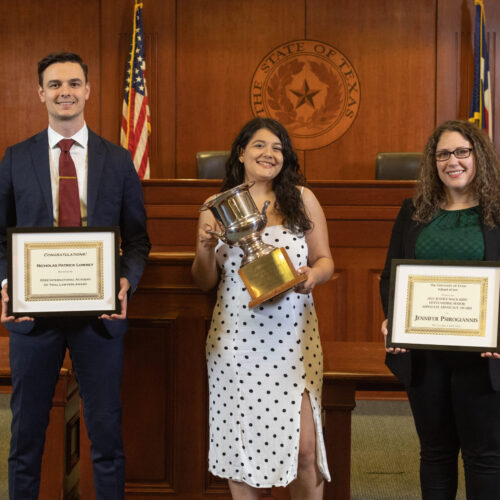 Three major awards were presented to graduating law students in recognition of their advocacy skills:
Isabel Johns received the Niemann Cup and Stanley P. Wilson Honorarium, which is awarded to the best overall advocate in a graduating class.
Jennifer Psirogiannis was presented with the Justice Mack Kidd Outstanding Senior Appellate Advocacy Award, which is given to the best appellate advocate in a graduating class.
Nicholas Lowrey was the recipient of the International Academy of Trial Lawyers Award, which goes to the best trial advocate in a graduating class.
In addition, Director of Advocacy Mike Golden presented Professor David Gonzalez with the Honorary Barrister of the Year Award from the Order of Barristers.
This academic year, the BOA held two mock trials and two moot court competitions. These "intramural" competitions were open to Texas Law students. (Texas Law students also have opportunities to participate in interscholastic competitions through the Advocacy Program.)
Mock Trial Competitions
The Foley & Lardner Novice Mock Trial competition (formerly known as Gardere) was held virtually Oct. 8-14 and was open to all law students who had not previously participated in a law school mock trial competition. The champions of the event were Derek Ficenec (1L), who was also named Best Advocate, and Alex Orlov (1L). Tyler Crews (1L) and Casey Geng (1L) were finalists.
The Strasburger Advanced Mock Trial competition on March 24, 29 and 31 included a field of 32 Texas Law students. This advanced mock trial competition was open to all law students and was the first in-person mock trial in two years. Emily Ogden (2L) and Roshni Mahendru (2L) placed first, edging out Pete Curran (2L) and Collin Hopkins (2L) who finished second.
Moot Court Competitions
The Gibbs and Bruns Moot Court competition held in the fall was formatted with separate brackets for each law school class. Tanner Baird was the champion for 3L students, Sophia Shams placed first for 2Ls, and Daniel Edwards Jr. was the 1L champion. Bracket winners then squared off against each other, with Baird finishing as the Overall Champion and Edwards as the Overall Finalist.
The Susman Godfrey Moot Court competition was held April 7-8. The championship team was Sophia Shams (2L) and Kallen Dimitroff (3L), while Allison Rogge and Claire Crofford were finalists; Rogge was honored as the Best Advocate.
The BOA promotes the development of all law students' practical skills, in both oral and written advocacy, through practice and participation in mock trial, moot court, voir dire, mediation, negotiation, and client counseling competitions. This year's chair was Eric Fineman and the deputy chair was Beau Butler.