Two Texas Law Employees Receive UT Outstanding Staff Awards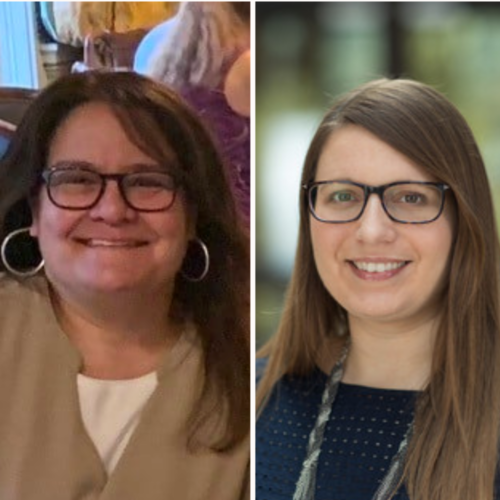 Texas Law staff members, Sylvia Hendricks and Alissa Strother, were honored with Outstanding Staff Awards by The University of Texas at Austin President Jay Hartzell.
The Outstanding Staff Awards Program honors and recognizes the invaluable contributions of eligible non-teaching employees whose outstanding dedication, competence, conscientious performance, excellent customer service, and ingenuity/innovation has had a significant impact on the university.
Hendricks serves as Texas Law's Director of Operational Support and Faculty Affairs. She oversees faculty services, including the administrative side of all recruiting, promotions, academic assignments, and support staff. Hendricks also oversees all facilities, including renovations and management issues, and manages the dean's suite.
Strother serves as the Assistant Director for Academic Services, where she plays a crucial part of the Student Affairs Office. She is responsible for the administration of exams, which is an undertaking notable for its size, complexity, and importance that become more challenging during the pandemic when exams had to be moved online. Strother also manages the law school's adjunct faculty.
"We are extraordinarily fortunate at this school to have so many talented, dedicated staff members," said Dean Ward Farnsworth. "I say to all of our staff that the entire faculty is deeply grateful for everything you do to make this a great place for everyone to learn and work. I'd like to thank and congratulate Sylvia and Alissa, who represent so well these noble traditions of service!"
A total of 29 Outstanding Staff Awards were given for 2022. Only four other colleges/departments at the university were represented by more than one staff member.
The President's Staff Awards formally recognize staff of The University of Texas at Austin in four categories: Staff Service, Outstanding Staff, Outstanding Supervisor, and Student Employee of the Year.