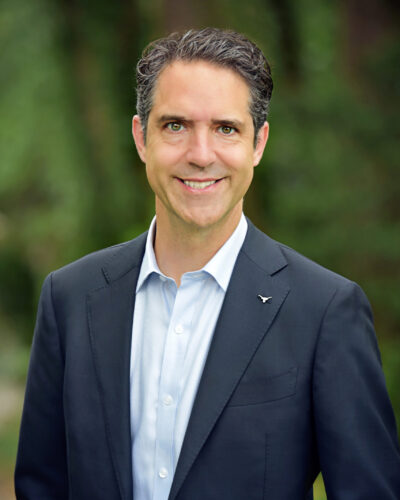 The University of Texas at Austin has selected Robert (Bobby) Chesney to serve as the next dean of the School of Law. Chesney, who currently holds the James A. Baker III Chair in the Rule of Law and World Affairs and has served as the school's associate dean for academic affairs for more than a decade, will begin his new appointment July 1. He succeeds Ward Farnsworth, who will step down after 10 successful years as the school's dean.
"I am thrilled to welcome Bobby to his new position as dean of Texas Law, a school that is widely known to be the best in Texas and one of the nation's premier legal education institutions," said President Jay Hartzell. "The law school is one of the gems of the university with an incredible history of producing leaders not only in the legal profession, but in all walks of life. Bobby is the right person to ensure that Texas Law remains a gem, while utilizing the momentum of Texas, Austin, UT and the school itself to produce even greater impact for the state, nation and world."
A third-generation Texan who graduated magna cum laude from Harvard Law School, Chesney is a globally renowned authority on national security, counterterrorism, cybersecurity and disinformation. Much of his scholarship emphasizes the disruptive impact of technological and strategic change on the legal frameworks governing military, law enforcement and intelligence activities.
As associate dean for academic affairs since 2011, he has helped advance some of the School of Law's most important priorities, from curating the curriculum and building a more inclusive learning environment, to managing the challenges of COVID-19 and promoting pedagogical best practices.
Chesney has been on the faculty at UT Austin since 2008 and brings a deep understanding of the School of Law's values and operations, as well as strong relationships with students, staff members and alumni. He also has extensive experience with strategic planning and higher education assessment, including serving as co-chair of the planning process for the university's recently launched 10-year strategic plan, Change Starts Here, and as co-chair of the UT Austin Council for Texas Impact prior to that.
In addition, Chesney has served as director of the university's Robert Strauss Center for International Security and Law since 2014, where he presided over an extraordinary period of programmatic and financial success, including the creation of an innovative interdisciplinary cybersecurity program.
"I am humbled and honored to lead the School of Law, especially now, as our university embarks on a bold strategic plan to become the world's highest-impact public research university," Chesney said. "It's a dream come true for me. We are the flagship law school of Texas and among the very best public law schools in the nation. With almost a century and a half of history, a world-class faculty, extraordinarily talented and diverse students, and a vast alumni network, the School of Law is a mighty engine for unlocking knowledge, leadership and opportunity. I care passionately about this special place and am thrilled to have the opportunity to lead our community to new heights in the years ahead."
An award-winning instructor, Chesney has pioneered an array of innovative courses focused on cybersecurity, counterterrorism and national security, in addition to teaching traditional core courses such as Constitutional Law, Evidence and Civil Procedure.
Originally from San Antonio, Chesney earned a B.S. in political science and psychology from Texas Christian University before earning a J.D. from Harvard Law School. He then clerked for a federal district judge and a federal circuit judge in New York City before joining the litigation department of the firm Davis Polk and Wardwell. From there he joined the faculty of Wake Forest University School of Law, spending six years there before coming home to Texas in 2008.
"Bobby is an energetic and ambitious leader who not only cares deeply about the education we're providing our law students and the quality of our research, but also about the success and well-being of the community — from staff to alumni," said Sharon L. Wood, executive vice president and provost. "I am absolutely confident in his ability to build on the school's successful history and strengthen its already stellar national reputation."
In addition to his work in higher education, Chesney has testified before Congress on many occasions, addressing a wide variety of national security topics. He is also co-founder of Lawfare, the nation's leading online source for national security law news and analysis, and he is a co-host of the highly popular "National Security Law" podcast. In addition, his e-casebook on cybersecurity law and policy has been downloaded nearly 10,000 times and has been adopted for course use across the country.
Chesney will succeed Ward Farnsworth, who has served as dean since 2012. Under Farnsworth, the School of Law experienced a period of tremendous success, raising over $140 million as part of the university's current capital campaign, improving the school's public spaces, launching a highly effective alumni-mentoring program, and much more.