The Texas Law Alumni Association presented its annual Alumni Awards at a gala ceremony on April 28, 2022 at the Four Seasons Hotel in downtown Austin, following a two-year pause due to the pandemic. Recognized at the event were David Beck '65 for Lifetime Achievement, Karen Seymour '86 as the Outstanding Alumna, and the Hon. F. Scott McCown '79 as the Distinguished Alumnus for Community Service, and Carlos Zaffirini, Jr. '06 was honored as the Outstanding Young Alumnus of the Year. In addition, the late Julius Whittier '80 was honored with the Dean's Honor in Outstanding Leadership.
Several hundred alumni, faculty, students, family, and friends gathered for the evening, which was hosted by Alumni Association. Among the crowd was a Who's Who of current and former judges, elected officials, and dignitaries from the university and the UT System. Everyone enjoyed a delicious dinner, camaraderie, tribute videos, and the presentation of awards.
Following a donor reception, Texas Law Alumni Association President Demetrius McDaniel '90 kicked off the evening with a warm welcome followed by lively comments from Dean Ward Farnsworth, now in his last year as dean. Dean Farnsworth noted the dean's prerogative to offer a Dean's Award and shared his excitement in honoring Julius Whittier '80.
Dean's Honor in Outstanding Leadership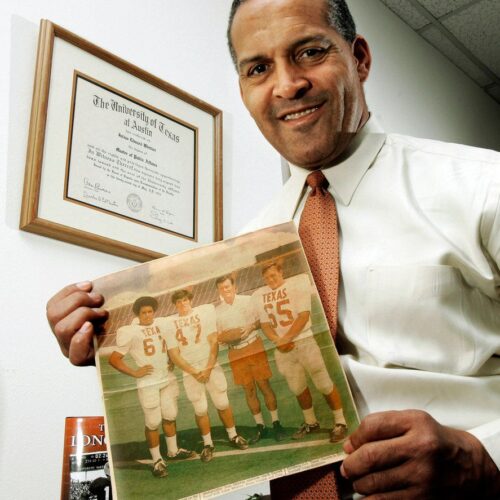 Texas Law Review Editor in Chief Jason Onyediri '23 presented a memorial tribute to Julius Whittier '80, who passed away in 2018. Whittier was one of just 300 Black students on campus when he arrived in 1969. His story as a trailblazer has been immortalized by the Longhorn community. The San Antonio native was one of the first African Americans to receive a football scholarship from UT and became Texas' first Black football letterman in 1970. After earning his law degree, Whittier enjoyed a long and distinguished career as a prosecutor for the Dallas County District Attorney's Office, retiring in 2012.
"Julius was an ambassador for this University and saw to it that, although he was first, he would assuredly not be last," praised Onyediri. "The doors Julius opened weren't just a matter of doing the right thing. They did an excellent thing. They made Texas Longhorn football and the University of Texas better."
Dean Farnsworth announced that Julius Whittier would be honored with the Dean's Honor in Outstanding Leadership, which was accepted by his sister Mildred.
Outstanding Young Alumnus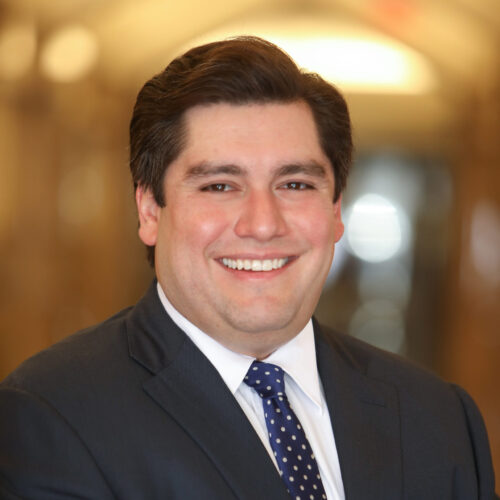 The first award of the evening, Outstanding Young Alumnus, which recognizes someone with remarkable professional accomplishments before the age of 40, went to Carlos Zaffirini, Jr. '06. An Austin-based attorney and entrepreneur who earned both his BBA and JD from The University of Texas at Austin, Zaffirini is the president and CEO of AHCV, a national healthcare finance consulting company. He also founded Zaffirini Law, a Texas-based law firm with national reach, and invests in multiple ventures ranging from healthcare to fintech.
William H. Cunningham '87 introduced  Zaffirini by reminiscing endearingly about Zaffirini and his family. He followed by highlighting the awardee's many professional accomplishments and presenting him the award.
Distinguished Alumnus for Community Service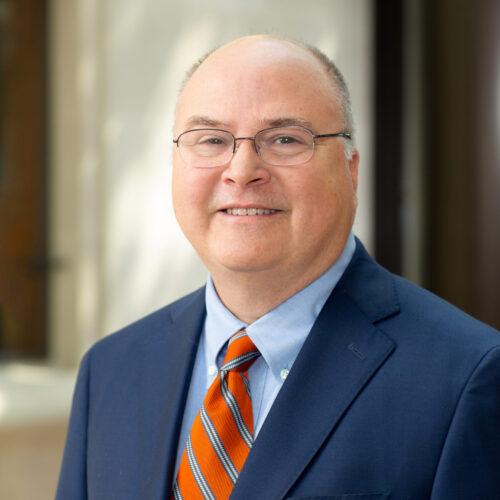 The Hon. F. Scott McCown '79 was named the Association's Distinguished Alumnus for Community Service. McCown is a Distinguished Senior Lecturer at Texas Law, teaching courses on professional responsibility and Texas civil procedure. He rejoined the faculty in 2013 after years of serving as a state district judge and then as executive director of a nonprofit policy institute.
In his introduction of McCown, the Hon. Lee Yeakel '60, shared that "He chose a very specific path to pursue justice on behalf of people who don't frequently have voices in our systems – children and prisoners. First as an advocate, then on the bench, and in this last iteration as a professor at the University of Texas Law School, Scott has quietly, tenaciously, and effectively made a difference in communities across Texas."
Outstanding Alumna Award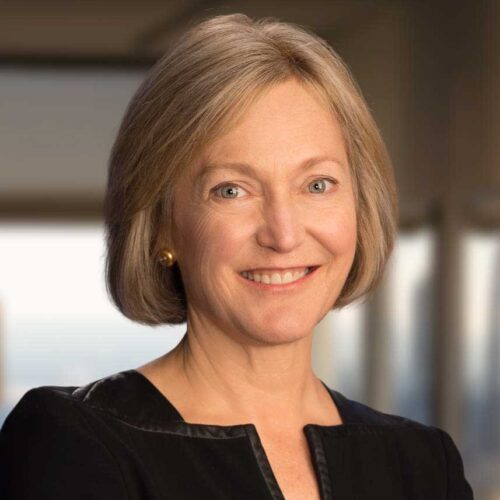 The Outstanding Alumna Award was presented to Karen Seymour '86 by Law School Foundation Vice Chair Susan Blount '81. Seymour is a partner and member of the Management Committee at Sullivan & Cromwell LLP in New York City, having recently rejoined that firm from Goldman Sachs, where she served as executive vice president and general counsel and was a member of the Management Committee.
"Karen is a fierce courtroom opponent, a savvy business counselor, a canny investigator and a tough negotiator. She's a powerful voice for ethics and criminal justice reform," said Blount during Seymour's introduction. "She is, in every way, an outstanding exemplar of our cherished law school, and I am glad we've got her back home, at least for tonight."
Lifetime Achievement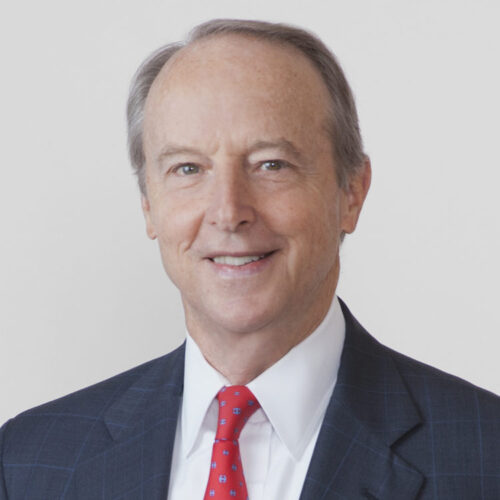 The final award of the evening – Lifetime Achievement – was presented to David Beck '65. Beck, founding partner of Beck Redden LLP in Houston, is consistently recognized as one of our country's preeminent trial lawyers. He has published numerous law journal articles, been a lecturer for many bar association and law school continuing legal education programs, and won various awards for his legal writing. The Law School's David J. Beck Center for Legal Research, Writing, and Appellate Advocacy is named in his honor.
In presenting Beck with his award, Jack Balagia '76 shared Beck's humble beginnings and career path. "If I had an hour to speak about his honors and awards, I could not list them all.  I will simply say that recognition is secondary for David; contribution is what matters," said Balgia. "He still serves on the Foundation Board, and is an adjunct professor at the Law School, serving as a role model for today's students."
The awards ceremony originally was scheduled for September 2021, but postponed due to the pandemic. Instead, the ceremony kicked off Texas Law's 2022 Alumni Reunion Weekend.
Additional information about the alumni award, including links to videos and photos, is available at:
Read more about the Alumni Awards.