Justice Center Honors Three Students with 2022 Graduating Student Awards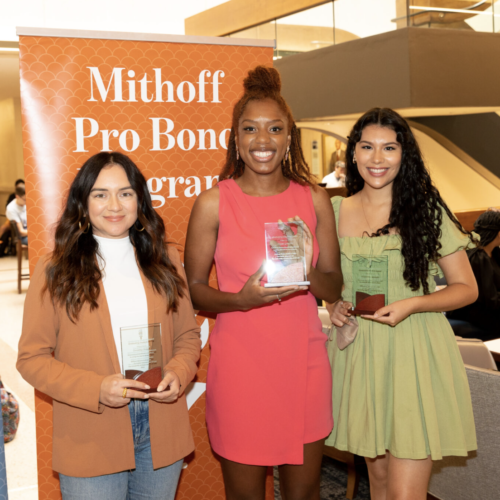 William Wayne Justice Center recognized 3Ls Alyssa Gordon, Jacqueline Morales, and Zoraima Pelaez with Graduating Student Awards for their outstanding leadership and contribution to the community. They were honored at the Justice Center and Mithoff Pro Bono Program's annual Celebration of Service on April 21— which was held in-person for the first time since the pandemic. At the event, numerous students and professors were recognized for excellence in service and teaching, receiving various honors.
View a PDF of the Justice Center Awards Program 2022
Alyssa Gordon '22
Gordon is a passionate advocate for racial justice, co-founding her own organization on campus, Law Students for Black Lives. During the 'Black Lives Matter' protests of Summer 2020, Gordon and her co-founders organized and engaged in community service, such as "running voter registration drives, to shedding light on disparities, to building an alternative curriculum for their fellow law students," according to her nomination. Eden Harrington, director of the Justice Center, says, "The Justice Center is pleased to recognize Alyssa for her leadership and support in the Texas Law community and her commitment to engaging others in important public interest issues. Alyssa has made impressive contributions to the law school and beyond."
Jacqueline Morales '22
Morales is fiercely dedicated to the service of marginalized communities, ensuring they receive the resources and opportunities they rightfully deserve. Following the approval of the COVID-19 vaccine, Morales committed herself to aiding marginalized and vulnerable populations gain access to the vaccine, especially non-English speakers who found appointment systems near impossible to navigate. Through social media outreach and countless hours of research, Morales was able to help 132 individuals get vaccinated, including 12 fellow law students and 30 relatives of students. "The Justice Center recognizes Jacqueline for helping to build a broader community of service at the law school and for encouraging participation from a wide segment of her fellow students," said Harrington. "Jacqueline takes initiative and comes up with creative and resourceful solutions and, in so doing, inspires others to do the same."
Zoraima Pelaez '22
Pelaez is an activist for women's reproductive justice in Texas. Pelaez helped grow the presence of If/When/How, an organization dedicated to reproductive justice, and served as a mentor for any and all students interested in pursuing reproductive rights law. Three of the students Pelaez mentored will be interning at national reproductive rights litigation organizations. "The Justice Center is pleased to recognize Zoraima for her mentoring and support of fellow law students and her ongoing efforts to create new opportunities for students interested in public service careers," said Harrington. "We could not be prouder of all she has accomplished as a law student and we are confident she will continue to be a leader as an attorney."
The William Wayne Justice Center for Public Interest Law supports the education of students, faculty, and the legal community about public interest legal issues, helping to create opportunities for the Texas Law community to further serve underrepresented communities.