Texas Law Alumnus Darren Walker '86 Receives France's Highest Cultural Honor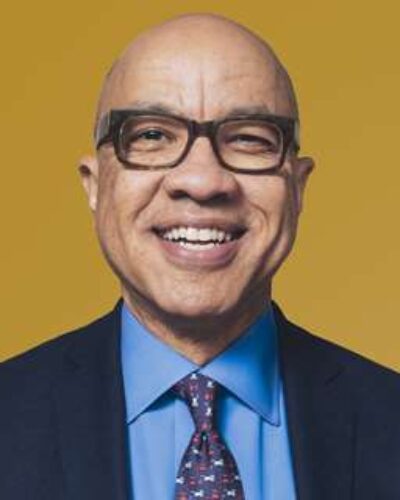 Texas Law alumnus Darren Walker '86, president of the Ford Foundation, is the recipient of France's highest cultural honor. Walker was named commander of France's Order of Arts and Letters for his work in supporting social justice through funding the arts.
"Being in this firmament is absolutely humbling," Walker told The Associated Press upon receiving the honor. "I'm simply a servant to the idea of art and justice in the world, because we can't have justice without art."
Walker's exceptional career and altruism have previously been recognized by his alma mater with prominent awards such as the 2009 Texas Exes Distinguished Alumnus , the 2019 Texas Law Outstanding Alumni, and the inaugural Shirley Perry Bird Longhorn Citizenship Award by the Moody College of Communication Annette Strauss Institute for Civic Life in 2018. In addition to earning his J.D. from Texas Law, he also received his bachelor's of science and arts degrees from UT.
Walker became president of the Ford Foundation, one of the largest philanthropic organizations in the U.S., in 2013. After arranging the sale of the foundation's art collection from almost exclusively white male artists, he worked to rebuild the foundation's art collection with work from artists who are mostly people of color, women, and members of the LGBTQ community. Walker worked with French institutions because of the country's parallel journey with America in living up to the ideals of freedom, liberty, equality, and fellowship.
"France, just like America, unfortunately, has engaged in the exclusion of especially the art and culture and stories of people of African descent," Walker said. He went on to include that France and America are both on a journey to recognize the contributions of Black artists.
Through a 2018 exhibition at Columbia University's Wallach Art Gallery, the Ford Foundation explored the participation of Black models painted by modernists like Edouard Manet. The exhibition was curated by former Ford Foundation Denise Murrell, who then traveled to the Musée d'Orsay in Paris where the exhibition made a big impression.
Walker was included on the 2016 Time Magazine's list of "100 Most Influential People in the World," is a member of both the Council on Foreign Relations and the American Academy of Arts and Sciences, and is the recipient of 10 honorary degrees. Before joining the Ford Foundation, Walker was vice president at the Rockefeller Foundation, overseeing global and domestic programs including the Rebuild New Orleans initiative after Hurricane Katrina. In the 1990s, as COO of the Abyssinian Development Corporation—Harlem's largest community development organization—he oversaw a comprehensive revitalization strategy, including building more than 1,000 units of affordable housing and the first major commercial development in Harlem since the 1960s. Earlier, he had a decade-long career in international law and finance at Cleary Gottlieb Steen & Hamilton and UBS.
This story was originally reported by ABC News.